Pair this recipe for Amish Friendship Bread Cheesy Dilly Rolls with a hot bowl of soup, fish or chili.
This recipe makes 24 cheese dill rolls, which make them perfect as a side to a hot bowl of soup, chili, fish or salad. The sweet sourdough tang of the Amish Friendship Bread starter gives it a leg up on other dinner rolls, and they come out beautifully uniform from the muffin tins.
This recipe works best with an active starter, usually a starter that's just been fed in the past 24 hours and is a little (or a lot) bubbly. To learn more about how to maintain an active starter, view our tutorials or FAQs.
A quick note: I only share links that I love and personally use. This post contains affiliate or commission links which support the Friendship Bread Kitchen if you click or buy. Thank you!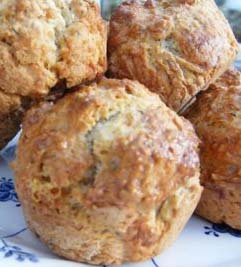 Cheese Dilly Amish Friendship Bread Rolls
Pair these Amish Friendship Bread Cheesy Dilly Rolls with a hot bowl of soup, fish or chili.
Ingredients
1½

cups

Amish Friendship Bread Starter

2

cups

cottage cheese

2

tablespoons

finely minced onion

2

tablespoons

butter

melted

½

cup

freshly minced dill weed

(or 1 tablespoon of dried dill weed)

2

teaspoons

salt

½

teaspoon

baking soda

2

eggs

well beaten

5

cups

flour

2

egg whites

¼

cup

sesame seeds
Instructions
In a saucepan or in the microwave, heat cottage cheese to lukewarm.

In a large bowl, combine cottage cheese, onion, butter, dill, salt, soda and egg. Mix well.

Add flour one cup at a time until dough is stiff.

Cover bowl and let dough rest for one hour.

Punch down dough and then with oily hands, for dough into 24 balls.

Place each ball of dough in a muffin cup.

Cover and let rest for 30 minutes.

Preheat oven to 350° F (175° C).

Before putting in the oven, brush each roll with egg white and sprinkle with sesame seeds.

Bake for 20 minutes or until golden brown.
>> Have you tried this? Share your best pic with us or leave a comment below and let us know how it worked for you!