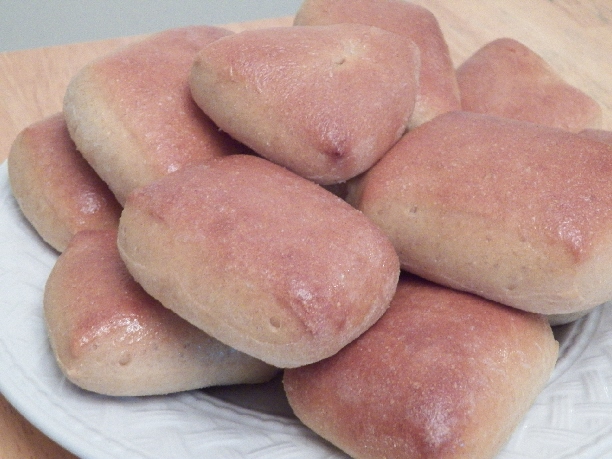 This post contains affiliate links. If you click through and make a purchase, the Friendship Bread Kitchen may earn a small commission at no additional cost to you.
This recipe for warm Whole Wheat Amish Friendship Bread Rolls was shared with us by Kitchen Friend Melody O'Banion and goes perfectly with a pot of soup.
If this bread is too sweet for your taste, you can half the amount of sugar added to day six and day ten when making your starter. It will not affect the baking of the bread, just make it less sweet. You can also freeze one cup of starter on day ten then take it out, thaw it, and bake with it whenever you need it.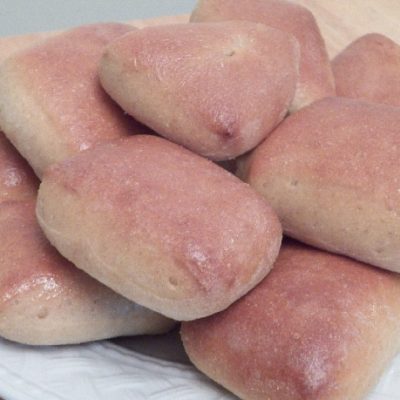 Whole Wheat Amish Friendship Bread Rolls
This recipe for warm Whole Wheat Amish Friendship Bread Rolls goes perfectly with a pot of soup.
Ingredients
Instructions
In a stand mixer bowl, stir together warm water, honey, and yeast. Let sit for about 10 minutes.

Next, add starter, oil, eggs, salt, wheat gluten, and 4 cups of the flour and mix.

Gradually add remaining flour until the dough pulls away from the side of the bowl.

While dough is in the mixing bowl, knead for about 8 to 10 minutes. By the time the kneading is over, the sides of the bowl should be clean.

Oil bottom and sides of a large bowl. Put dough into bowl and cover. (Let rise in the mixer bowl.)

Let dough stand about three hours (or until doubled) at room temperature.

Finally, punch dough down and divide into three equal balls.

On a floured surface, knead each ball.

After kneading each ball, pat out until about ½" thick.

Grease a large cookie sheet.

Use pizza cutter to cut out in rectangular shapes and place on greased cookie sheet to continue the rise.

Cover and let stand about two hours or until risen.

Preheat oven to 350° F (175° C).

Bake 12-15 minutes.

ENJOY!
>> Have you tried this? Share your best pic with us or leave a comment below and let us know how it worked for you!