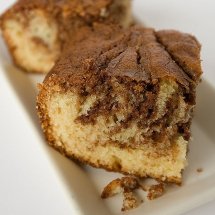 Submitted by: Suanne Wong | Chowtimes
Image (c) Suanne Wong | Chowtimes
"The marbling effect makes this Amish Friendship Bread the perfect edible gift!"
Ingredients
1 cup Amish Friendship Bread Starter
3 eggs
1 cup oil (or 1/2 cup oil plus 1/2 cup applesauce)
1/2 cup sugar
2 teaspoons cinnamon
1 large box of vanilla instant pudding
1/2 teaspoon vanilla extract
1 1/2 teaspoons baking powder
1/2 teaspoon baking soda
1/2 teaspoon salt
2 cups all-purpose flour
optional nuts, dates, dried cranberries, raisins, etc)
1/2 cup semi sweet chocolate chips, softened
Directions
Preheat oven to 325° F (165° C).
Combine the dry ingredients except chocolate chips in a large bowl and blend well.
Add oil and sugar to the remaining batter in the bowl. Add eggs and extract, and mix well.
Incorporate dry ingredients into the wet ingredients.
Grease two large loaf pans.
Dust the greased pans with a mixture of 1/2 cup sugar and 1/2 teaspoon cinnamon.
Pour the batter evenly into loaf or cake pans, reserving some of the batter.
Add softened chocolate chips (you can melt them in the microwave) to reserved batter and mix well. The batter should turn chocolaty.
Dollop the chocolaty batter onto the batter. Swirl with a chopstick or plastic fork to create the marble effect.
Bake for one hour or until the bread loosens evenly from the sides and a toothpick inserted in the center of the bread comes out clean.
ENJOY!
Image Gallery
L to R: (c) Suanne Wong | Chowtimes; (c) Suanne Wong | Chowtimes