>> Need an Amish Friendship Bread Primer with the ten day instructions? Go here!
I love it when members of our Friendship Bread Kitchen community share their Amish Friendship Bread recipes. This one by Cynthia Nussbaum of Rittman, OH is one of our all-time favorites.
Think cinnamon. Think warm and soft Amish Friendship Bread bread dough. Think vanilla glaze drizzled liberally. And then some.
A quick note: I only share links that I love and personally use. This post contains affiliate or commission links which support the Friendship Bread Kitchen if you click or buy. Thank you!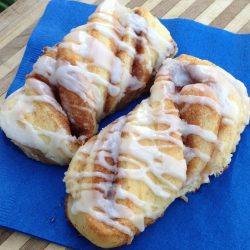 Amish Friendship Bread Cinnamon Twists
Ingredients
3

cups

flour

1

teaspoon

salt

2

teaspoons

active dry yeast

1/4

cup

very warm water

1/2

cup

butter

softened

1

eggFor the Filling

1/2

cup

white sugar

1/2

cup

brown sugar

firmly packed

1

tablespoon

cinnamon

3

tablespoons

softened butterFor the Drizzle

2

cups

powdered sugar

2

tablespoons

water or milk

1

teaspoon

vanilla extract or maple flavoring
Instructions
Combine yeast, starter and water in mixing bowl. Let mixture stand for 5 minutes.

Add flour, salt, butter and egg and mix together using the dough hook on low speed until dough forms.

Once dough begins to form (flour may be in bottom of bowl), increase the speed to medium and knead for 4 minutes. Dough will cling to dough hook; clean the sides of bowl during this time.

Remove dough from bowl; the dough will be soft but not sticky. Let it rise in a greased bowl in warm place for 1 1/2 hours.

While the dough is rising, make the filling. Combine sugars and cinnamon thoroughly. Divide in half to use on each rectangle. Set aside with butter.

Dough will have risen, but not doubled. Divide dough in half.

Using very little flour (if any), pat or roll one half into a 12"x 9" rectangle.

Spread a thin layer of softened butter over each rectangle. With a butter knife, score the rectangle into thirds horizontally on the 12" side (be sure not to cut through).

Using one half of filling, spread an even layer in the middle section. Fold up bottom section over top of filling.

Spread a thin layer of butter over this section, then spread filling evenly over top.

Fold the top third over the filling and press lightly to seal.

There may be small amount leftover after filling each rectangle.

You should now have a long strip 12" x 3". Cut this in half. Then cut each half into fourths to make 8 pieces.

Hold each strip at both ends and twist once in opposite directions. When twisting, some of the filling may come out, which is fine. Place each twist on greased baking sheet about 1" apart. Press both ends of twists to baking sheet.

Repeat with remaining half of dough and remaining half of filling to make 8 more twists.

Let rise at least 2 hours or up to 8 hours on the baking sheet, covered in a warm place.

Bake at in a preheated oven at 375° F (190° C) for 12-15 minutes or until lightly browned.

While the twists are baking, prepare the drizzle. Combine drizzle ingredients and mix well.

Remove from oven and drizzle the icing while hot.

ENJOY!
Notes
From Cynthia Nussbaum: "The dough for this recipe is made using a stand mixer and a dough hook. I did not test it mixing or kneading by hand. It would need a longer mixing and kneading time if done exclusively by hand. This recipe can be started so that it is ready to bake when needed. I started this at night and let rise on the baking sheet until morning. In the morning, just pop it in the oven and bake. It'll be ready for breakfast or brunch!"
From Cyndie Shumaker: "I didn't have a dough hook so I kneaded by hand for 4 minutes. They turned out great. I made 12 from each rectangle instead of 8 and I like that size better."
>> Have you tried this? Share your best pic with us or leave a comment below and let us know how it worked for you!