Need a pick-me-up? Look no further! This Coffee-Toffee Amish Friendship Bread recipe is the perfect afternoon boost. The blend of caramel and coffee gives this recipe a strong yet sweet flavor and makes the house smell amazing while baking.
If you're looking for a fun way to top it all off, drizzle this Amish Friendship Bread with our Caramel Glaze for an extra caramel punch. If you're feeling adventurous, you can even try making your own toffee bits with our recipe to add to the fun. It's easy!
Kitchen Friend Paula Altenbach (Colorado Springs, CO) experimented with baking this recipe at high altitude and added her own fun twist to the recipe: "I decided to add an additional ½ cup of flour to compensate for my Colorado Springs altitude. After using up my butterscotch and vanilla pudding, I turned to the same flavors in sugar-free version as that was what the pantry coughed up. I also prefer to use a a strip of parchment paper to act as a lift for my loaves. It was best to do what I know to works best, and I am glad I did. This loaf was high and had visual appeal."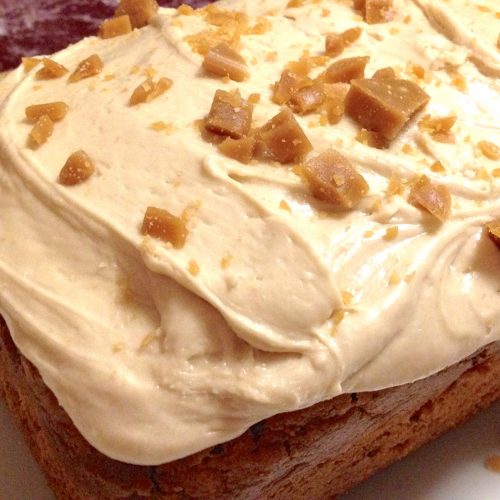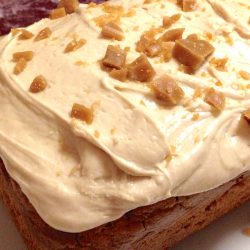 Coffee-Toffee Amish Friendship Bread
This recipe for Coffee Toffee Amish Friendship Bread sprinkled with chocolate chips and topped with a vanilla caramel frosting is flavorful and fun.
Instructions
Preheat oven to 325° F (165° C).

In a large mixing bowl, add ingredients as listed.

Grease two large loaf or cake pans.

Dust the greased pans with sugar.

Pour the batter evenly into pans.

Bake for one hour or until the bread loosens evenly from the sides and a toothpick inserted in the center of the bread comes out clean.

When cool, spread vanilla caramel frosting and top with toffee bits.

ENJOY!
>> Have you tried this? Share your best pic with us or leave a comment below and let us know how it worked for you!