Looking for the perfect hostess gift or housewarming present? Whether you're visiting friends or they come calling for tea time, this Lemon Spice Amish Friendship Bread Visiting Cake is perfect for the occasion. The marmalade glaze elevates the bread, making it perfect as a showy, eye-stopping piece. I adapted this recipe from Dorie Greenspan's classic recipe at New York Times Cooking, who calls it "aromatherapy for the cake and you."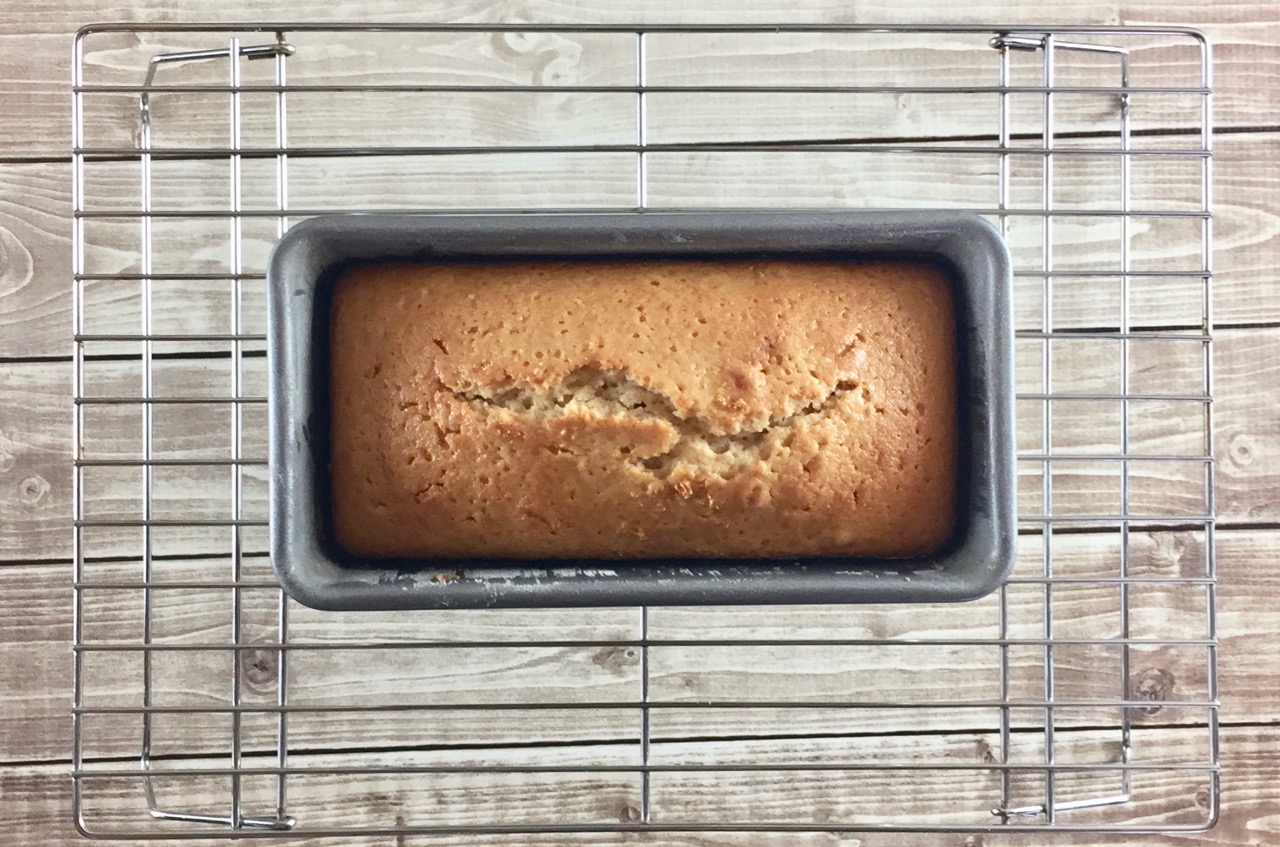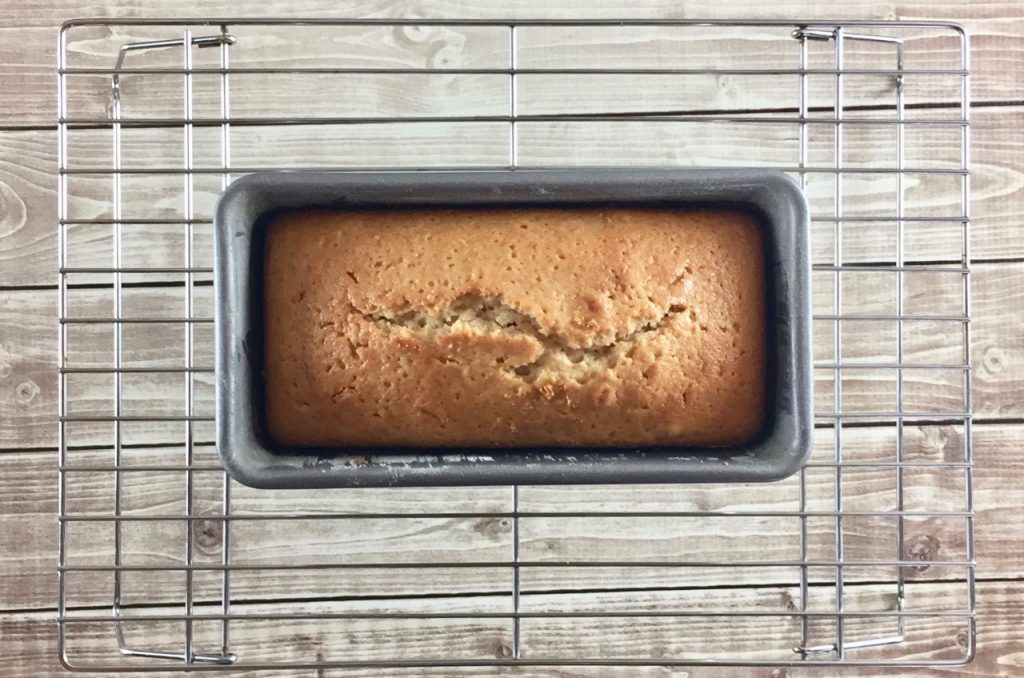 Visiting Cakes
First, if you don't know what a visiting cake is, they have a long history. Visiting cakes are sturdy cakes that can easily survive being wrapped up for transport and long distances. They last well for several days, to be enjoyed whenever comfort is needed. Many visiting cakes have stories behind them, which are almost as good (or dare I say, better?) as the recipes themselves! Which makes them perfect as an Amish Friendship Bread variation, don't you think?
The lemon spice is a perfect combination. The citrus is bright and clean, while the spices are opposite: warm and inviting. Combining the two gives you just the right balance of flavors, like bringing together old and new friends.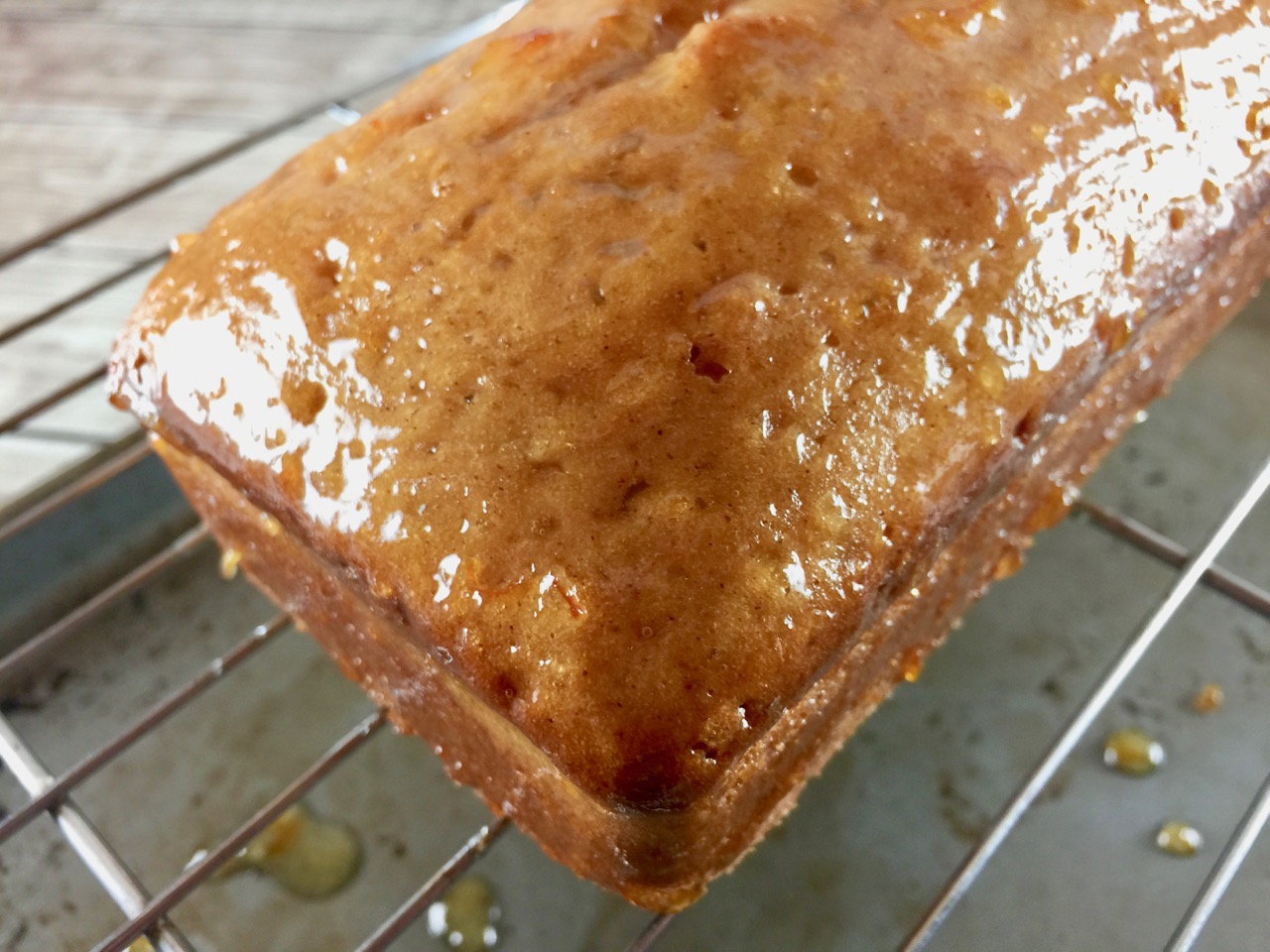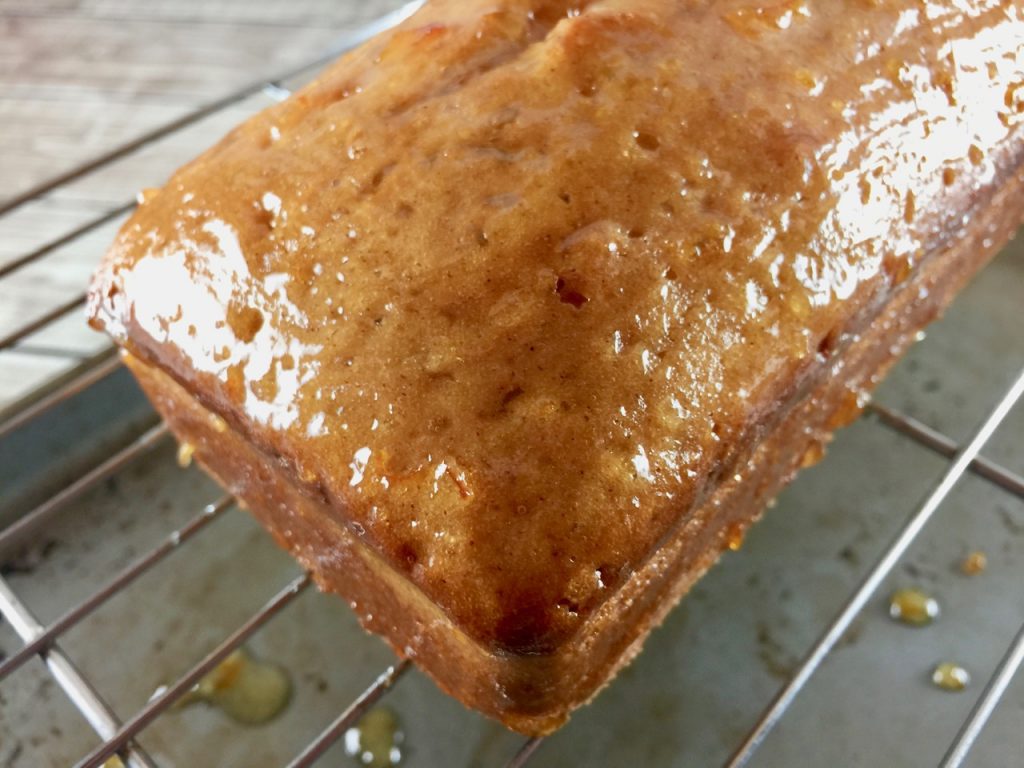 Top it with a Marmalade Glaze
If you've never tried it, citruses glazes are super easy to make Simply boil the marmalade with water to get the perfect drizzling consistency. Pour or brush the top of your bread and let it rest: it will set into a shiny topping. It will remain slightly tacky, so it's best to deliver in a domed container or gently wrapped in parchment.
Here are a few glaze options to experiment with, and feel free to come up with your own (wouldn't a blueberry marmalade pair beautifully with the lemon?):
Easy Marmalade Glaze with Variations
An easy marmalade glaze to top your cakes or Amish Friendship Bread sourdough loaf.
Check out this recipe

I like glazing the loaf while it's on the rack so I don't get any sticky pooling at the bottom of the loaf. You can add a sheet of parchment below the rack if you don't want to wash your baking sheet. By the time your glaze has set, the loaf will be perfectly cooled and ready to wrap and give, or slice and serve immediately.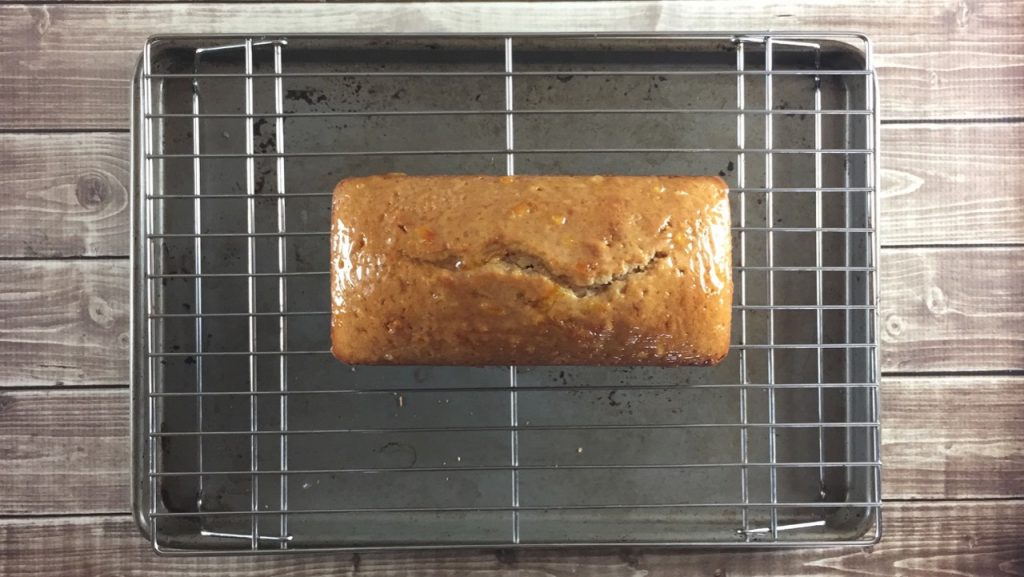 I hope this Lemon Spice Amish Friendship Bread Visiting Cake will be on your "to bake" list soon. Up the wow factor by checking out this month's giveaway for a chance to win a Nordic Ware Citrus Blossom loaf pan! Details below.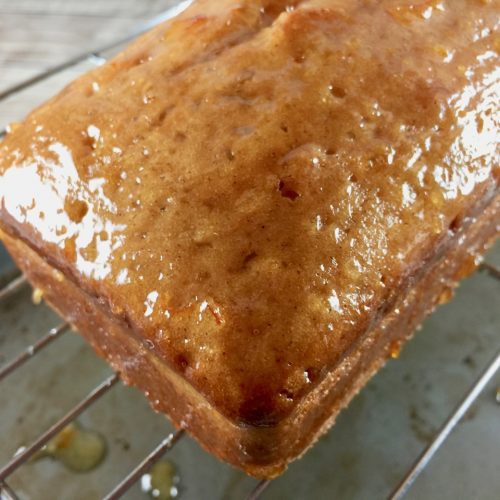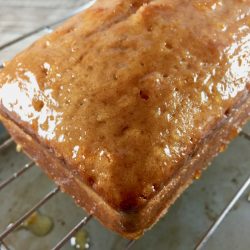 Lemon Spice Amish Friendship Bread Visiting Cake
Lemon Spice Amish Friendship Bread Visiting Cake has a bright citrus flavor that is accented by an orange marmalade glaze. This dense cake is perfect for serving with tea.
Instructions
Preheat oven to 350° F. Grease and flour an 8½-inch loaf pan.

Whisk dry ingredients together: flour, baking powder, cardamom, ginger and salt.

In a large bowl add sugar, grate the lemon zest. With your fingers, rub the sugar and the zest together until moist and aromatic. Add the eggs, whisking after each one. Squeeze the lemon juice (about three tablespoons). Add lemon juice and half and half. Add starter and mix together.

Gradually add the dry ingredients, whisking to incorporate into batter.

Add in vanilla and melted butter. Batter will be thick. Pour into prepared loaf pan.

Bake for 70-75 minutes or until toothpick inserted in center comes out clean. Transfer to a cooling rack and let it cool for five minutes.

When cool, loosen cake from the sides of the pan and turn onto cooling rack.

Prepare the marmalade glaze. Brush glaze over warm cake and allow glaze to set for two hours.

Enjoy!
Notes
Adapted from NY Times Cooking.
If you don't have access to ground cardamom, you can replace with ground cinnamon.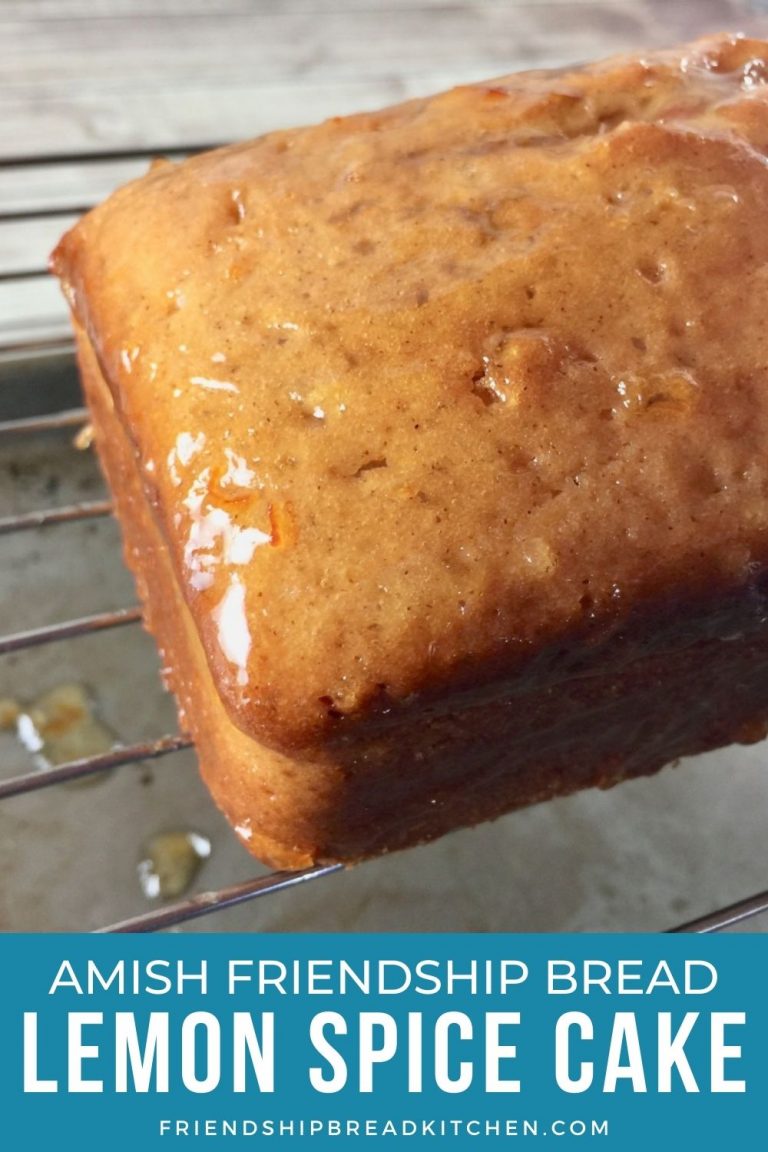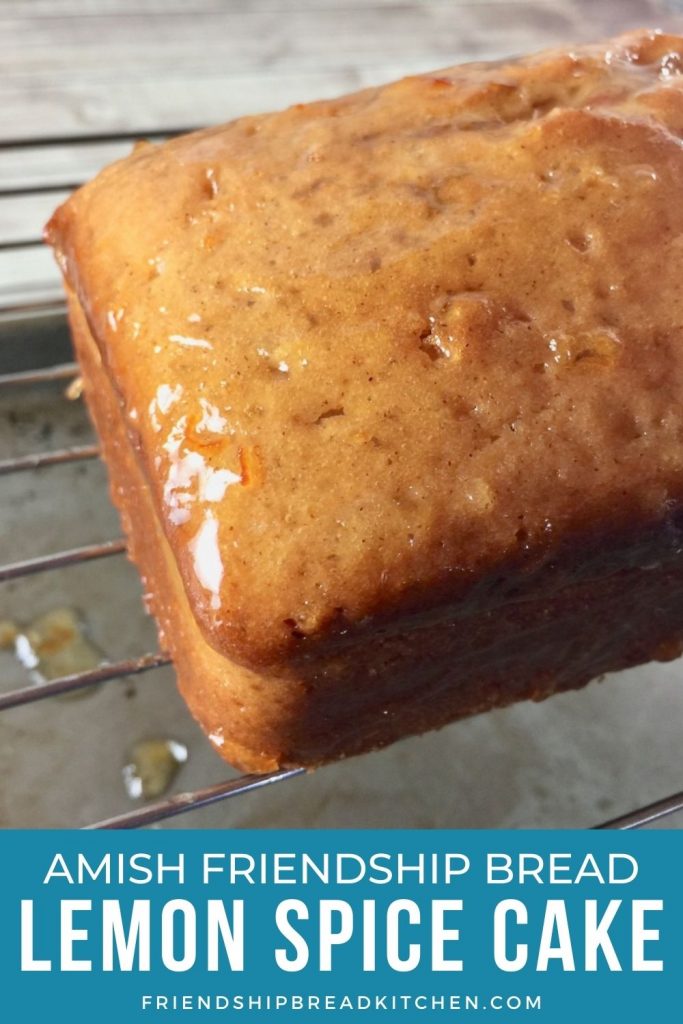 >> Have you tried this? Share your best pic with us or leave a comment below and let us know how it worked for you!
It's a Giveaway!
5/11/21 THIS GIVEAWAY IS NOW CLOSED. The winner is Laura LaChapelle. Congratulations, Laura! Please check your email!
"I've never heard of the term, "Visiting Cakes," but I've certainly heard of the concept. Never show up to someone's house empty-handed and always have something on-hand for surprise guests! I love all the Friendship Bread recipes – I have a few in the freezer that I grab whenever we have company and they are always a hit! I bake every 10 days, and it's usually scones (for my kids for breakfast), sandwich bread (for their lunches), and a cake. Fantastic!"
This month I'm giving away one Nordic Ware Citrus Blossom loaf pan to one Friendship Bread Kitchen reader.
cast aluminum
6-cup capacity
To enter, simply leave a comment below telling me if you've ever heard of visiting cakes. Would you try this recipe as is or tinker with it to make it your own? Qualified entries limited to ages 18 and up, US only. Ends May 10, 2021; the winner will be announced no later than May 15, 2021.