Adapted from Tastemade and Country Living.
I have been dying to make these Earl Grey Amish Friendship Bread Tea Cakes for ages. It was either this or a Lady Earl Grey variation (which has less bergamot oil plus lemon peel and orange peel), but I really wanted the bergamot flavor. So much that I bought the Stash Double Bergamot Earl Grey tea just to make sure.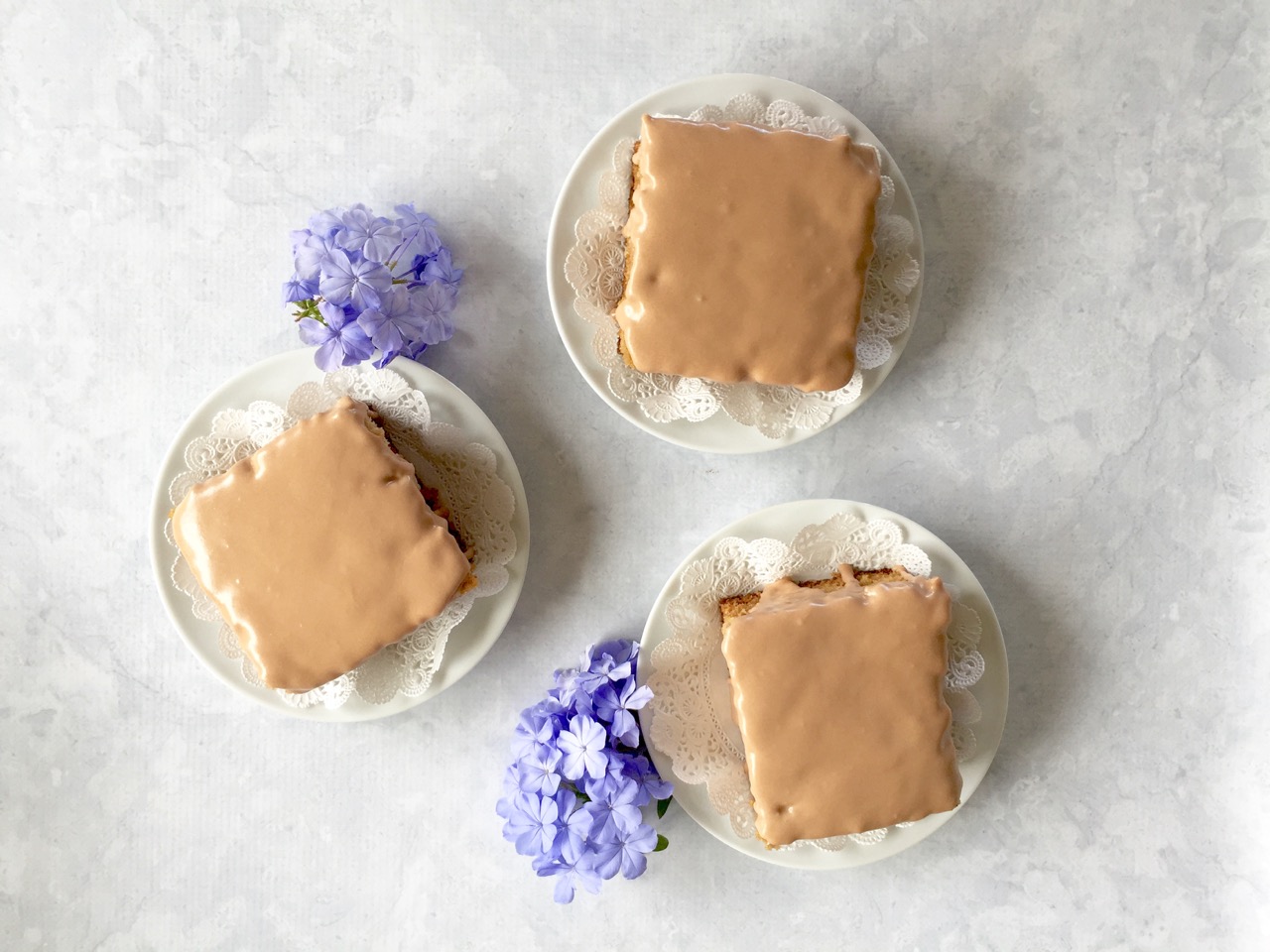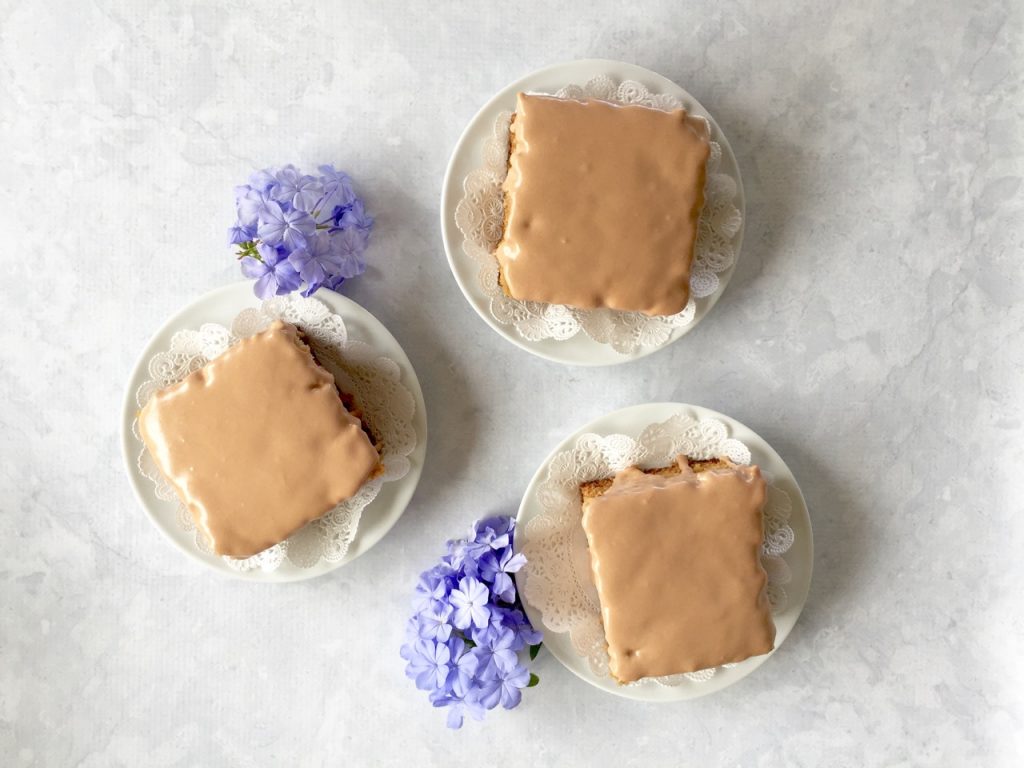 It. Was. Amazing.
This is now my favorite variation of the year, usurping the summery Strawberry Limeade Amish Friendship Bread Cake and possibly even last year's Persimmon Spice Amish Friendship Bread. If you ever wanted a variation that you could show off to your friends, this is it.
It starts with the tea. First you need to warm 1½ cups of milk in the microwave for about 30 seconds, so it's hot but not boiling. Add the tea bags and let it steep for at least 15 minutes. You're going to be sharing this steeped milk with the Earl Grey Glaze recipe (1 cup for cake, ½ cup for glaze).
Squeeze the tea bags every now and then with the back of a spoon. The milk will turn a soft caramel color and begin to smell very fragrant.
Grate your lemon. The recipe calls for 1 teaspoon but you can double this if you're a lemon fan.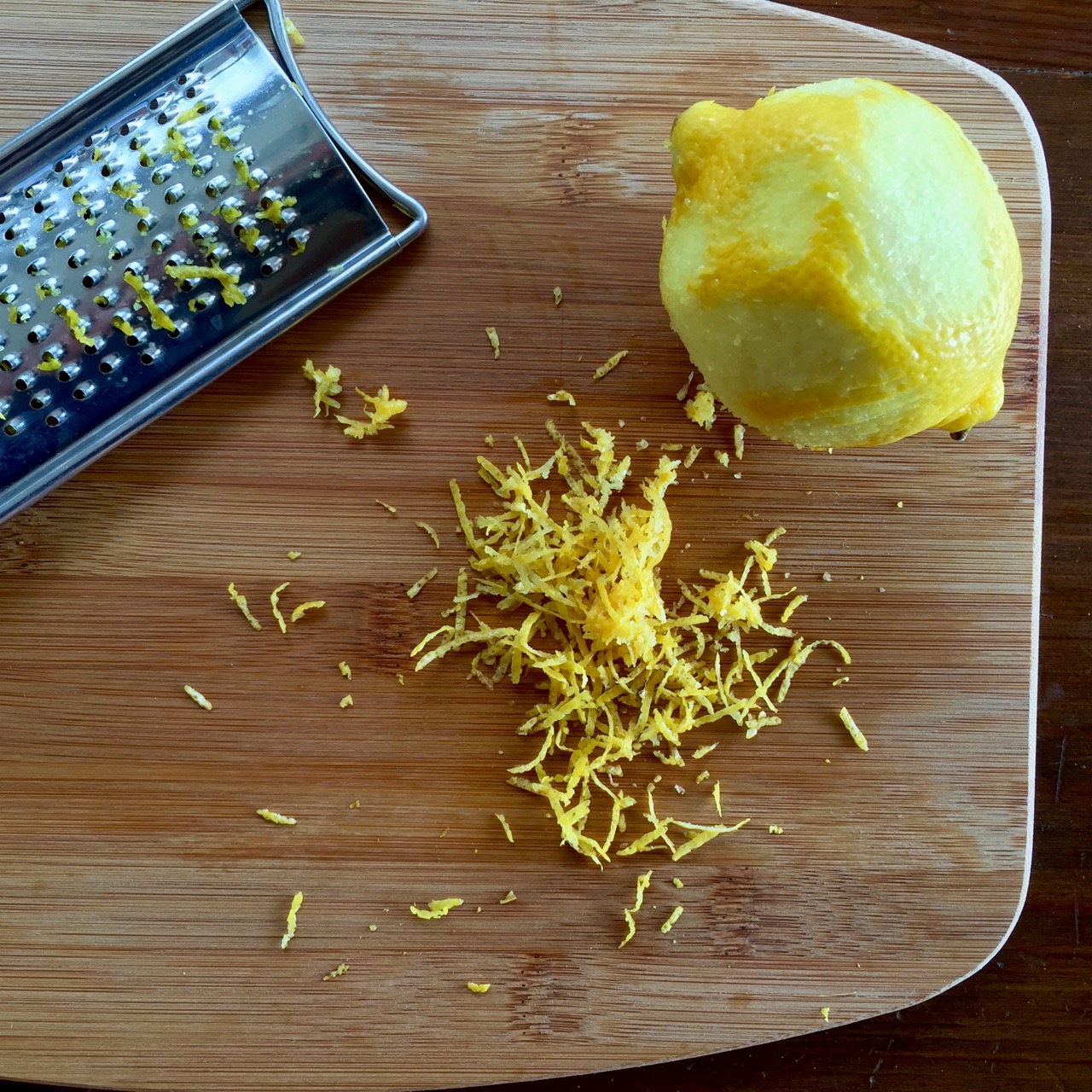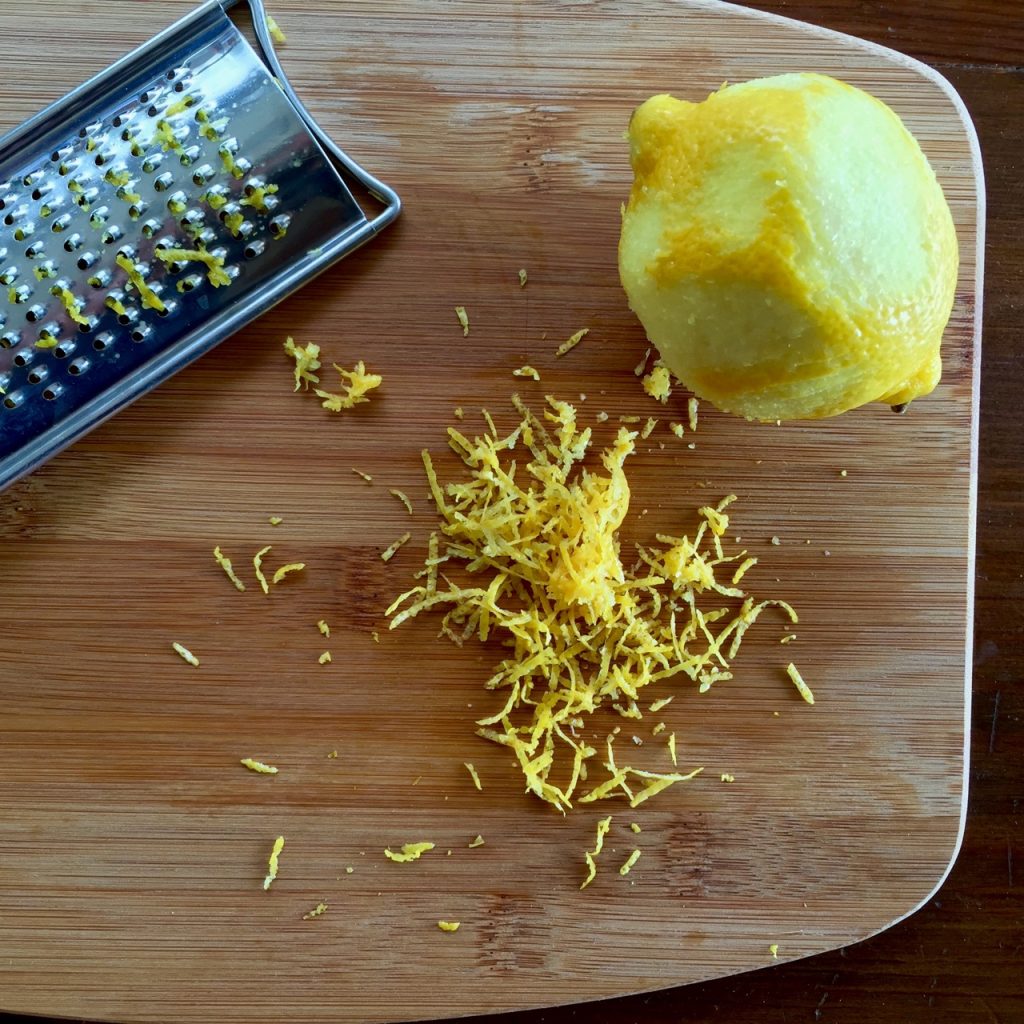 One of the best things about Amish Friendship Bread is its one-bowl preparation. You can do that, but I'd recommend prepping the wet and dry separately in this case, and then incorporate. Remember that you're not using all of the steeped milk–just one cup's worth. The rest you'll save for the glaze.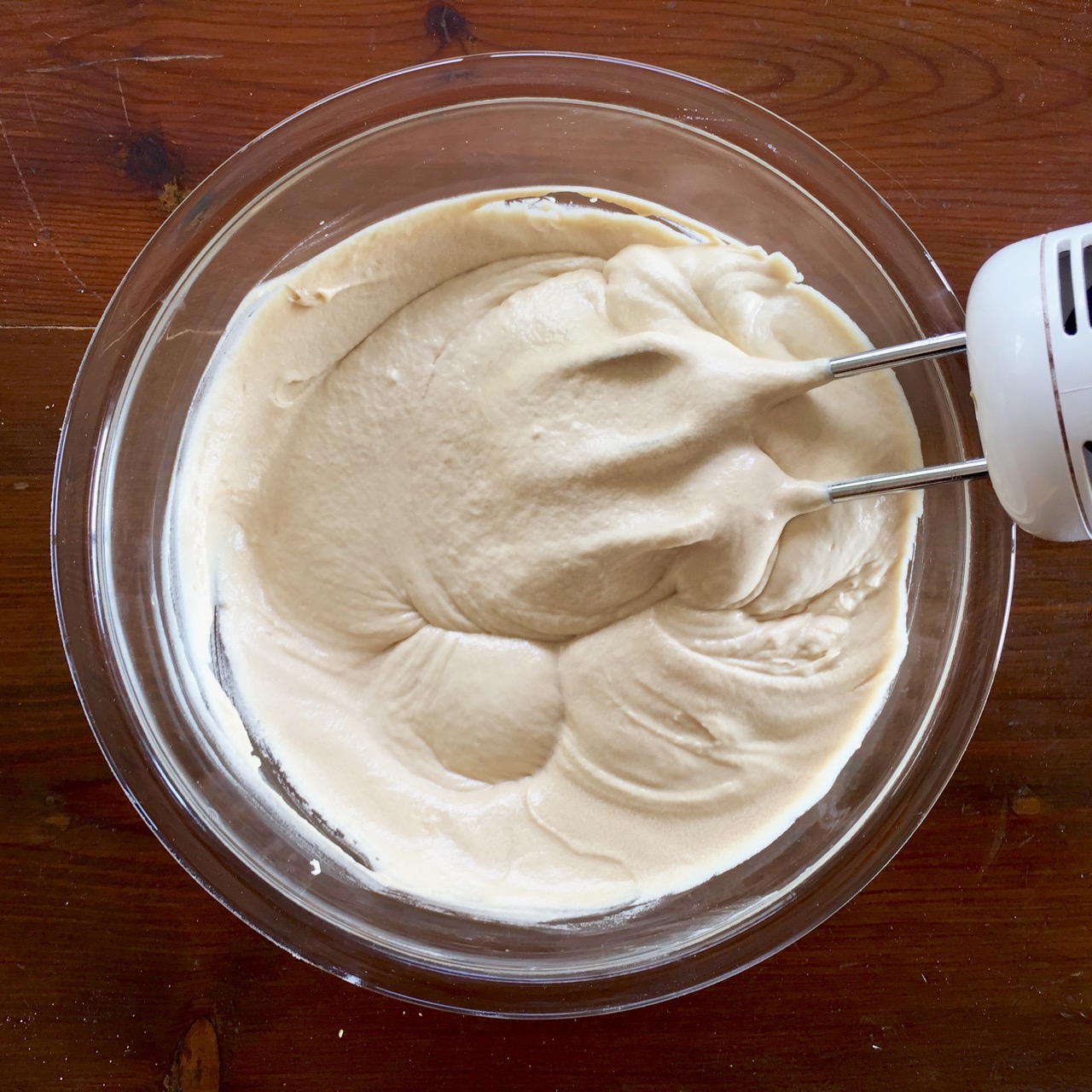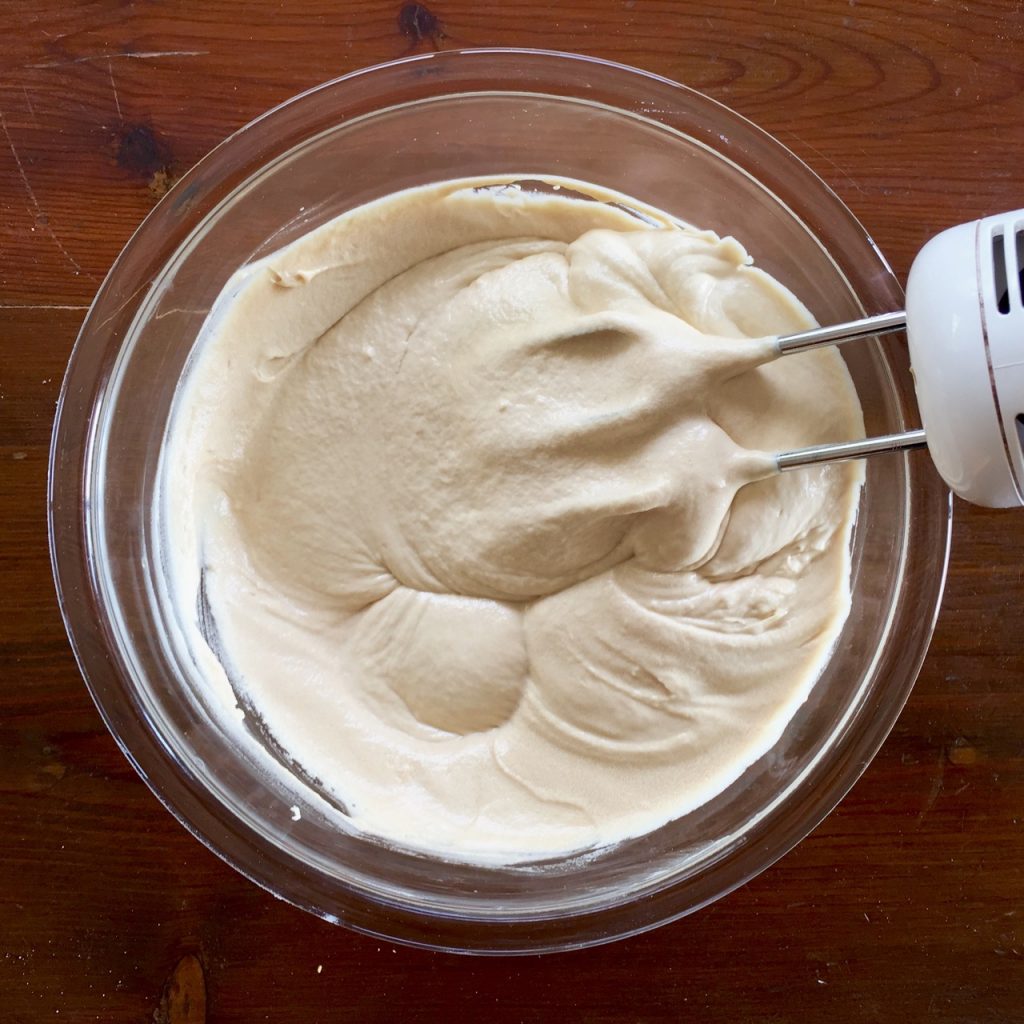 I used a 9″ x 9″ baking pan (this Oxo pan is good one). I used the butter wrapper to lightly grease and also put down a sheet of parchment paper for easy removal.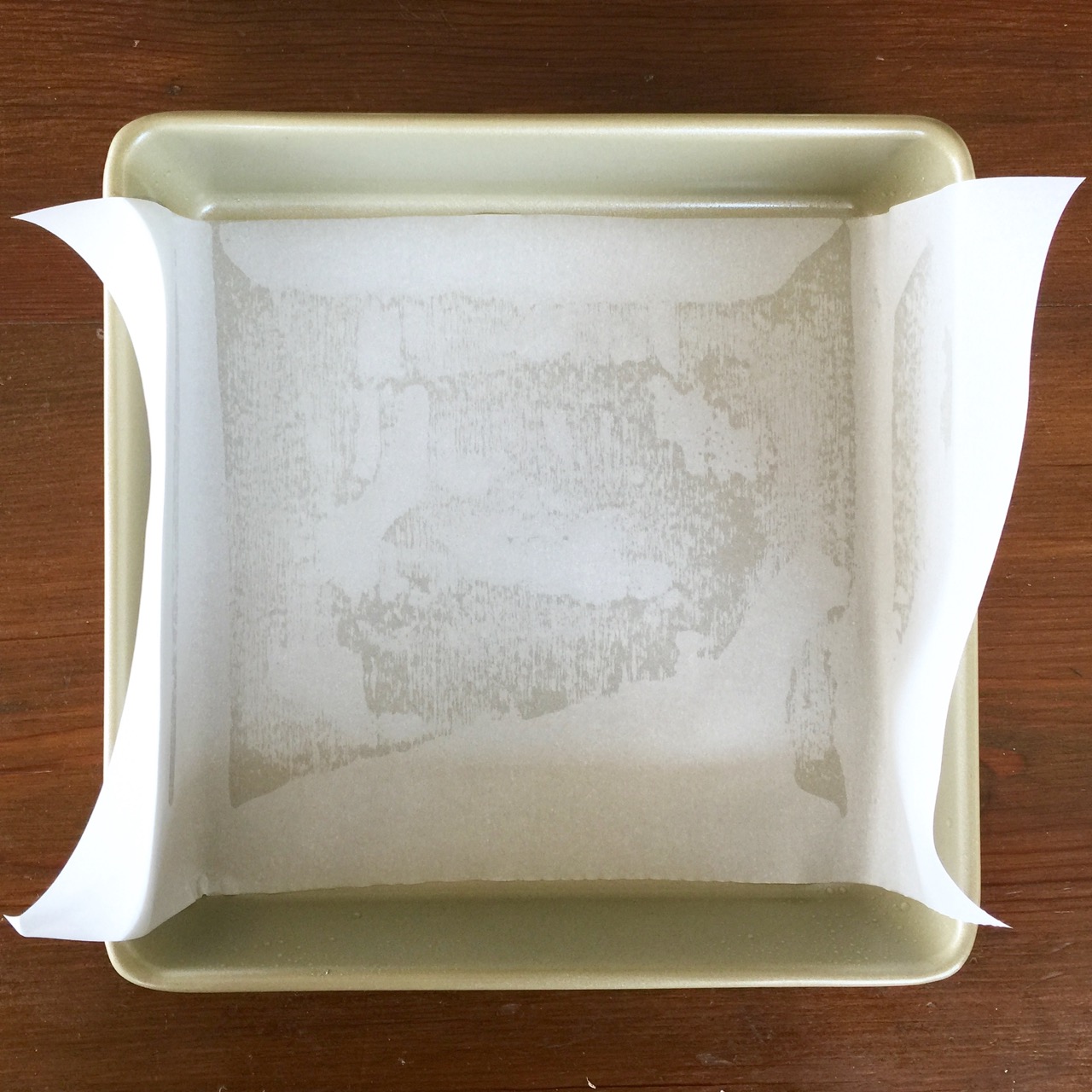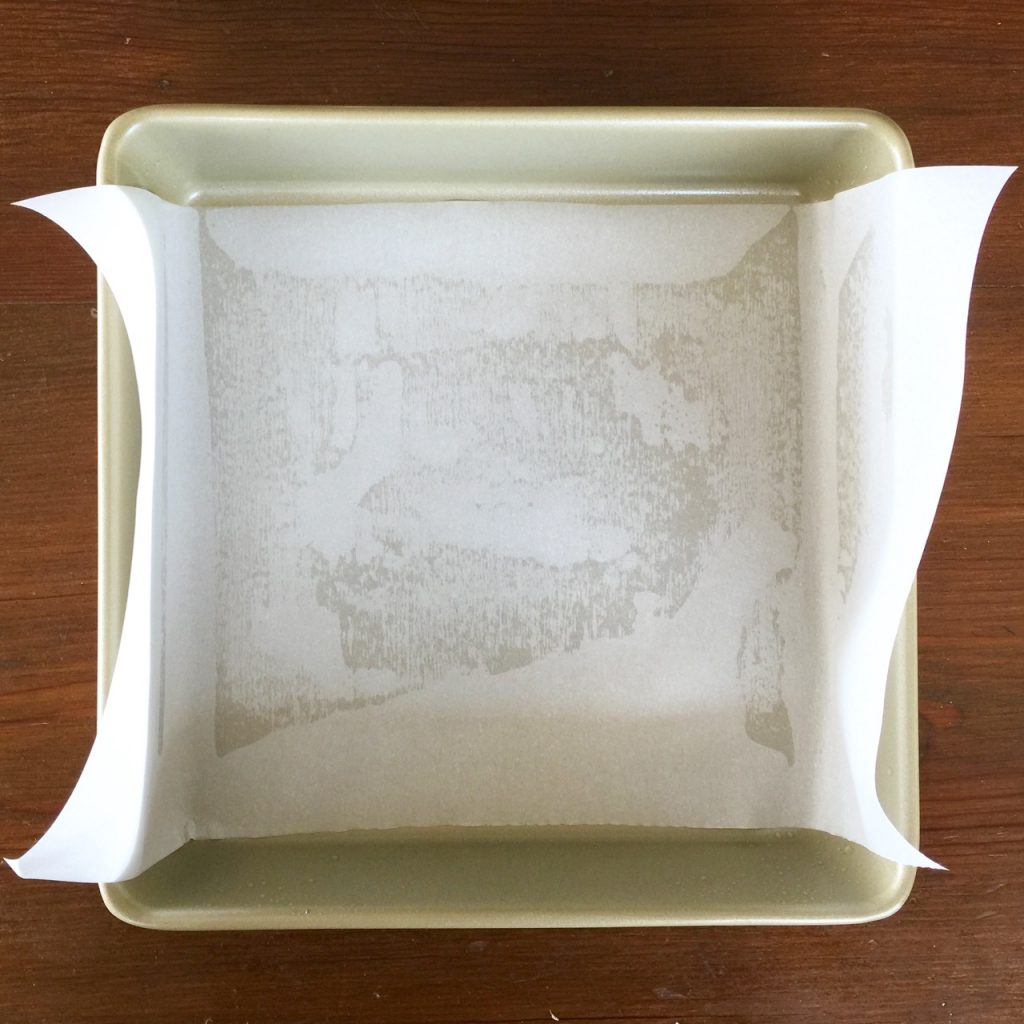 Spread the batter evenly. It'll be pretty thick so you'll have to coax it into the corners and smooth the top.
Bake in a preheated over at 325° F (165° C) for an hour or until the cake pulls away from the sides and a toothpick inserted in the middle comes out clean. Let cool. Your kitchen will smell like a tea room right about now.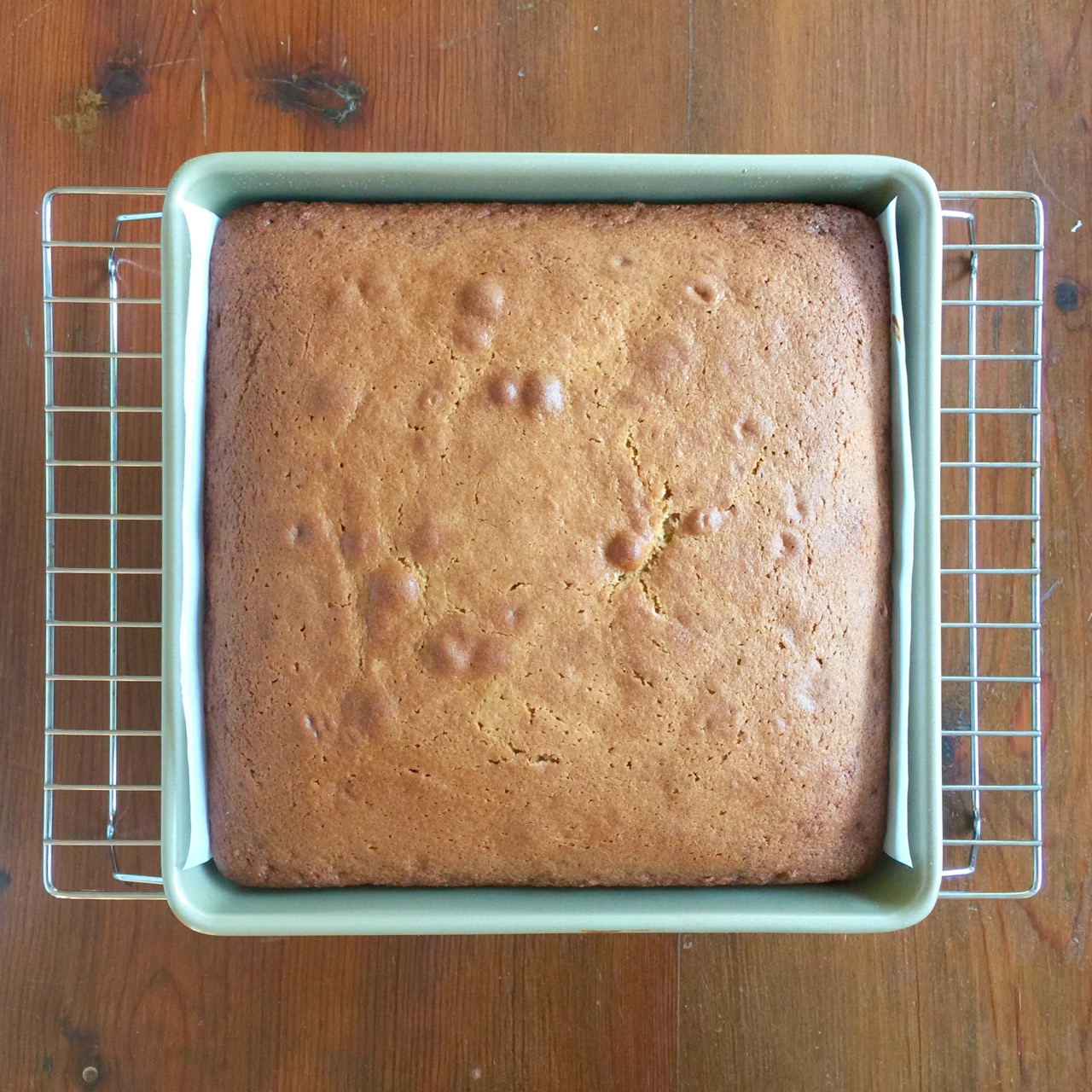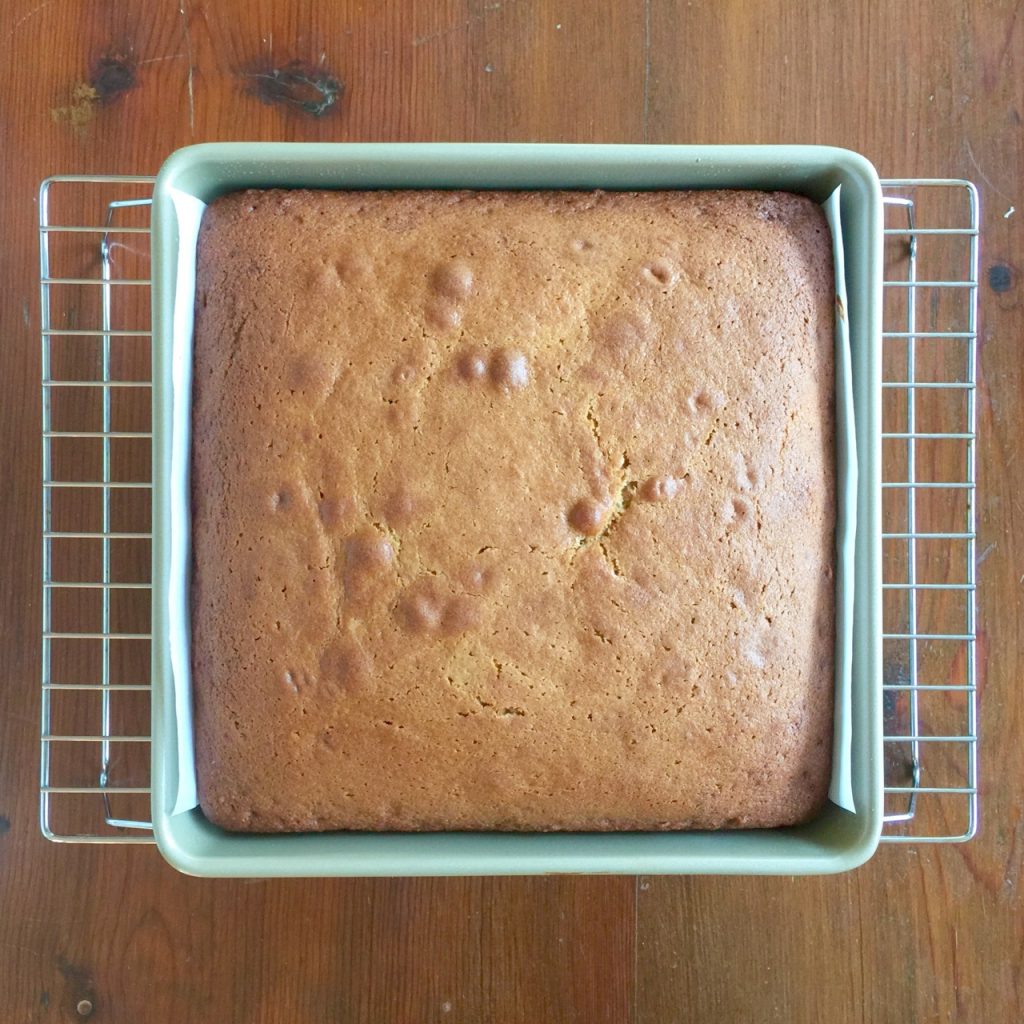 Once cooled, remove from pan and divide into four (or 16) squares. I wanted to make larger tea cakes so I went with the four.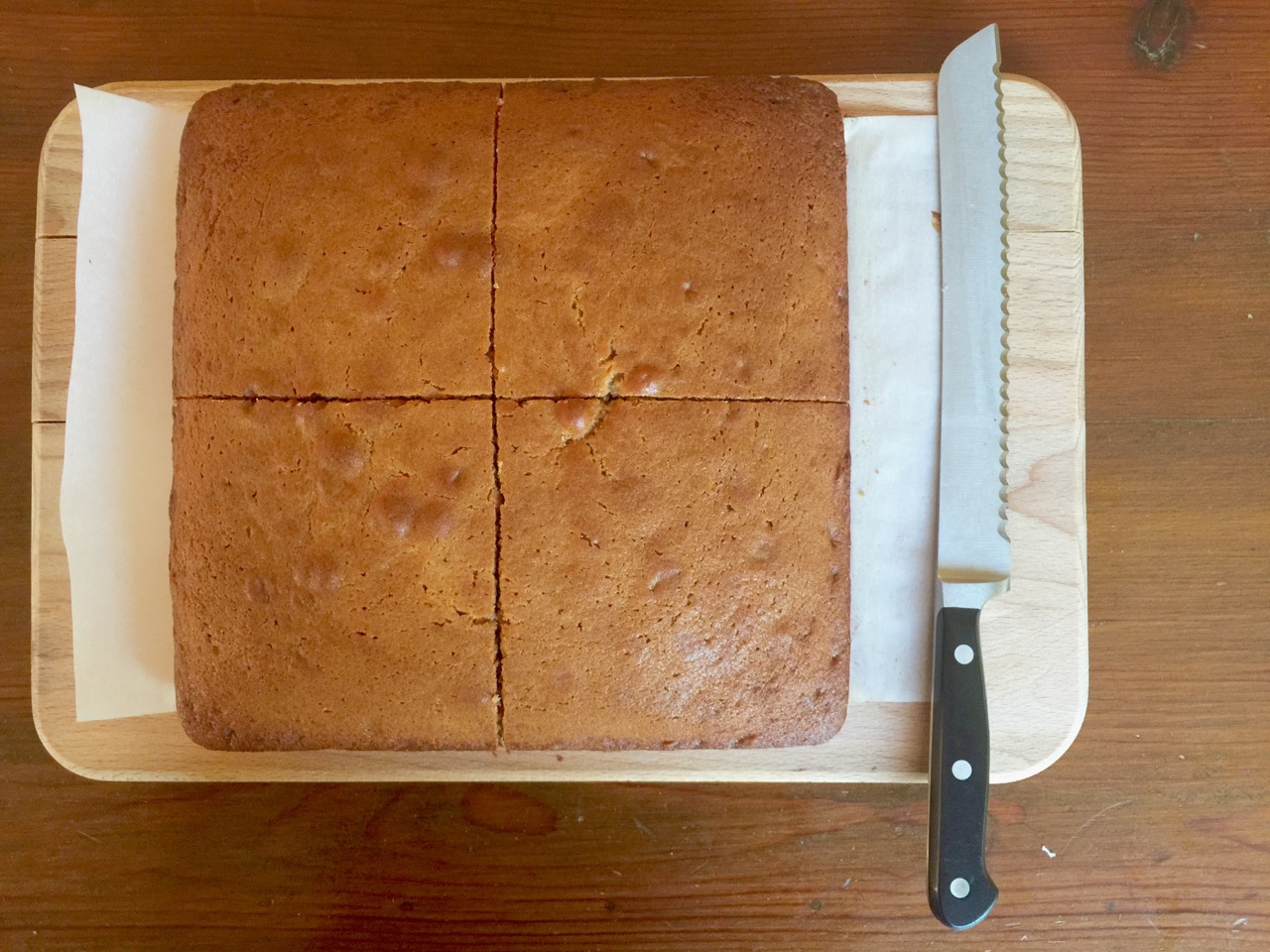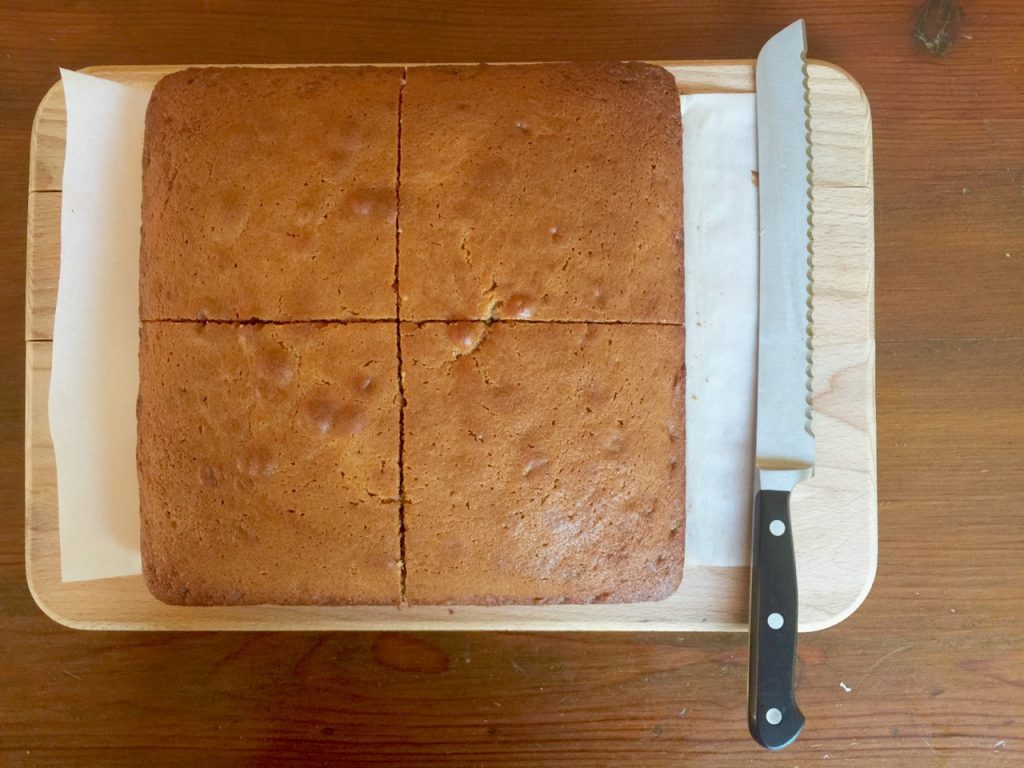 Trim the crust off the sides and the top of the cake.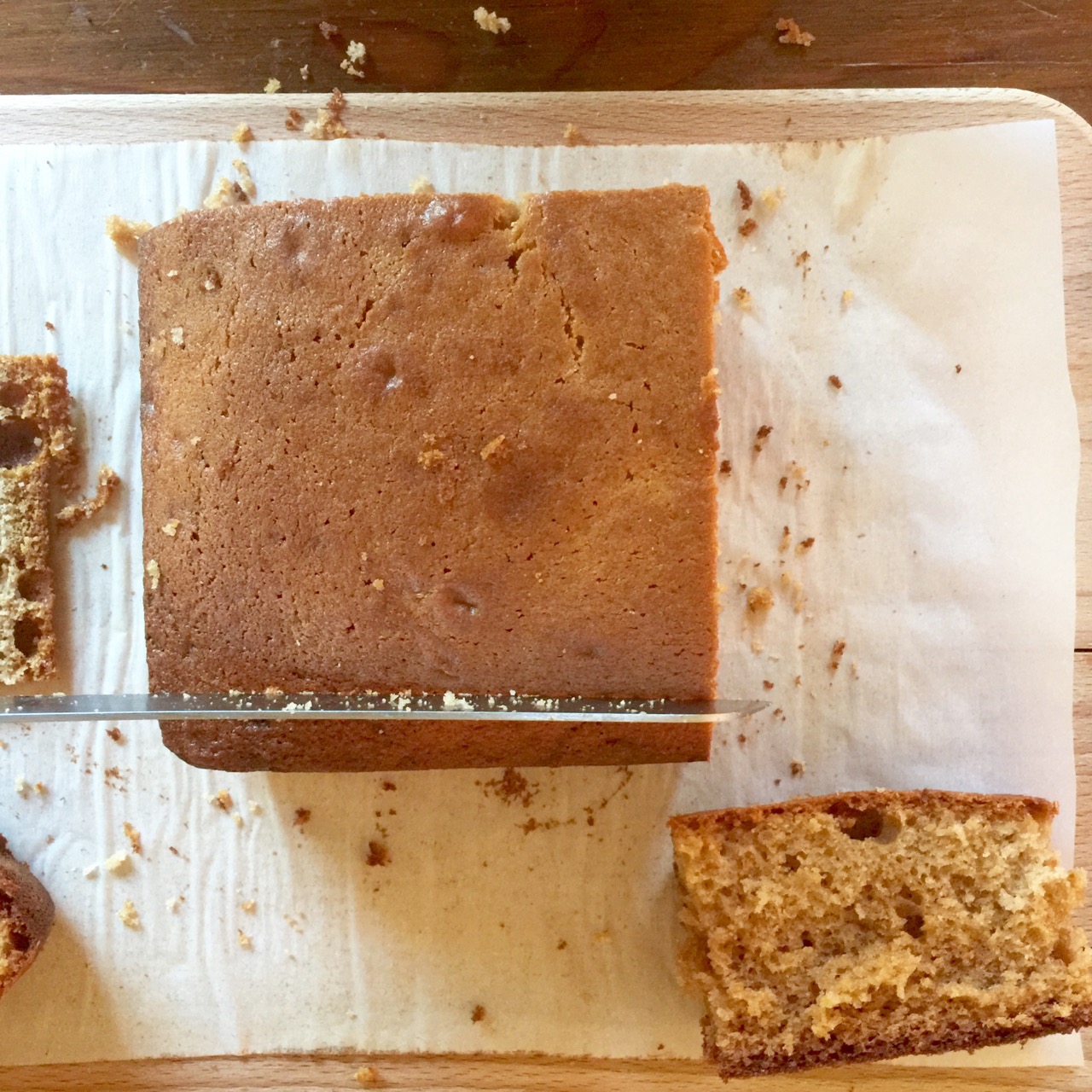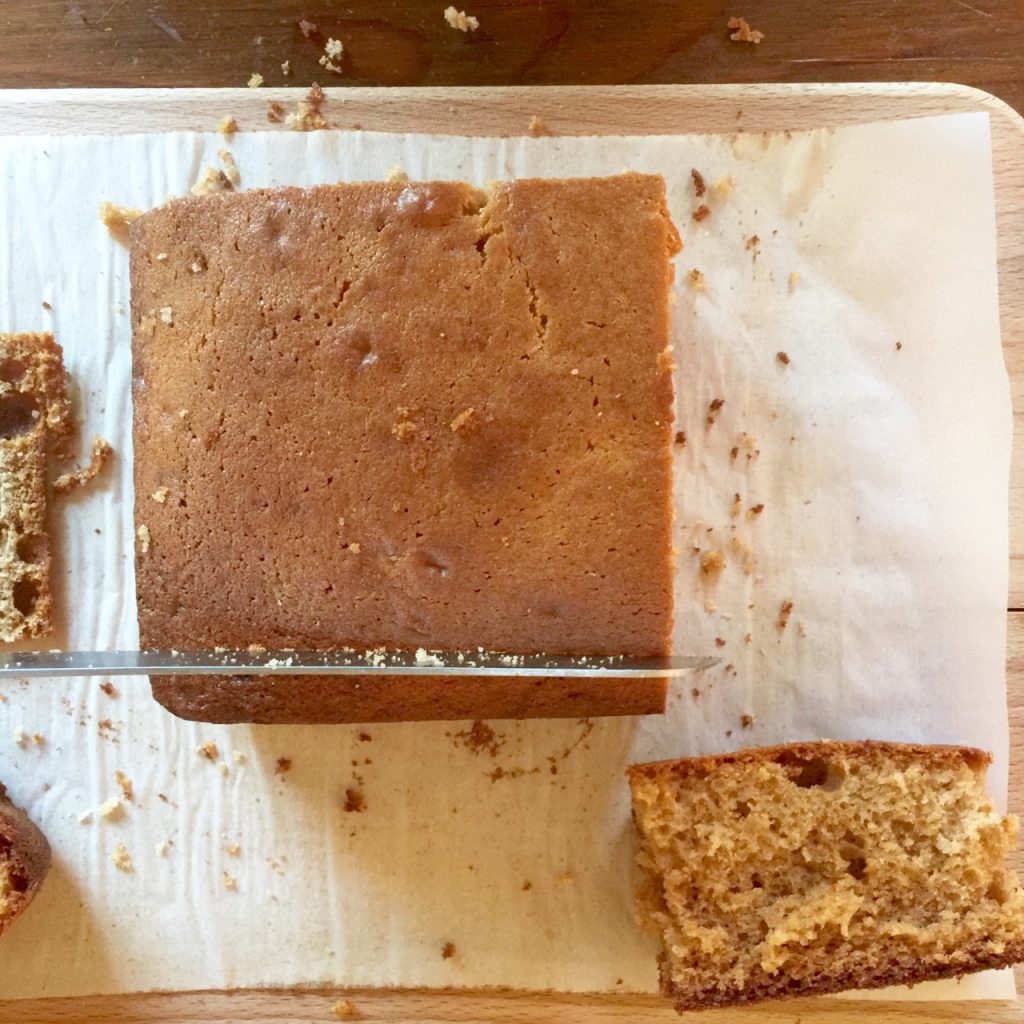 Place the cakes on a baking rack with a cookie sheet or a sheet of parchment paper underneath to catch any drips when you glaze the cakes.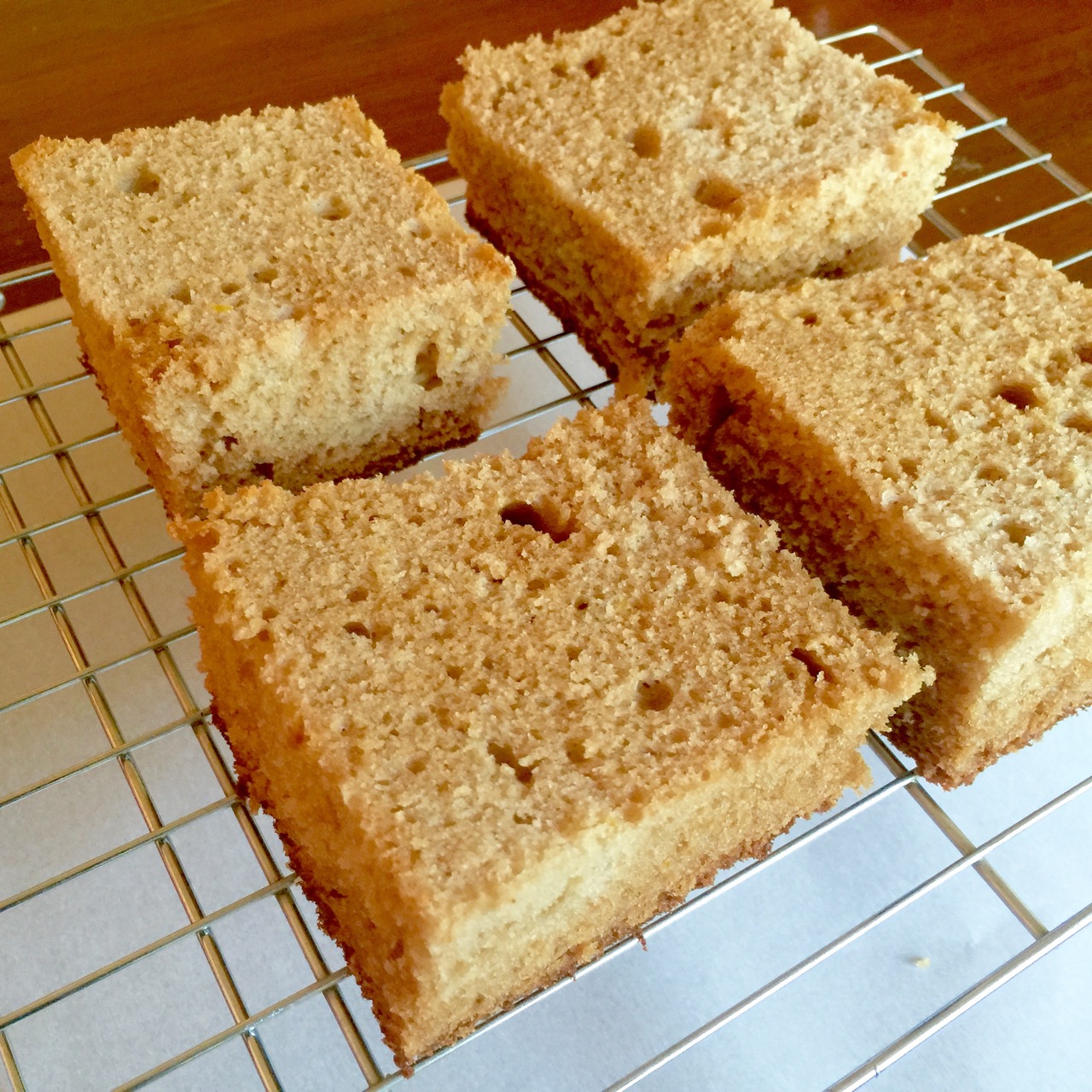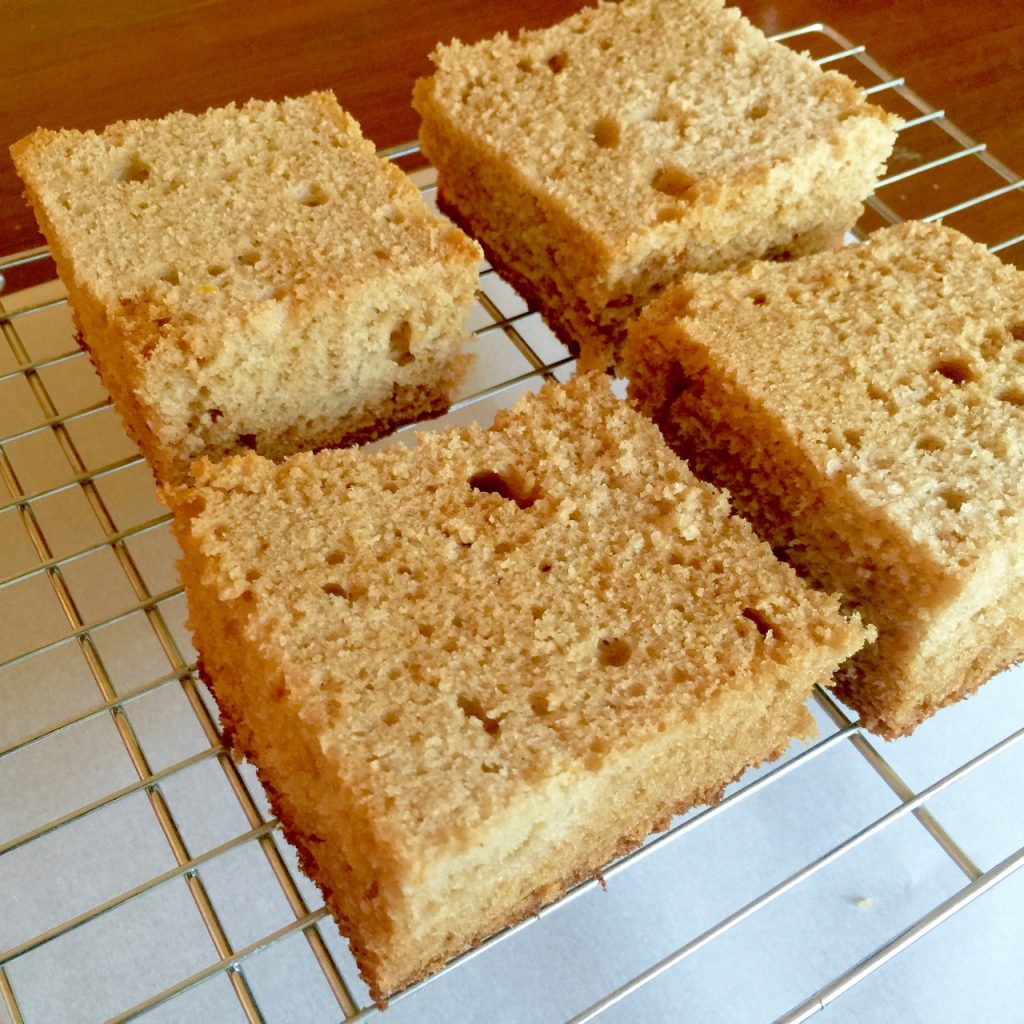 Make the Earl Grey glaze. You'll be using the remaining steeped milk from this recipe so you can skip the milk/tea bag steps in the glaze recipe. Pour on the glaze on while it's still warm so it will be smooth. If you've already prepared it but it's cooled, warm it up in the microwave for 5-10 seconds and stir well. Poor or spoon over each cake, making sure to spread it to the sides so it drips down. You'll need to do this quickly before the glaze sets.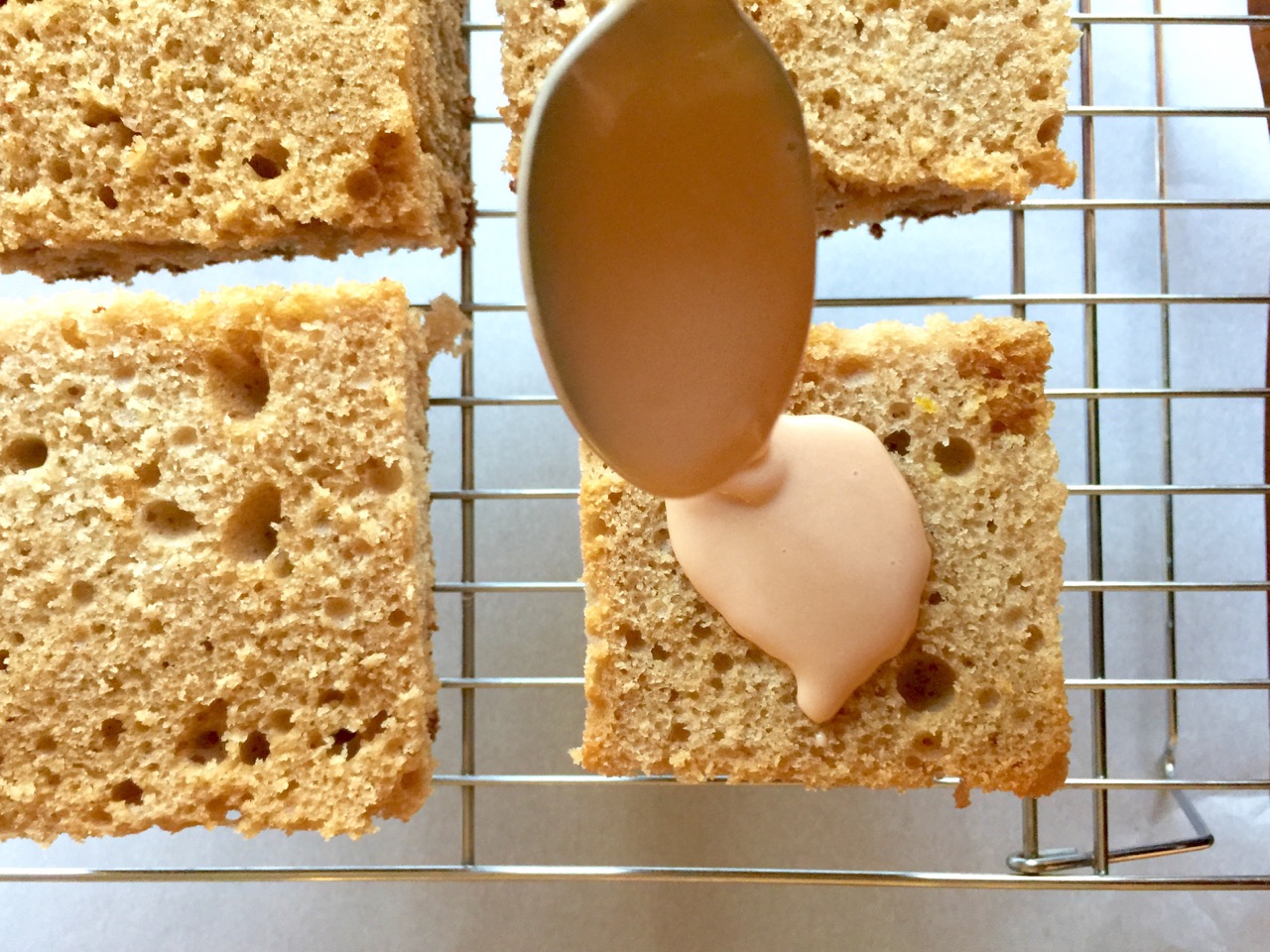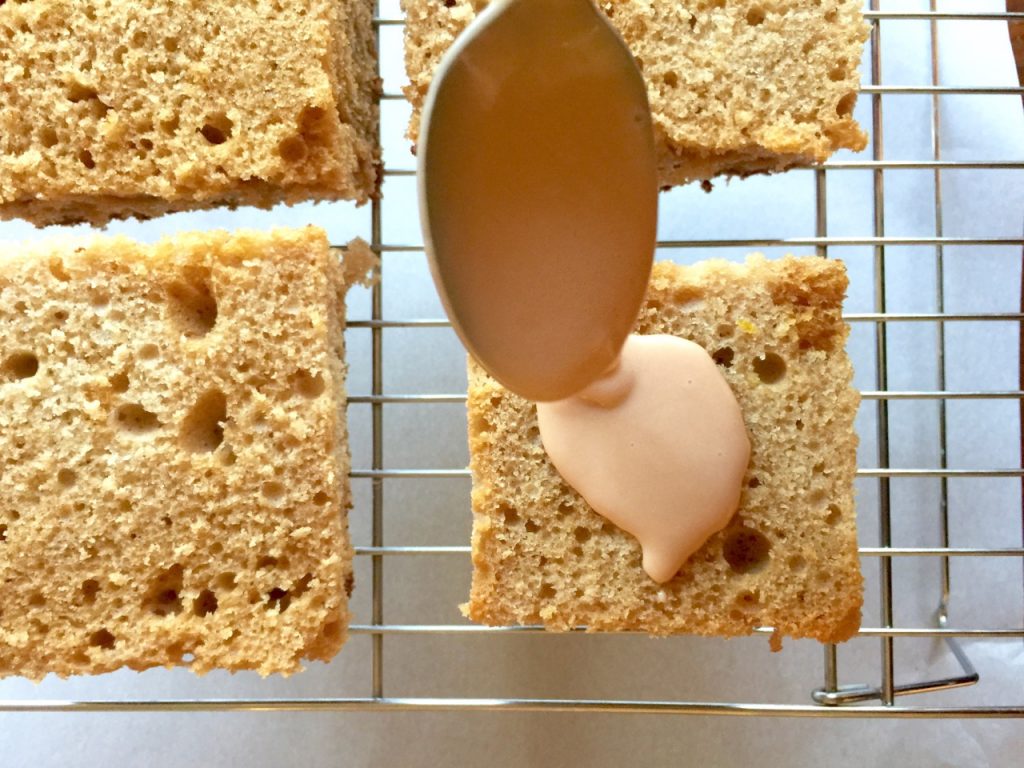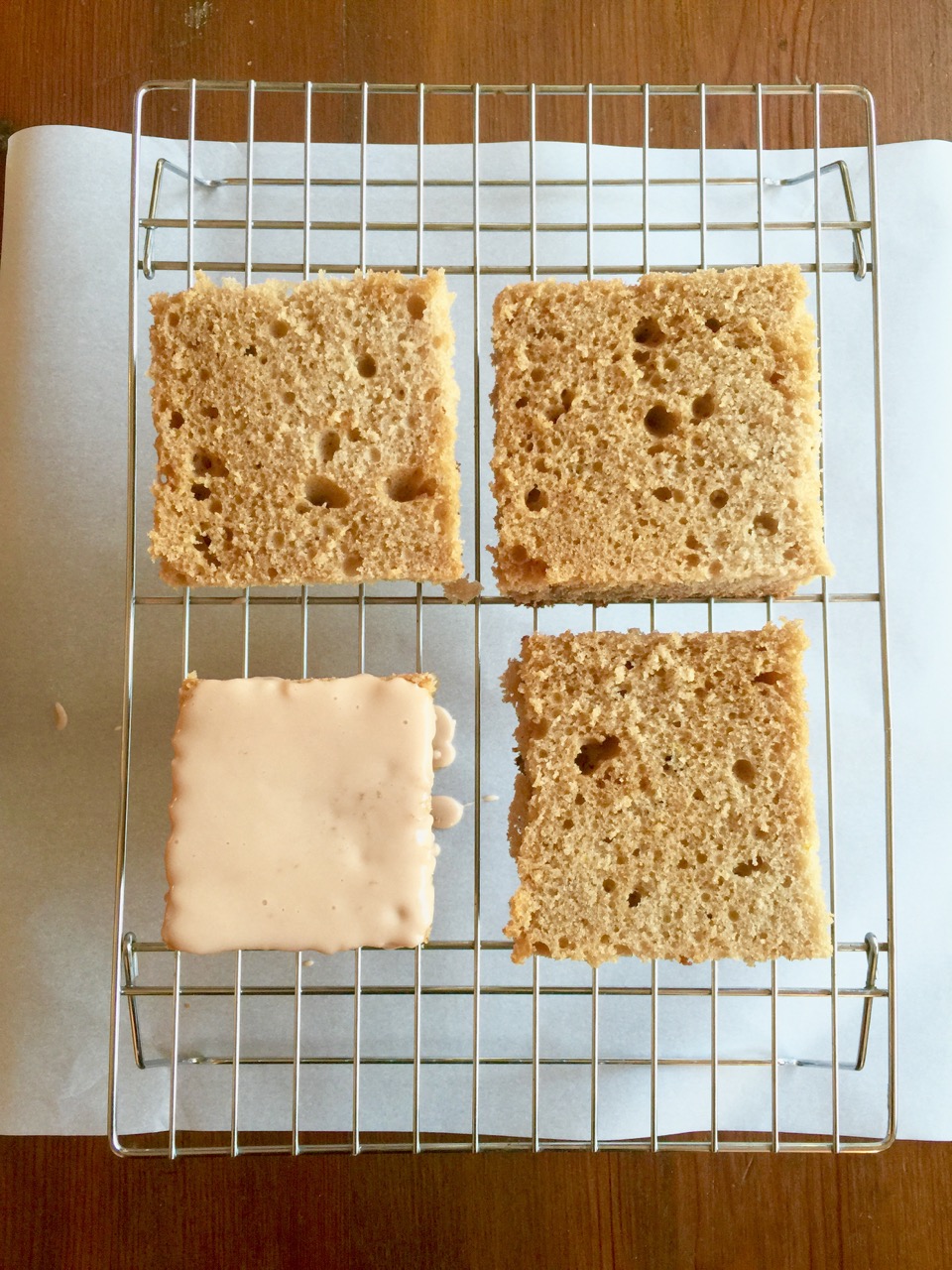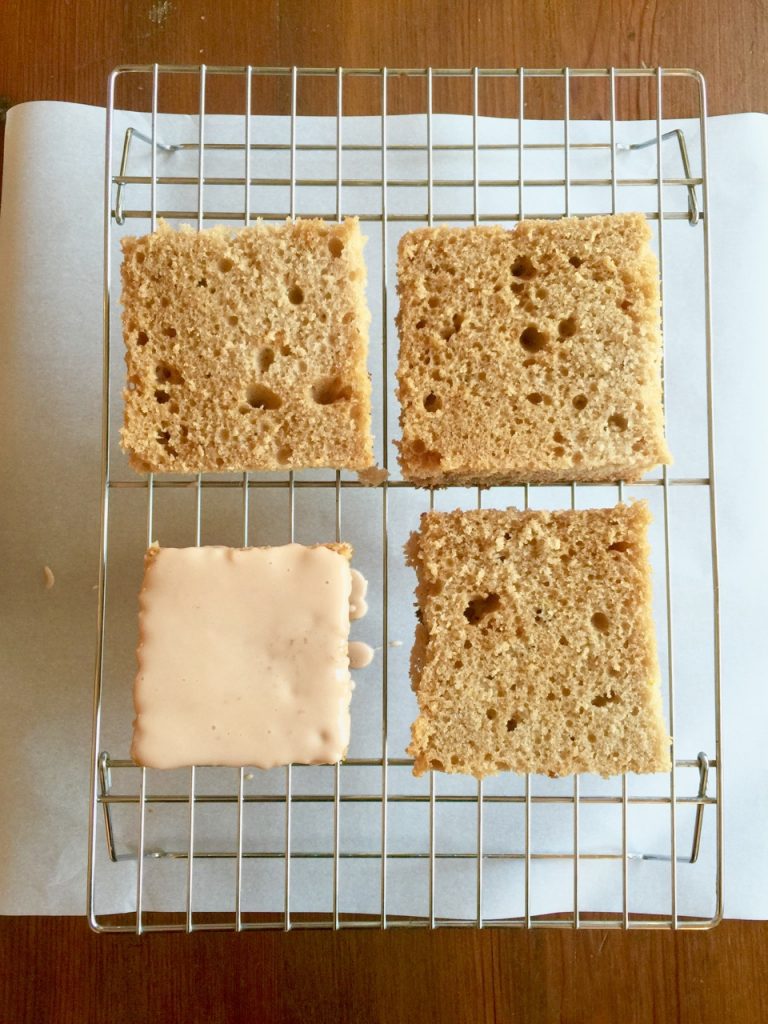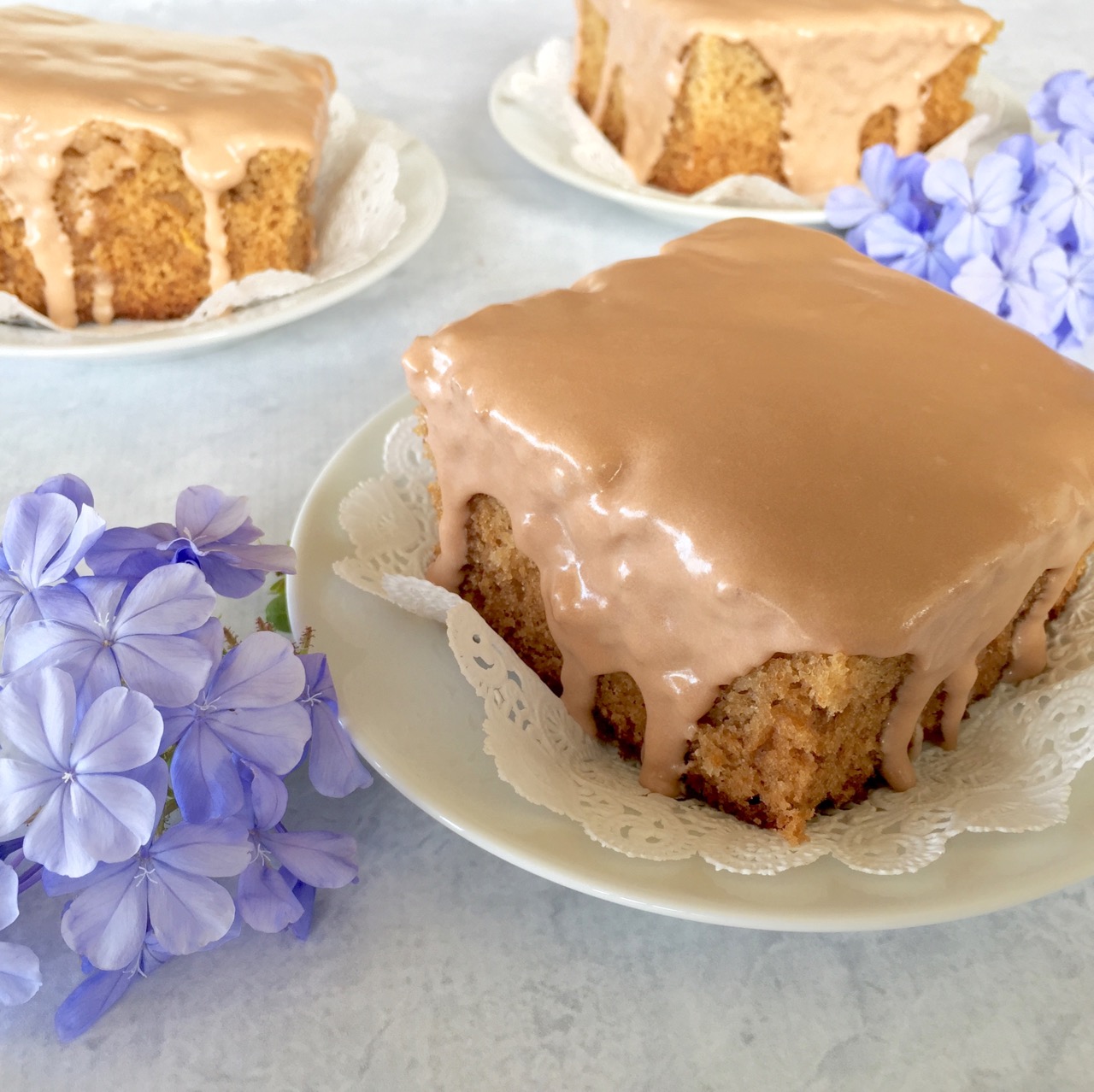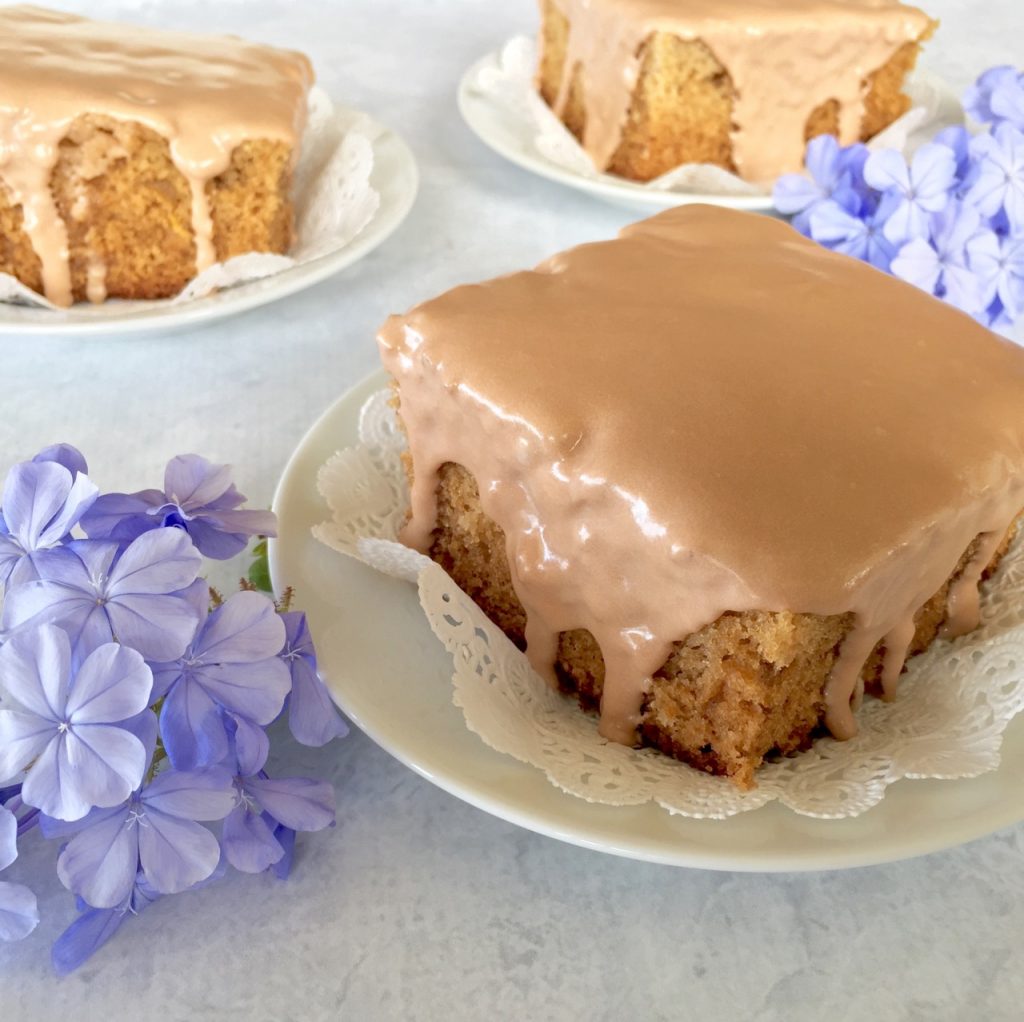 If you'd like, top with sugared flowers or white nonpareils or candied pearls. Then grab a fork and devour!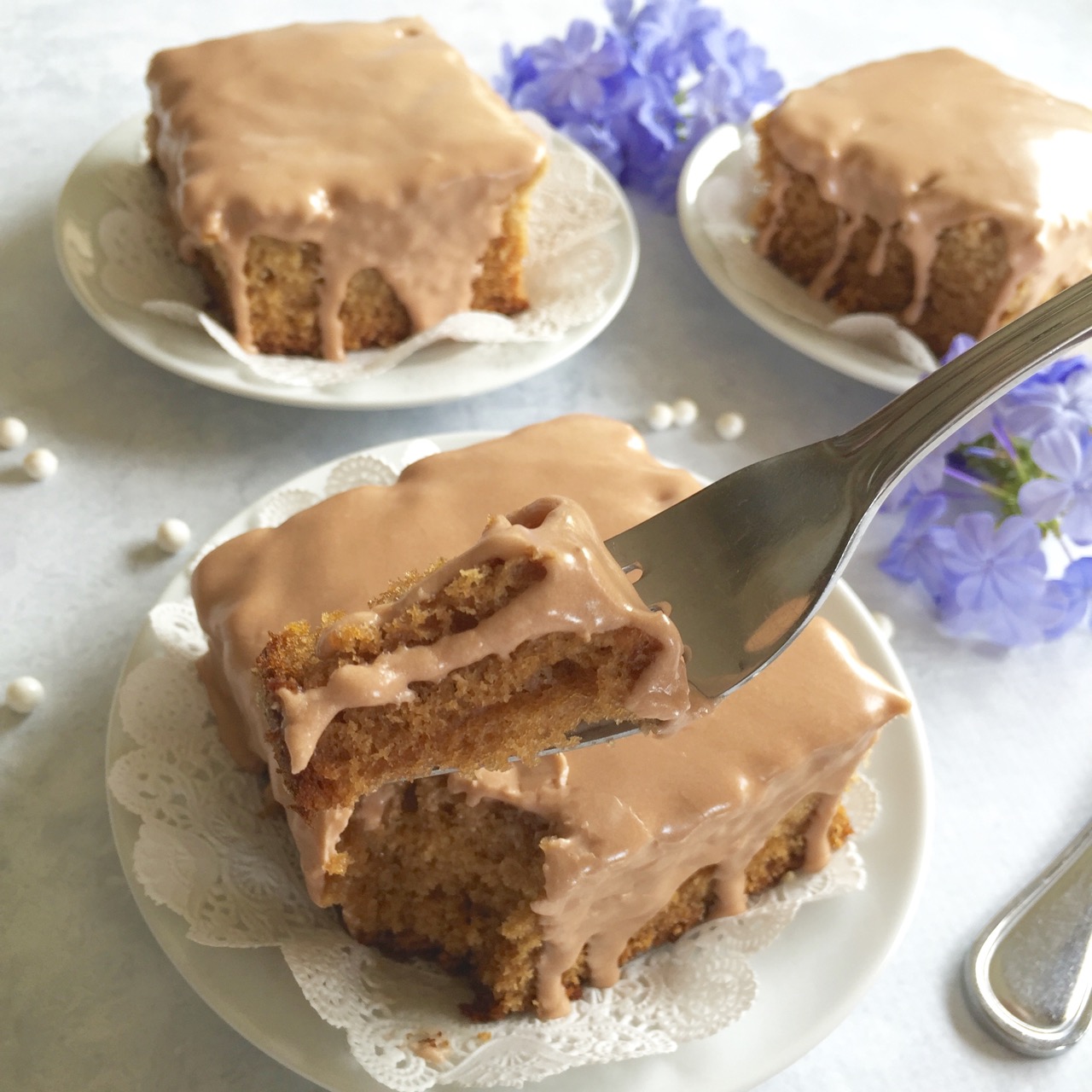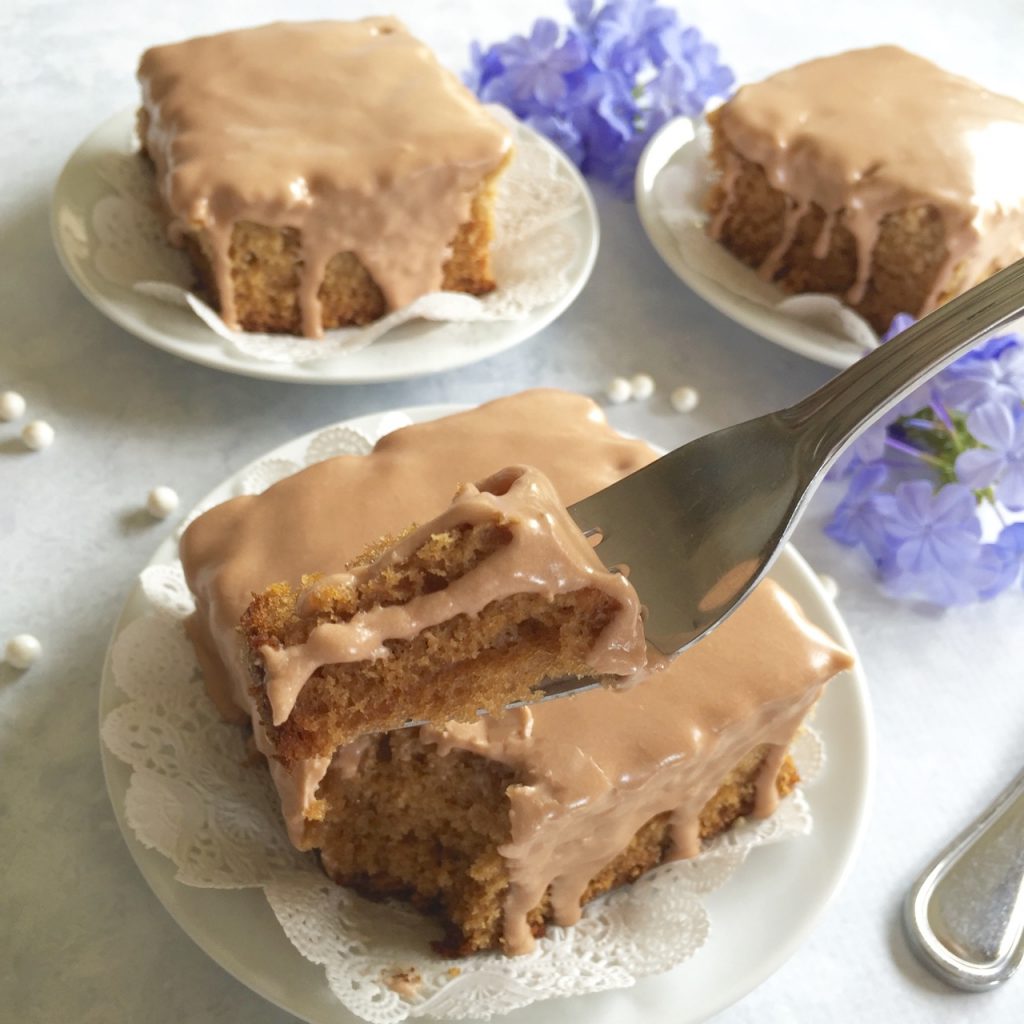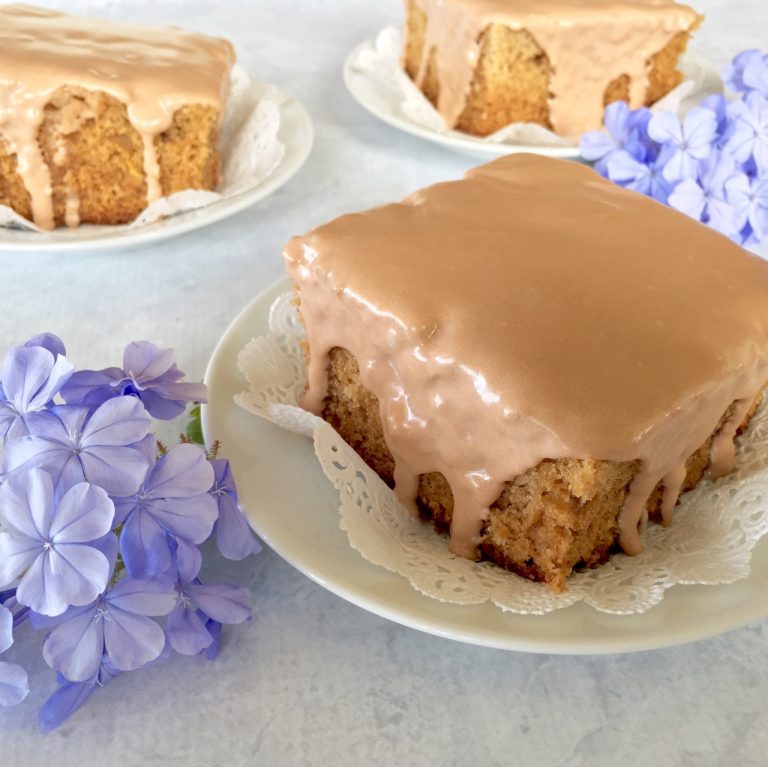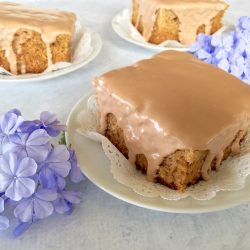 Earl Grey Amish Friendship Bread Tea Cakes
Add flair and class to your recipe box with this fragrant Earl Grey Amish Friendship Bread Tea Cake recipe.
Instructions
Place the milk in a microwave-safe bowl or measuring cup and warm in microwave until it is hot but not boiling, about 30-45 seconds.

Add tea bags and allow to steep for 15 minutes, squeezing the bags with a spoon once or twice.

Remove tea bags and allow to cool. Reserve 1 cup for the recipe and the remaining ½ cup for the glaze.

Preheat oven to 325° F (165° C).

Grease a 9" x 9" baking pan or line with parchment paper.

In a large mixing bowl, cream the starter, butter, sugar and vanilla. Add 1 cup of the infused milk. Add the eggs one at a time and mix well.

In a medium mixing bowl, whisk or sift baking powder, baking soda, salt, flour and lemon zest.

Fold dry ingredients into the batter until incorporated.

Pour mixture into baking pan, spreading the batter evenly.

Bake for 1 hour or until the bread loosens evenly from the sides and a toothpick inserted in the center of the bread comes out clean.

Allow to cool and then cut the cake into even squares. Drizzle liberally with Earl Grey Glaze.

ENJOY!
Notes
The tea-steeped milk is portioned for this recipe and the accompanying glaze recipe. If you don't want to make the glaze, steep 1½ cups milk with 3 tea bags which will yield the 1 cup needed for the recipe.
Adapted from Tastemade and Country Living.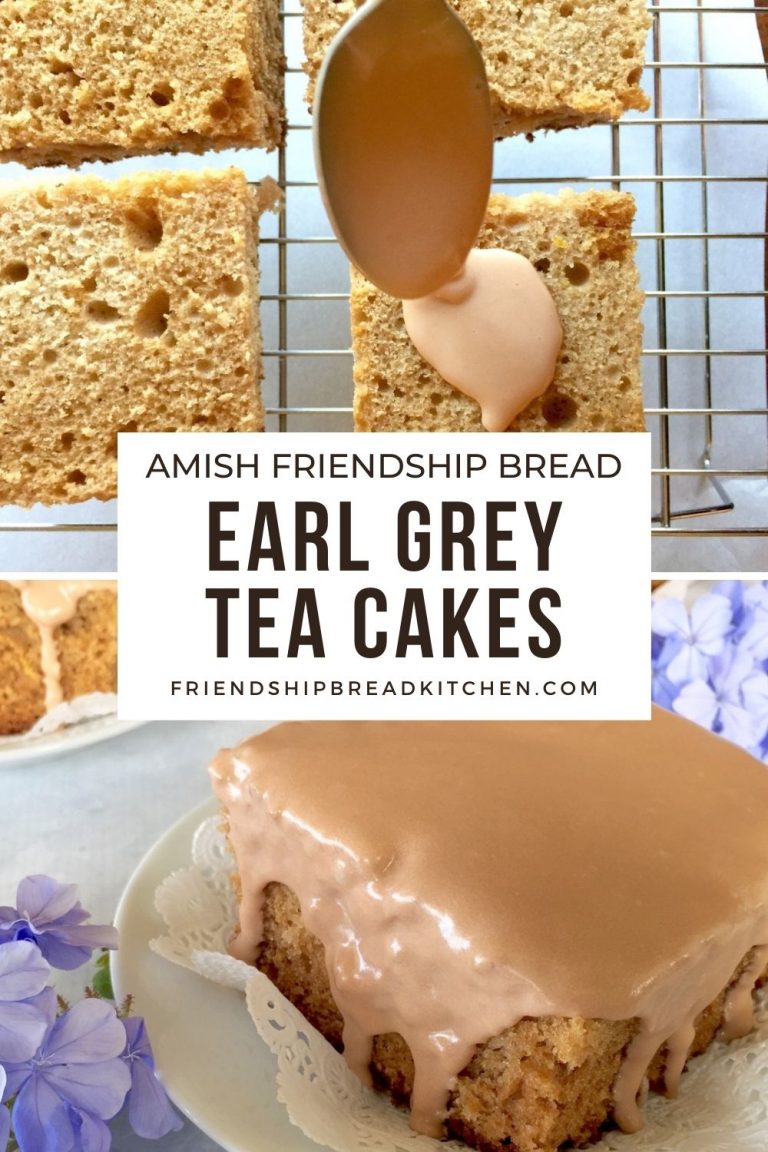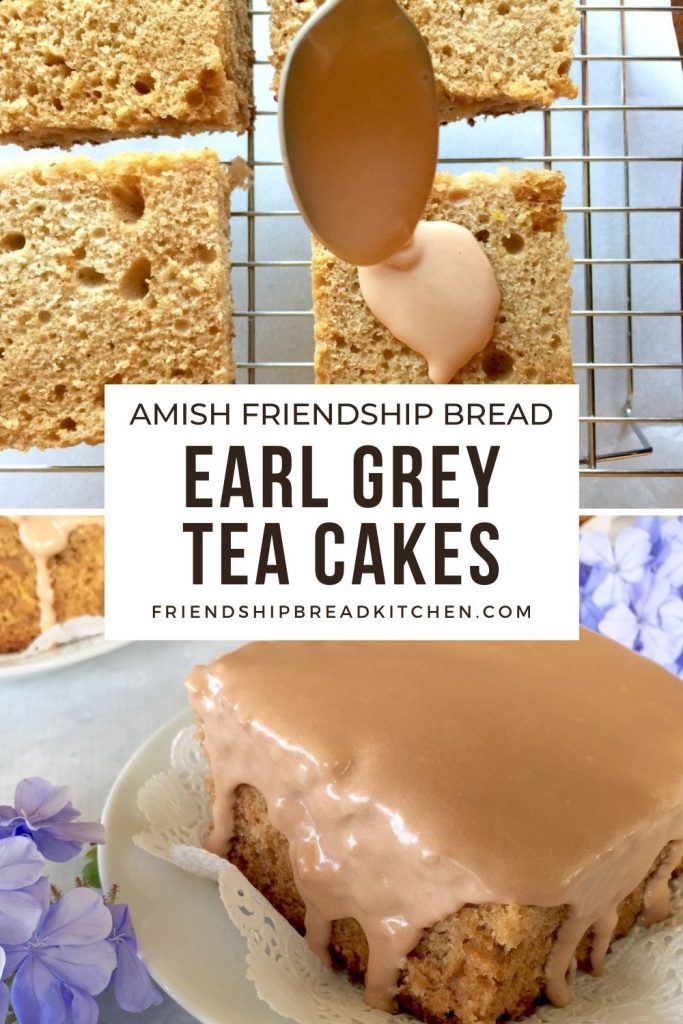 >> Have you tried this? Give the recipe some stars and leave a comment below, letting us know how it worked for you!