These bite-sized Amish Friendship Bread Pineapple Papaya Coconut Macaroons are vegan and gluten-free!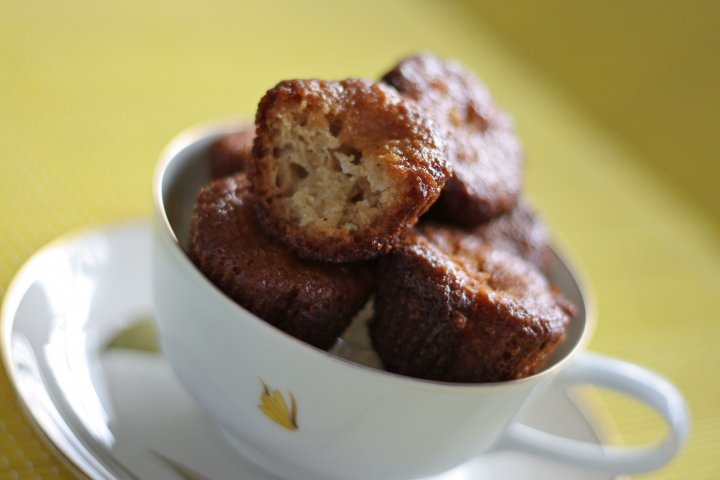 Sweet and dense, the sugar caramelized on top to form a nice crust. We did create the starter from scratch and let it ferment for 10 days, then got busy and put it in the fridge until we could add it to our baking schedule.
The verdict? While it's not too reminiscent of traditional Amish Friendship Bread, it's an excellent recipe for those who are on gluten-free/vegan diets. Click the Starter link to get the Kitchen tested Gluten-free Starter recipe. Instead of milk, substitute for coconut milk.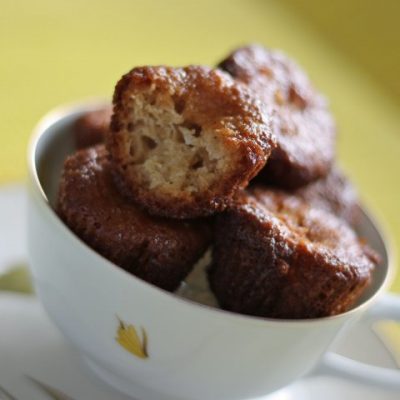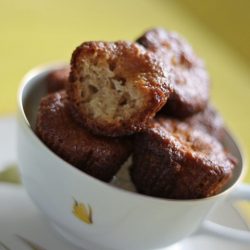 Amish Friendship Bread Pineapple Papaya Coconut Macaroon Mini Muffins
These bite-sized Amish Friendship Bread Pineapple Papaya Coconut Macaroon Muffins are vegan and gluten-free!
Ingredients
1 cup Amish Friendship Bread Starter (Gluten-free made with coconut milk)
1 tablespoon flax seed meal (plus 3 tablespoons warm water) let sit for 10 minutes before adding to batter
2 teaspoons Ener-G Foods Egg Replacer (plus 2 tablespoons of warm water) whisk together until fluffy before adding to batter
1 cup oil
½ cup coconut milk
1 cup sugar
½ teaspoon vanilla
1½ teaspoon baking powder
½ teaspoon salt
½ teaspoon baking soda
1 cup coconut flakes and dried tropical fruit chopped (we used pineapple and papaya)
Instructions
Preheat oven to 325° F (165° C).

In a medium-sized bowl mix Amish Friendship Bread starter, egg replacements, coconut milk, and vanilla.

In a large bowl mix sugar, baking powder, baking soda, salt, and flour. Fold in dried fruit and coconut flakes until lightly coated (this helps prevent them from sinking to the bottom of the muffin wells).

Add wet ingredients to the dry ingredients and mix until just incorporated. Be careful not to overmix.

Grease two large loaf pans.

Dust the greased mini muffin pans with sugar or use paper cups.

Pour the batter evenly into muffin tins and sprinkle sugar on top.

Bake for 15 minutes or until the bread loosens evenly from the sides and a toothpick inserted in the center of the bread comes out clean.

ENJOY!
>> Have you tried this? Share your best pic with us or leave a comment below and let us know how it worked for you!