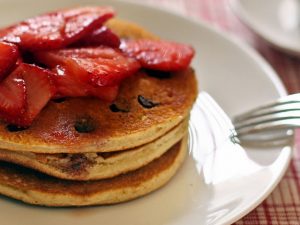 Submitted by: Mary Pilcher | Chasing Some Blue Sky
Image (c) Mary Pilcher | Chasing Some Blue Sky
"It's like having chocolate-covered strawberries and shortcake for breakfast."
Prep Time: 30 minutes
Cook Time: 5 minutes
Servings: 12
Yield: 12 pancakes
Ingredients
1 1/2 cup Amish Friendship Bread Starter
3/4 cup flour
1 teaspoon baking powder
1 teaspoon baking soda
2 eggs
1 teaspoon vanilla extract
1/2 teaspoon almond extract
1/4 cup canola oil
1/2 cup milk
chocolate chips
1 pound strawberries, sliced
2-3 tablespoons sugar (to taste)
Directions
Combine sugar and strawberries in bowl, stir well and set aside to allow sugar to draw out juices for about 30 minutes.
Preheat griddle.
In a mixing bowl, add starter and wet ingredients. Whisk together.
In a large mixing bowl, combine flour, salt, baking powder and baking soda.
Pour wet ingredients into dry ingredients and whisk well.
Spoon batter onto greased skillet or griddle.
Sprinkle with chocolate chips.
Cook until bubbles appear on the surface, then flip.
Cook until browned on the other side.
Serve with with strawberries.
ENJOY!
Kitchen Notes
An answer to the inevitable question of what to do with all that extra starter is don't make it. Dump half the starter on the last day and then only added half the ingredients for the final version. Much more manageable and while it seems a little wasteful at first, it's really what you do with sourdough starter.
Image Gallery
L  to R: (c) Mary Pilcher | Chasing Some Blue Sky; (c) Mary Pilcher | Chasing Some Blue Sky