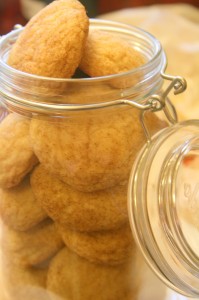 Submitted by:  Friendship Bread Kitchen
Image (c) Friendship Bread Kitchen
"A rich and creamy cinnamon sugar cookie."
Prep Time: 10 minutes
Cook Time: 10-12 minutes
Servings: 60
Yield: 60 cookies
Ingredients

1 cup Amish Friendship Bread Starter
1 cup butter
1 1/2 cups sugar
2 eggs
1 teaspoon cinnamon
1 teaspoon baking soda
2 teaspoons cream of tartar
4 cups flour
1/4 teaspoon salt
1/4 cup sugar
1/3 cup cinnamon
Directions
Preheat oven to 375° F (190° C).
In a large mixing bowl, add in wet ingredients.
Mix in rest of ingredients except the last sugar and cinnamon.
In a small bowl, mix together the sugar and cinnamon.
Shape dough into 1 inch balls.
Roll balls in cinnamon-sugar mixture.
Place them 2 inches apart on cookie sheet.
Bake 10 minutes.
Remove from cookie sheet to wire rack.
ENJOY!
Kitchen Notes
The dough is a tad sticky but rolls really well into balls.  If you want a crunchy cookie, bake an extra 3-5 minutes.
From Deborah Gillespie: "I substituted pumpkin pie spice for the cinnamon in the recipe. It was wonderful and I plan on doing it again."
Image Gallery
L to R: (c) Friendship Bread Kitchen; (c) Rachel Barna; (c) Deborah Gillespie