You can't herald in the holidays without fruitcake, and have I got a recipe for you. This comes by way of Tammy Basile, owner of the lovely food blog, Basile Limeade.
Tammy is a seasoned foodie and no stranger to the kitchen. Her mother used to make Amish Friendship Bread when Tammy was a little girl, so when a co-worker gave her a starter, she made about a dozen loaves with it because she had forgotten how wonderful it was.
Still, to come up with this recipe she had to make her starter from scratch.
She says, "I think the hardest part of making Amish Friendship Bread is the waiting. I started this recipe 9 days ago and basically had to do nothing for 8 days! Oh, the agony! Seeing that lovely, bubbly, yeasty starter sitting on the counter and not being able to do anything other than mush it once a day was pure torture." I think I speak for everyone who has ever made Amish Friendship Bread: We feel your pain, Tammy, we feel your pain.
Fruitcake gets a bad rap, and Tammy was determined to make hers different. She drew inspiration from several different recipes including Alton Brown's recipe for free range fruitcake to create this one for the Kitchen. The result was a flavorful, spicy, rum-soaked delight.
A quick note: I only share links that I love and personally use. This post contains affiliate or commission links which support the Friendship Bread Kitchen if you click or buy. Thank you!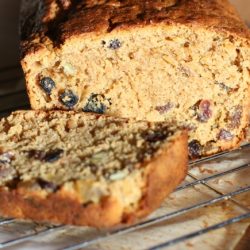 Amish Friendship Bread Fruitcake
The holidays wouldn't be completed without this rum-soaked Amish Friendship Bread Fruitcake.
Ingredients
2

cup

flour

2

teaspoons

pumpkin pie spice

1

teaspoon

salt

2

teaspoons

baking powder

3

eggs

¾

cup

brown sugar

½

cup

butter

1 stick

¼

cup

orange juice

1 medium orange

1

cup

rum

or enough to soak the dry fruit

1

cup

dried fruit

I used blueberries, cranberries, cherries, raisins, goji berries, pumpkin seeds

¾

cup

apple sauce

½

cup

candied ginger

chopped

1½

teaspoons

vanilla
Instructions
Combine the dried fruit with rum and allow to sit overnight (24 hours is best). If you are short on time, microwave the fruit and rum for 1 minute and allow to sit while you prepare the rest of the recipe.

Spray a large loaf pan with non-stick spray.

Cut a piece of parchment paper to the line the bottom and two sides of the pan.

Preheat oven to 325° F (165° C).

In a large bowl, combine the flour, salt, pumpkin pie spice, and baking powder, set aside.

In a smaller bowl, combine the eggs, brown sugar, butter, orange juice, vanilla, apple sauce and ⅓ cup of the rum from the dried fruit.

Pour starter over the dry ingredients, then add the wet ingredients and stir to combine.

Add drained fruit and candied ginger, stir until just combined.

Pour batter into prepared loaf pan.

Bake at 350° F for 1 hour or until toothpick comes out clean.

ENJOY!
Recipe Notes
Pick up a dried fruit and nut mix from Costco or any grocery store to help save time.
The longer you can soak your dried fruit in rum, the better! Try from a minimum of one day.
>> Have you tried this recipe? Share your best pic with us or leave a comment below and let us know how it worked for you!