This recipe was submitted by Kitchen Friend Sandy Kelley-Jones and was a hit with everyone who tried it. Sandy adds, "This recipe made two dozen muffins with enough batter left over to make one dozen in a muffin top pan. I used Guittard milk chocolate chips."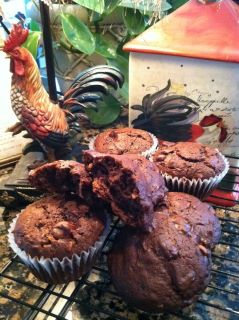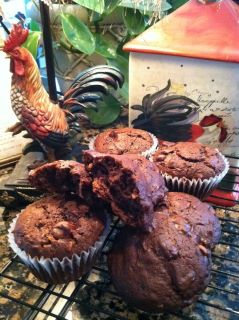 Double Chocolate Chip Coconut Amish Friendship Bread Muffins
This recipe for Double Chocolate Chip Coconut Amish Friendship Bread muffins is a community favorite!
Ingredients
3 eggs
¾ cup oil
½ cup milk
½ cup sugar
1 teaspoon vanilla
½ teaspoon salt
1½ teaspoons baking powder
½ teaspoon baking soda
2 cups flour
⅓ cup cocoa
1 tablespoon instant coffee crystals
2 small boxes chocolate fudge instant pudding
1 cup milk chocolate chips
1 cup coconut
1 cup chopped walnuts
Instructions
Preheat oven to 350° F (165° C).

In a large mixing bowl, add ingredients as listed, mix well by hand.

Use cupcake liners or butter muffin tins & dust with cocoa. Batter will be thick.

Use a medium-sized cookie scoop to fill tins about 1/2 to 3/4 full.

Bake for 20-25 minutes or until a toothpick inserted in the center of the muffins comes out clean.

Cool about 5 minutes and remove to rack.

ENJOY!
>> Have you tried this recipe? Share your best pic with us or leave a comment below and let us know how it worked for you!