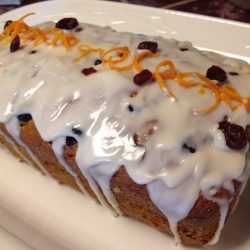 Cranberry Orange Amish Friendship Bread
Ingredients
3

eggs

1

cup

oil

½

cup

fresh or frozen

reconstituted orange juice

1

cup

sugar

½

teaspoon

vanilla

1

tablespoon

grated orange peel

1 ½

teaspoon

baking powder

½

teaspoon

salt

½

teaspoon

baking soda

2

cups

flour

1-2

small boxes vanilla instant pudding

1

cup

fresh or dried cranberries
Instructions
Preheat oven to 325° F (165° C).

In a large mixing bowl, add ingredients as listed.

Grease two large loaf pans.

Dust the greased pans with granulated sugar.

Pour the batter evenly into loaf or cake pans.

Bake for one hour or until the bread loosens evenly from the sides and a toothpick inserted in the center of the bread comes out clean.

ENJOY!
Recipe Notes
With the addition of chopped nuts, this recipe makes a hearty breakfast muffin. Instead of loaf pans, fill 22-24 cupcake or muffin tins with batter and bake for 25 minutes.
From Lynda Black (Garland, TX): "Add 1/2 of a small bag of dried cranberries, 2 teaspoons of orange extract and the zest of one orange to the basic recipe. Bake in prepared muffin pans at 350° F until done. Time will depend on the size of your muffin pans."
From Paula Altenbach (Colorado Springs, CO): "This Cranberry Orange Amish Friendship Bread is stand alone tender. But the addition of Southern Comfort Orange Glaze took it the the next level! The men in the house agreed to slather in on and I caught them nibbling the drips. I believe an orange glaze or even a rum glaze would be spectacular! Baked in Colorado Springs at 6,035', I cut back to 1/4 baking soda and added 1/3 cup flour to the 2 loaf recipe [to account for high altitude baking]. Studding the top of the loaf with 1/8 cup of the called for cranberries baked in beautifully without burning or sinking in. After lightly greasing the pan, I find adding a strip of parchment paper to create a lift for friendship bread has made for fool-proof removal."
>> Have you tried this? Share your best pic with us or leave a comment below and let us know how it worked for you!