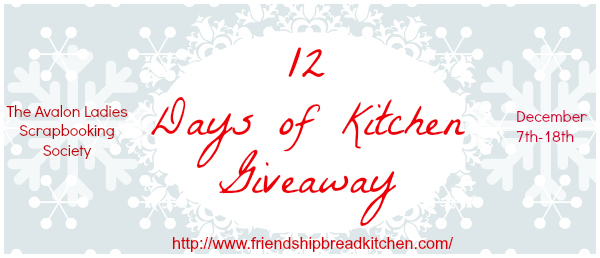 DAY 9: December 15, 2012 – Saturday
"On the Ninth Day of Kitchen, Darien gave to me …an advanced reader's copy of The Avalon Ladies Scrapbooking Society and a $25 Amazon Gift Card!"
The Anecdotes
If you read Friendship Bread this past year, then you know how my novels, which usually revolve around a small group of women, are dotted with anecdotes from the town's colorful residents. Loyal readers will be happy to know that I'm continuing the tradition with The Avalon Ladies Scrapbooking Society as well.
Like so many things that happen in a small town, what happens to one person often affects many others, whether we realize it or not. That was certainly the case with Amish Friendship Bread when it started to make its rounds in Avalon, IL (the only question was who didn't have the starter!), and it seems to be the case with Bettie and her contagious enthusiasm for scrapbooking and memory keeping in The Avalon Ladies Scrapbooking Society, too! Prepare to meet Enid Griffin, 56, a travel agent with Avalon Travel; Wally Miller, 62, founder of the cooking support group, Men in Aprons; Abilene Gould, 26, temporary secretary; Trick McGaughy, 52, on-air personality and radio host for KAVL 94.5 FM; and Herb "Buster" McMillan, 57, truck driver, to name a few. All of these folks come in contact with Bettie (and yes, men treasure memories just as much as women) and find they're not quite the same after. What about you? Pick up a copy of The Avalon Ladies Scrapbooking Society in January and see if it inspires you, too.
The Giveaway
The Avalon Ladies Scrapbooking Society advanced reader's copy (ARC) and a $25 Amazon gift card! Everyone is so good about giving to others during this holiday season, and I'd love for you to be able to get a little something for yourself! You could also head over to the Groceries department and get a 24-pack of Jello pudding for your next big Amish Friendship Bread baking run (if you seriously decide to do this, I will front the additional $0.53 you need for the vanilla or chocolate flavors)!
To Enter
This giveaway is now closed. The winner is Diane Siniscalchi from Ringwood, New Jersey. Congratulations, Diane! To see the complete list of winners, click here.
What You Can Get an Amazon for $25 or Less
I took a moment to see what cool gifts you could get for $25 or less on Amazon, and here's what I found! Click on the pictures to go to the buying page. These were the prices on 12/10/12 and are subject to change (it is Amazon, after all — I once saw them change a price for an item in my shopping cart within 5 minutes!) and all images are from Amazon.
Italian Herb Garden Trio. $18.99
Black Jewelry Stand, $9.90
Six pack of dark chocolate from Scharffen Berger! $20.49
Cool silvertone cuff bracelet! $22.99
Three-pack of cozy, stripy socks! $14.99
Stila Home for the Holidays Eye Shadow Palette! $16
Two year subscription to Woman's Day! $7.99
Caldrea Sea Salt Neroli Candle! $15.99