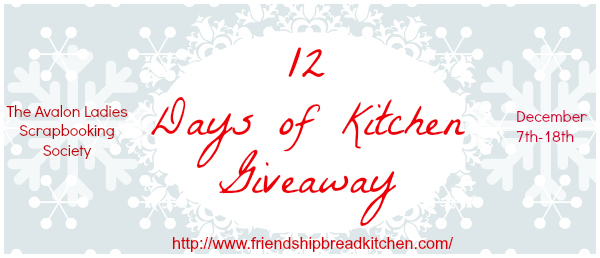 DAY 10: December 16, 2012 – Sunday
"On the Tenth Day of Kitchen, Darien gave to me … an advanced reader's copy of The Avalon Ladies Scrapbooking Society and the Nordic Ware Original Platinum Collection Bundt Pan!"
Welcome to Avalon, Pop. 4,243
At first glance, the small river town of Avalon, Illinois, might be the kind of town that you drive right through without a second glance. It's not very big, for starters, and there's nothing particularly special about it unless you take a moment to meet the people who live in it. There's Madeline Davis, whose quaint tea salon has become the hub of this small town (in addition to her amazing baked goods and high tea fare, she serves a mean breakfast of fresh buttermilk pancakes, plump blueberries, and local maple syrup). I'm not kidding when I say I've met readers who've told me they wished they lived in a town like Avalon, that it seems so real they want to know how they can get there. For others, Avalon reminds them of the small town they grew up in, where everybody knew you (for better or for worse) but at the end of the day you could take comfort in the fact that you were surrounded by family, neighbors and friends who would come to your aid if ever the need arose. But don't take my word for it. Check out the 105 reviews on Barnes & Noble or 206 reviews on Amazon or 750 reviews on Goodreads, where the book was received 2,916 ratings (and 3.7 stars out of 4).
"I loved how the story was about the five main characters as well as the whole community of Avalon. I felt like this story could have been written about the community I live in. The town of Avalon really could be Anytown, USA and the story reminds us to check in with our neighbors and find ways to support each other through all our struggles." Stacey Gorkow, Amazon reviewer
"I also found myself longing to find a town like Avalon." Tracy F, Amazon Vine reviewer
"I can't wait for the next book in this series! I feel like Avalon is a place I want to visit again and again." L. Staley, Amazon Reviewer
Well, you're in luck, because The Avalon Ladies Scrapbooking Society hits bookstores everyone on January 29, 2013 and picks up the summer after Friendship Bread ended. I hope you'll have a chance to read this novel (you don't have to read Friendship Bread first) and get to know the town of Avalon, IL, and the wonderful (and at times quirky) people who reside there.
The Giveaway
The Avalon Ladies Scrapbooking Society advanced reader's copy (ARC) and a 60th Anniversary Bundt Pan that replicates Nordic Ware's first cast aluminum pan, which accommodates 10-15 cup recipes. So yes, your cake will be the envy at the potluck! This is the #1 selling Bundt pan on Amazon and is a favorite among home bakers. This rust- and warp-resistant pan has a long life expectancy. Distinctive gold, premium non-stick interiors allow for quick release and easy clean up. Heat reflective silver platinum exteriors ensure uniform browning. Proudly made in the USA by Nordic Ware.
To Enter
This giveaway is now closed. The winner is Karen Briggs from Akron, New York. Congratulations, Karen! To see the complete list of winners, click here.
Bundt Love
A chance to post more gorgeous pictures to inspire you? Here we go! And we remember that almost all our Amish Friendship Bread recipes adapt easily from loaf pans to Bundt pans. Don't believe me? Just check out the photos (and recipes) below!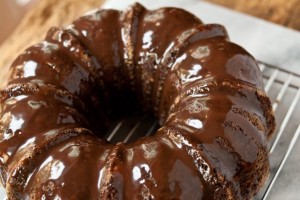 Oh, dear. Pure decadence. And in our Recipe Box, too! Almond Joy Amish Friendship Bread.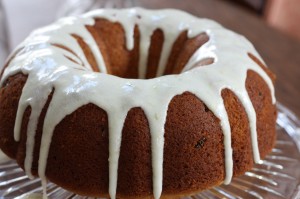 Another straight from the Kitchen Recipe Box! Lemon Cranberry Amish Friendship Bread with a lemon glaze drizzle.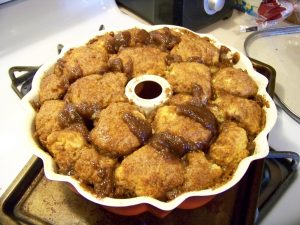 Didn't know you could do that? Amish Friendship Bread Monkey Bread. Your kids (or the ones in the neighborhood) will LOVE YOU!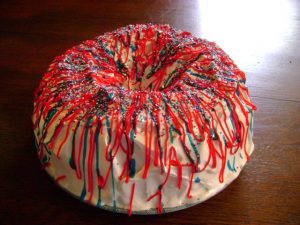 We love how this Kitchen Friend got creative and patriotic with her festive Fourth of July Amish Friendship Bread cake!