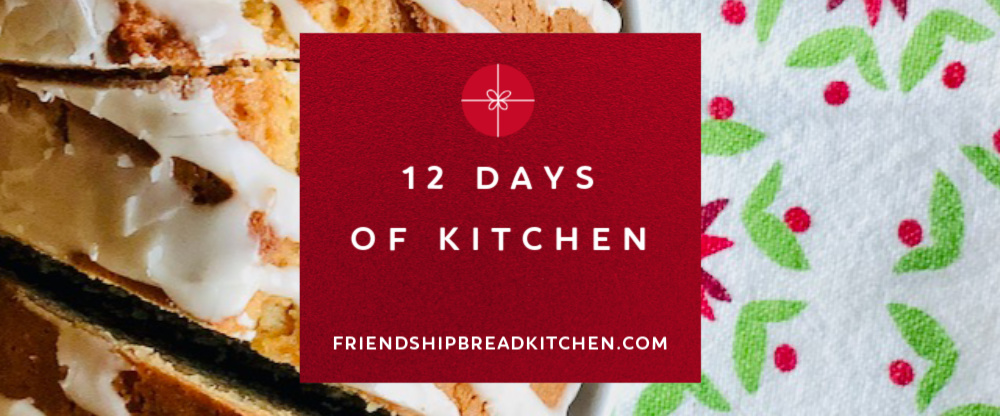 Are you ready? Let's go!
Welcome to the 12 Days of Kitchen Holiday Giveaway!
It's been ages since I last did this (2015? 2011?), so I'm excited to bring it back for this holiday season. While the posts have been updated to reflect new challenges and giveaway items, the previous comments remain. Don't worry: only comments left during the 2019 giveaway will be valid.
It's a way for us to connect and have fun, and to bring a little festive cheer to your day. Plus, you could win something amazing for your kitchen!
How it works
Each day I'll feature a holiday recipe and task. Complete the task, check back in by leaving a comment on the original giveaway post, and you're done!
Rules and fine print
Qualified entries must abide by the following guidelines:
Valid dates: December 7, 2019 to December 20, 2019 9:00 pm PST. NOTE: Deadline is extended to December 22, 2019 6:00 pm PST.
Only one entry per person per post.
Enter one giveaway or enter all, it's up to you.
Carefully read the instructions for each post. Failure to follow instructions will disqualify your entry. If a comment violates our community standards or abuse the spirit of the giveaway, the commenter will be banned.
US residents only.
Be kind and have fun!
Winners will be drawn after the giveaway closes on December 22, 2019. The winning names will be posted on the website, and winners will also be notified by email. Check back here for the complete list of winners on December 23, 2019.
Enter now
Links go live on the day of the giveaway. Missed a day? There's still time to enter! Comments will close on all posts on December 22, 2019 at 6:00 pm PST.
Last day to enter all giveaways: December 22, 2019 Sunday 6:00 pm PST
Winners announced: December 23, 2019 Monday
PLEASE NOTE: If you are a winner, look for an email from me by Friday, December 27, 2019. If you don't hear from me by then, feel free to reach out via the Contact Form. Congrats!
Want a daily reminder? I can send a quick email to you when the next giveaway is live, so you don't forget to enter. Enter your information below to receive daily alerts for the 12 Days of Kitchen, plus an email when the winners have been drawn. You won't receive additional emails about this giveaway after December 23, 2019.
Happy holidays and happy baking!