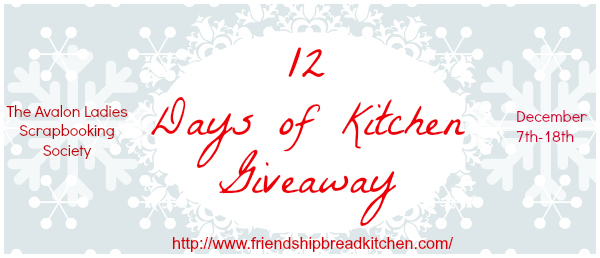 DAY 7: December 13, 2012 – Thursday
"On the Seventh Day of Kitchen, Darien gave to me … an advanced reader's copy of The Avalon Ladies Scrapbooking Society and Cocoa + Mugs for Two from Starbucks!"
Meet Ava Catalina, Aspiring…Well, That's a Good Question
For Ava Catalina, reaching out to the one person who holds precious memories for her means evoking old hurts. But this isn't just about her—it's about her young son, Max, and doing what she can to give him the best life possible. In what little free time she has, Ava crafts bottlecap jewelry that has received praise and attention but is far from paying the rent. All her life she's erred on the side of positive thinking and joy ("It's going to be fine. Strike that—it's going to be beyond expectation. Good things, one miracle after another…"), but lately she's beginning to wonder if she needs to face up to reality. Who exactly is she kidding, anyway? When Bettie Shelton, founder of the Avalon Ladies Scrapbooking Society, corrals her into presenting her bottlecap crafting ideas in front of the group, Ava comes face-to-face with her past and realizes that she can't hide any longer. Read The Avalon Ladies Scrapbooking Society to find who's in Ava's past and what she has to do to move on, for her sake and Max's.
The Giveaway
The Avalon Ladies Scrapbooking Society advanced reader's copy (ARC) and TWO Starbucks cocoa mugs, Toasted Marshmallow Hot Cocoa for two and Double Chocolate Hot Cocoa for two. Are we thinking cozy? Your better half or a best friend? Or a way to drink a second cup of cocoa without having to rinse out the first? 😉 This sweetened cocoa blend is made from natural ingredients and ethically sourced cocoa. Enjoy!
To Enter
This giveaway is now closed. The winner is Cathie Martin from Fort Gratiot, Michigan. Congratulations, Cathie! To see the complete list of winners, click here.
Dress Up Your Cocoa!
Ah, choices! As if it weren't yummy enough, go ahead and get creative with the presentation. Whipped cream, shaved chocolate, cinnamon, chocolate sauce…heaven! How do you take your cocoa?
From the Food Network
From The Family Kitchen
From Lake Champlain Chocolates
From Love Your Reflection
Source: freepublic.com
From Life Out Here
From Gooseberry Patch
OK, I seriously need to stop or I'll be gazing at cocoa photos all night. Can you blame me? All right, a couple more, because how can you have hot cocoa without peppermint? Yeah, my thoughts exactly!
From Bethany Wouters