UPDATED!
Most people are surprised to discover that one cup of Amish Friendship Bread starter can make a lot more than a couple of loaves of sugar-cinnamon bread. As you've probably discovered in my Recipe Box, there are LOTS of things you can make, and this crusty chewy artisan Amish Friendship Bread loaf is one of them.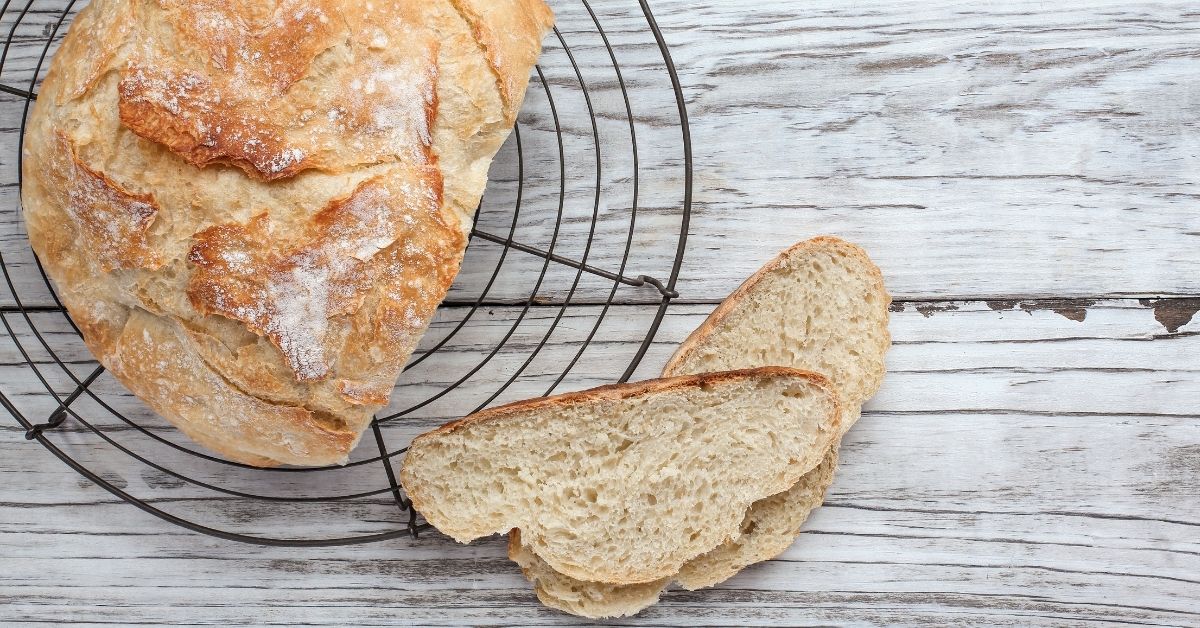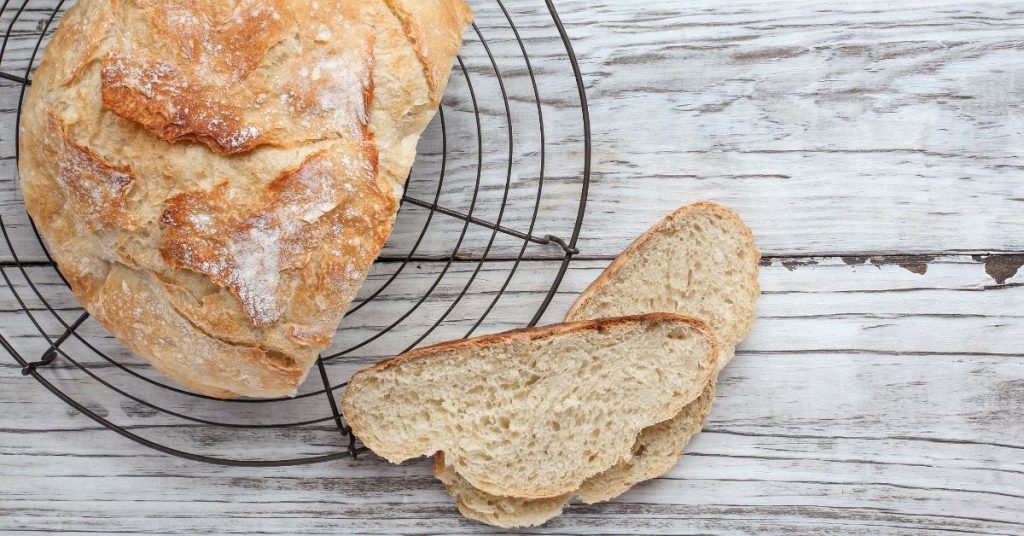 Fresh homemade bread is so much easier to make than people think, and it's better for you, too, because there aren't any preservatives and it hasn't been sitting around for a couple of days or even weeks, waiting for someone to buy it.
Kitchen Friend Heidi Kleyn came up with this wonderful recipe for an artisan loaf (it yields two loaves, actually) that will remind you of your favorite crusty sourdough bread, with that subtle Amish Friendship Bread sweet-sour tang. It's perfect served alongside this mushroom sausage pasta, too. A special thanks to Kitchen Friend Cathy Wagner List for sharing photos of her bread as well.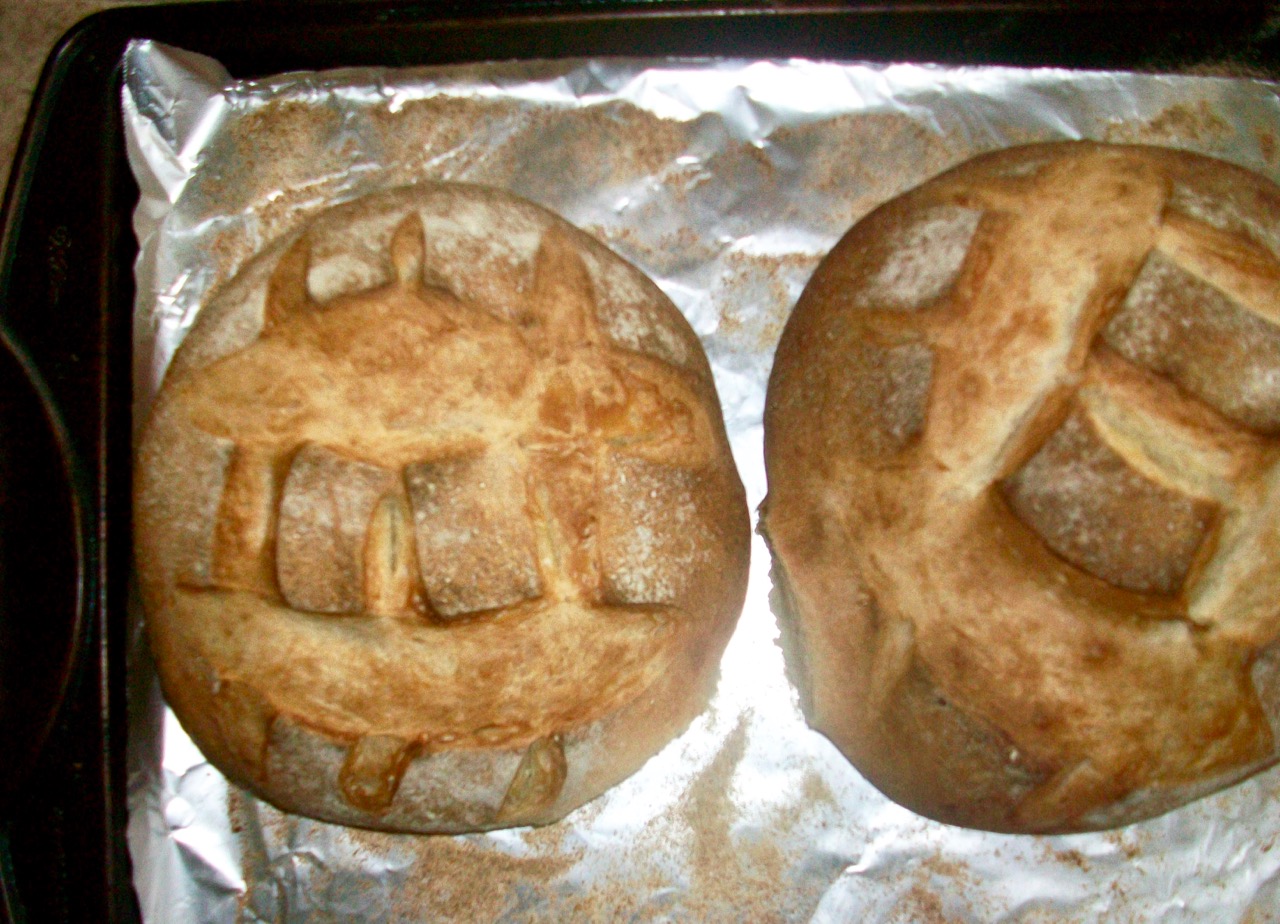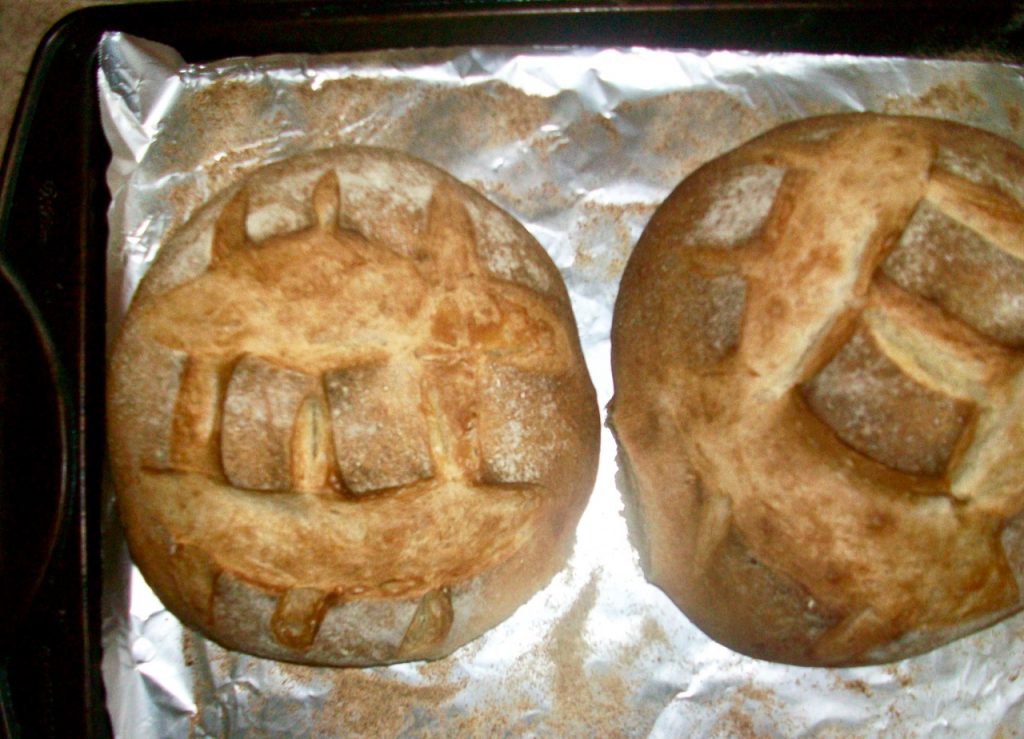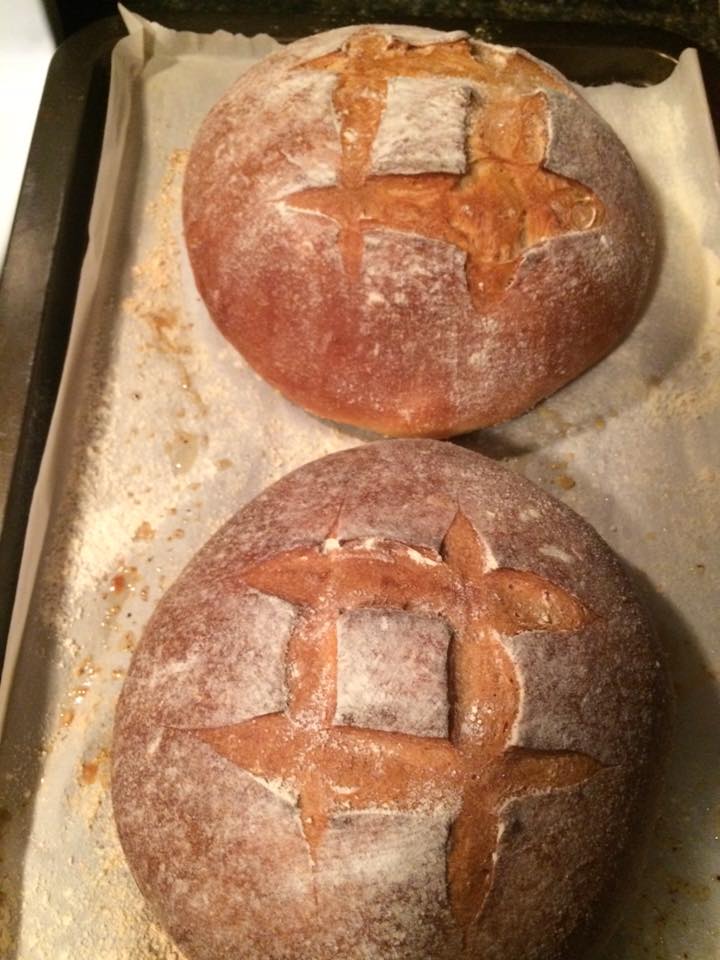 This recipe uses commercial yeast in addition to the leavening power of your starter. We're not the only ones — Cook's Illustrated also adds yeast to sourdough recipes to give their breads a little boost. This is especially helpful if you want to bake bread in the winter or if your kitchen is cool, as traditional starters go dormant in cooler temperatures.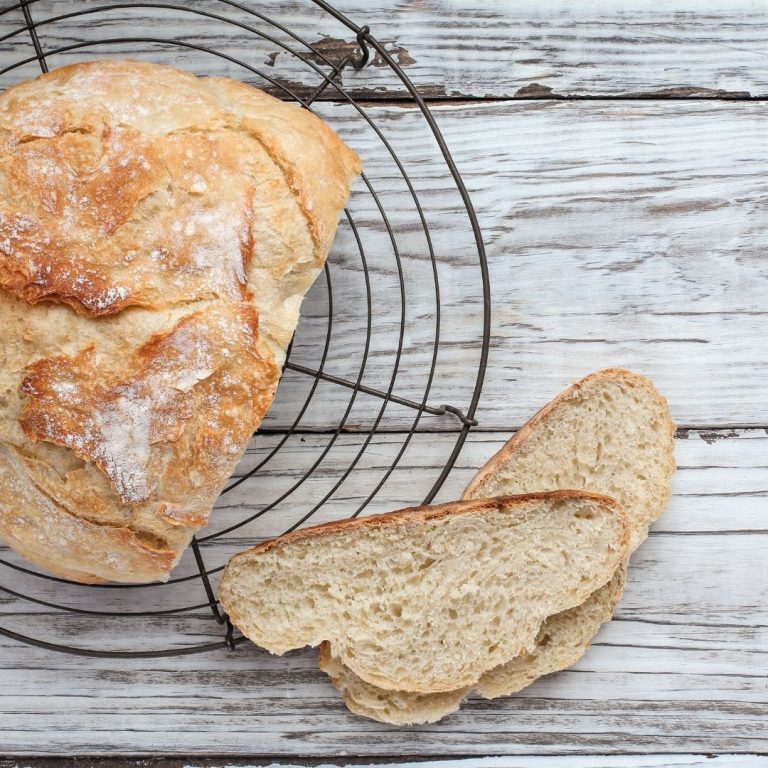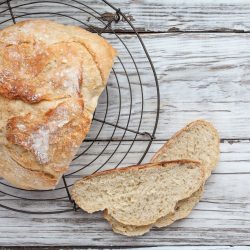 Crusty Artisan Amish Friendship Bread
Use your Amish Friendship Bread starter to make a loaf of crusty, chewy homemade artisan bread.
Ingredients
1½ cup water lukewarm
2 teaspoons yeast
1 tablespoon salt
5 cups flour plus extra for dusting as needed
cornmeal as needed
canola or olive oil to coat for bowl
spray bottle of water
Instructions
In a stand mixer bowl with dough hook, add starter.

Pour water on top and sprinkle on the yeast. Let sit for 5 minutes.

Add salt and flour, gradually.

In the stand mixer, blend on low for 5 minutes until dough pulls away from the sides and forms into a nice ball.

Oil a glass bowl, one large enough to handle a double rising of the dough.

Place dough in bowl, cover with plastic wrap to let double for approximately 1 1/2 hours.

Sprinkle flour on work surface and add risen dough.

Sprinkle a 16″ x 12″ pan with cornmeal.

Cut dough in half.

Place dough side-by-side on pan, but not touching.

Cover and let rise for 1 hour.

Preheat oven 425° F (218° C).

After 1 hour, lightly sprinkle dough with flour.

Cut a tic-tac-toe pattern on top of dough with a very sharp serrated knife.

Place pan in middle of oven.

Quickly spray water inside the top of the oven. It's okay if some water gets on the dough.

Bake for 25 to 30 minutes. While baking, spray water again after baking 10 minutes and again at 20 minutes.

Check for doneness: the bread should be brown on top and dark brown on the bottom. Thump the top of the bread to hear an echo, hollow sound. Cool on wire racks

ENJOY!
Notes
From Heidi Kleyn: "Use the starter on Day 10 before adding the flour, milk and sugar. Experiment with different flours for this bread. Try using 4 cups of flour and 1 cup of whole wheat flour." From Cathy Wagner List: "This bread is the best I've ever had! I used a stand mixer and followed the directions exactly. I've made it twice and the bread came out better the second time when I only mixed with dough hook for 2:30 minutes. It's important to pay attention to dough clinging perfectly and clean sides of the bowl. The first time I used the whole 5 minutes with mixer and bread was a little tough. Second time I just judged by the mixer and dough with clean sides of bowl and it was only 2:30. I put pan in bottom of oven while preheating and when I put bread in, I threw in a cup of cold water in the pan to steam. It worked great. This bread is epic."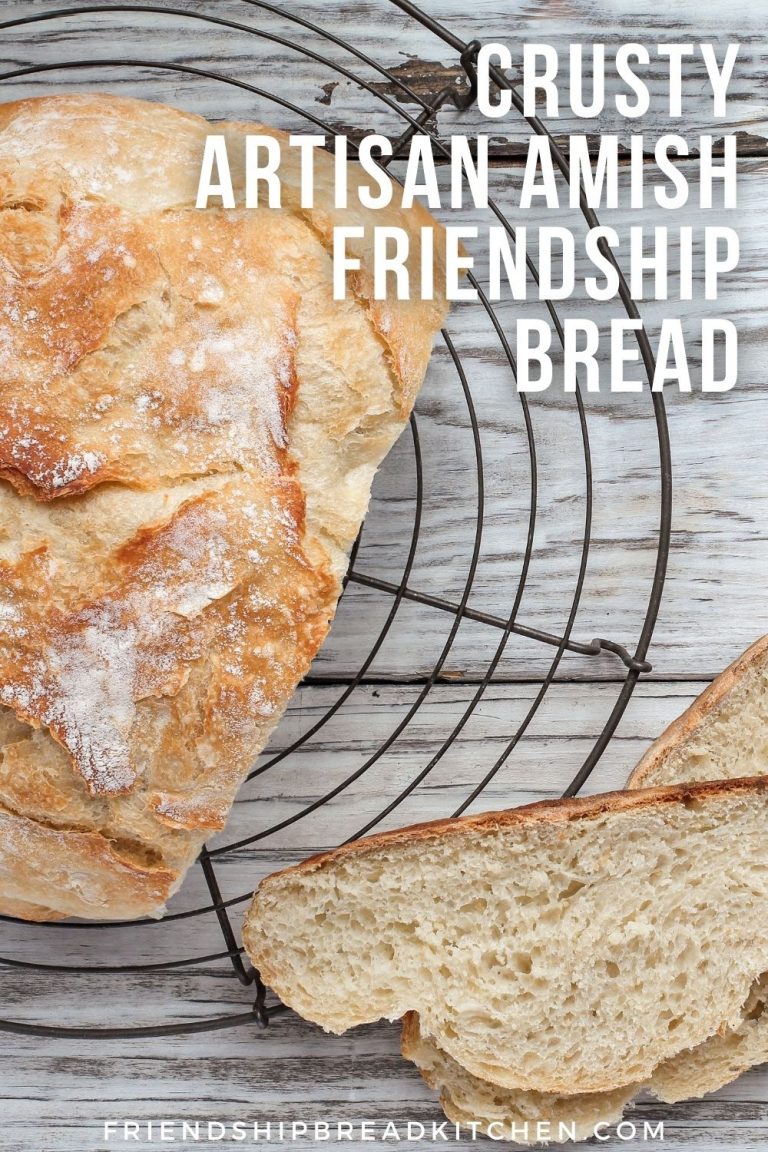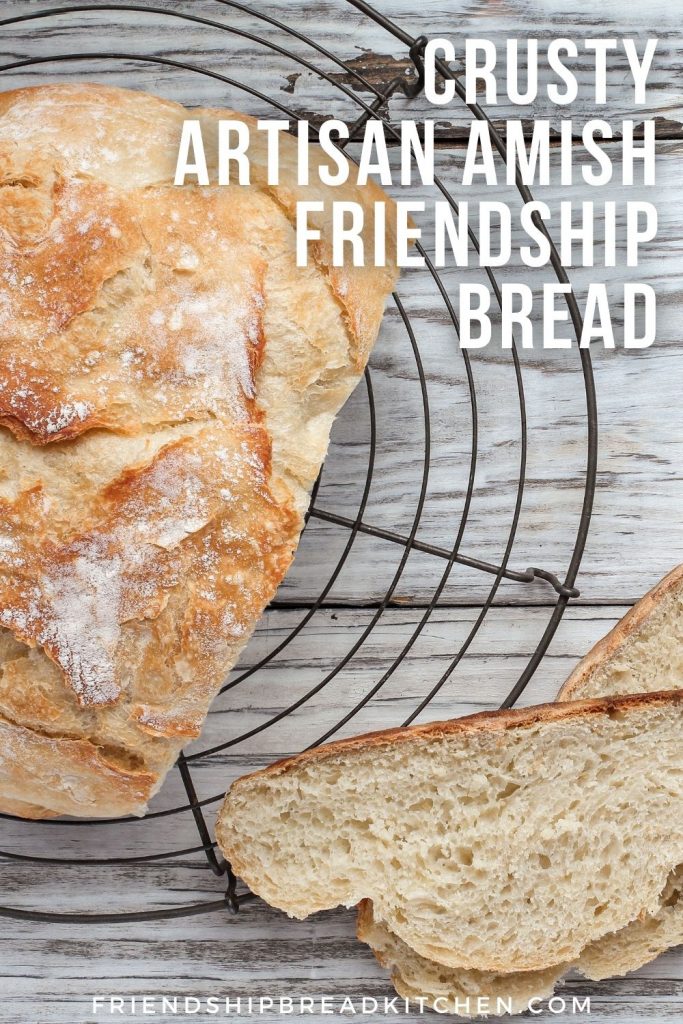 >> Have you tried this recipe? Give the recipe some stars and leave a comment below and let us know how it worked for you!