This recipe for Blueberry Amish Friendship Bread Muffins makes a breakfast that is both easy to make and bursting with flavor. It's one of our favorite Amish Friendship Bread breakfast recipes in our Recipe Box!
Kitchen Friend Anne M. Alesauskas added these helpful hints: "For an easy fill of the cupcake wrappers, use an ice cream scoop. If you use the jumbo muffin tins, plan on cooking for 45 minutes. The freshness of the blueberries is what comes through in this recipe."
A quick note: I only share links that I love and personally use. This post contains affiliate or commission links which support the Friendship Bread Kitchen if you click or buy. Thank you!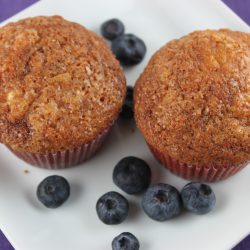 Blueberry Amish Friendship Bread Muffins
The plump, fresh blueberries in this recipe make Blueberry Amish Friendship Bread Muffins a breakfast treat.

Instructions
Preheat oven to 325° F (165° C).

In a large mixing bowl, mix all ingredients together except for blueberries and Cinnamon-Sugar mixture. Once mixed, fold in blueberries.

Line muffin tin with cupcake wrappers.

Fill muffin cups halfway.

Dust the tops with Cinnamon-Sugar mixture.

Bake for 20 minutes or until toothpick inserted in the center comes out clean.

ENJOY!
>> Have you tried this? Share your best pic with us or leave a comment below and let us know how it worked for you!