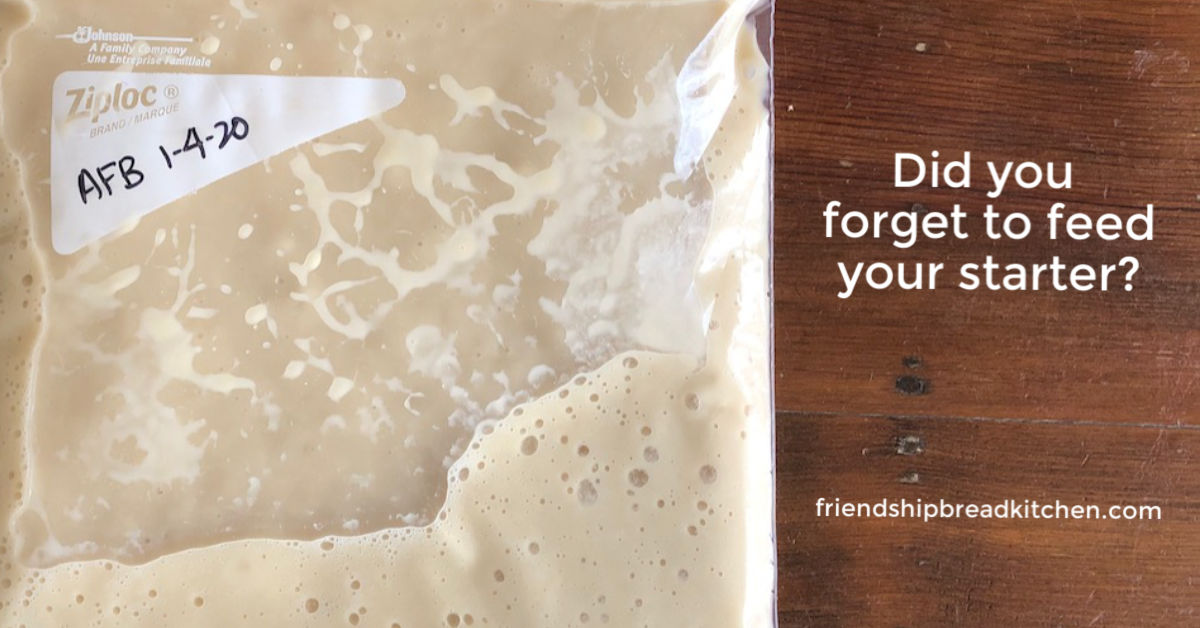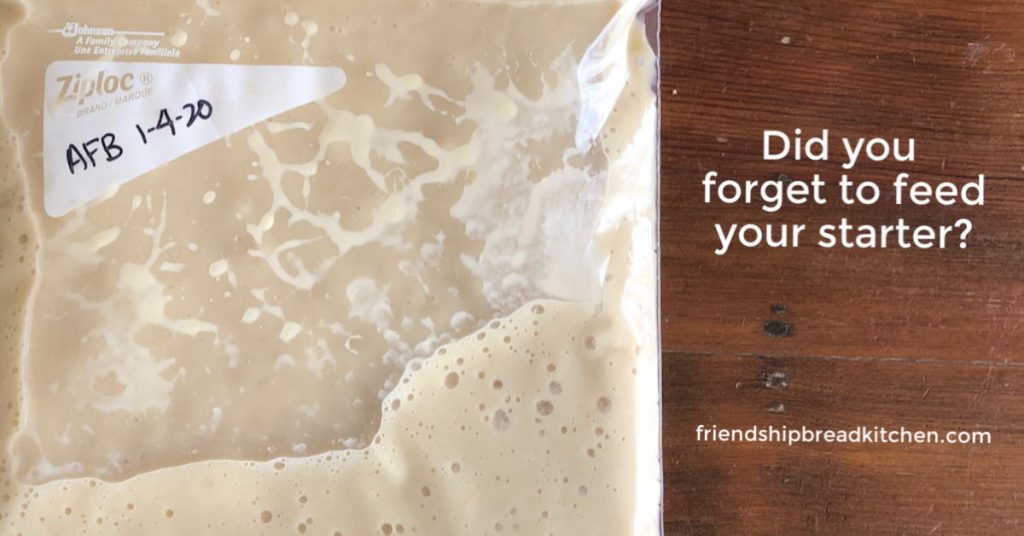 I forgot to feed my starter, should I throw it away?
If you're new to Amish Friendship Bread, figuring out what to do when you miss a day of feeding can be nerve-wracking. Following are questions I often get about missing a feeding:
"I forgot to feed my starter two days ago. Is it ruined?"
"I fed my starter a day late. Does that mean I have to bake a day late, too?"
"I got the dates mixed up and I forgot to feed my starter. What should I do?"
"I received my starter from a friend and forgot to feed it on Day 6. It's Day 9. Should I throw it out?"
"I didn't feed my starter on time. Will it make me sick if I feed it late and still use it?"
Some good news
Amish Friendship Bread starter is pretty flexible, so if you miss a feeding by 1-3 days, you are probably in good shape. I say "probably" because warmer kitchens generally have more active starters, which means your starter will be metabolizing (eating up the flour, sugar, and milk) pretty quickly and thus be "hungrier" sooner.
Cooler kitchens have starters that metabolize at a slower rate, so those starters won't be as hungry because they're taking their time and grazing their way through the ingredients (hint: if your kitchen is too cold, your starter could go dormant and could stop the fermentation process altogether, so make sure you're seeing some activity).
Since everyone's kitchen (and starter) is different, your best bet is to smell and look at your starter. If it smells yeasty and not too sharp, if the color is still pale ivory (and not brown or pink), then it's probably fine. The rule of any kitchen is "When in doubt, throw it out," but I wouldn't panic and toss your starter if you only missed 1-3 days of feeding.
If it's more than 3 days AND you have a warm kitchen, you'll have to make the call based on how well you know your starter. If you're interested in experimenting, then do a feeding and see if you get bubbly activity in the next 24 hours. If you do, that's a BIG tip on how much you can push your starter in your kitchen, which is a great thing to know for the future.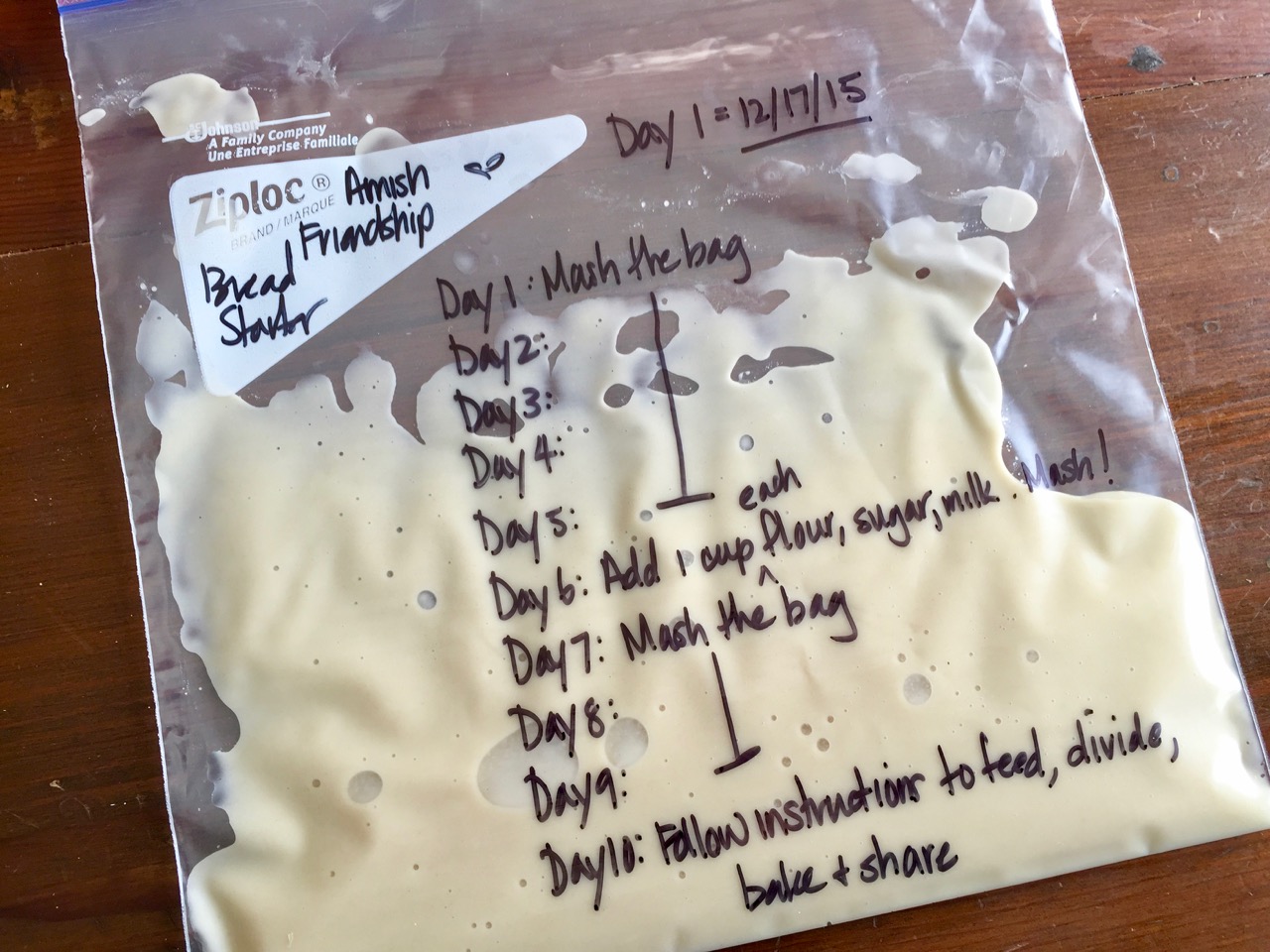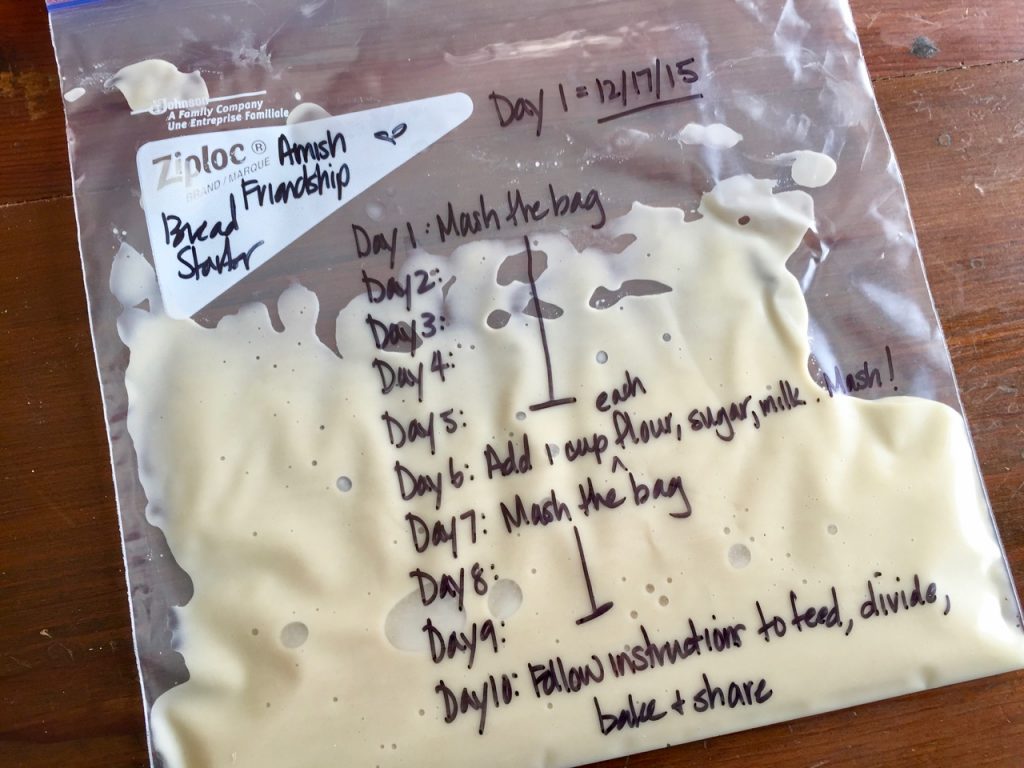 A caveat (or two)
If you received your starter from a friend and are unclear about which day is the real Day 1, you need to find out. For example, they might have marked the bag as Day 1, but didn't give it to you until Day 3. Day 1 isn't just the day you received it–it's the day AFTER a starter has been fed.
If you aren't clear about the EXACT date/age of the starter, ask your friend so you can make sure you're feeding it on the right schedule. It's always a good idea to write the actual date on the bag, along with giving them a set of instructions (and maybe the link to this website!). For example:
Day 1: January 4, 2020 Saturday
Day 2: January 5, 2020 Sunday
Day 3: January 6, 2020 Monday
Day 4: January 7, 202 Tuesday
Day 5: January 8, 2020 Wednesday
Day 6: January 9, 2020 Thursday FEED!
Day 7: January 10, 2020 Friday
Day 8: January 11, 2020 Saturday
Day 9: January 12, 2020 Sunday
Day 10: January 13, 2020 Monday FEED, BAKE, DIVIDE
If you're worried about the state of your starter but don't mind losing a few ingredients to find out, do a Day 6 feeding and see what happens. A spoiled starter will not "re-activate," so to speak, but if you DO get lots of bubbles and a happy, yeasty smell, you're fine.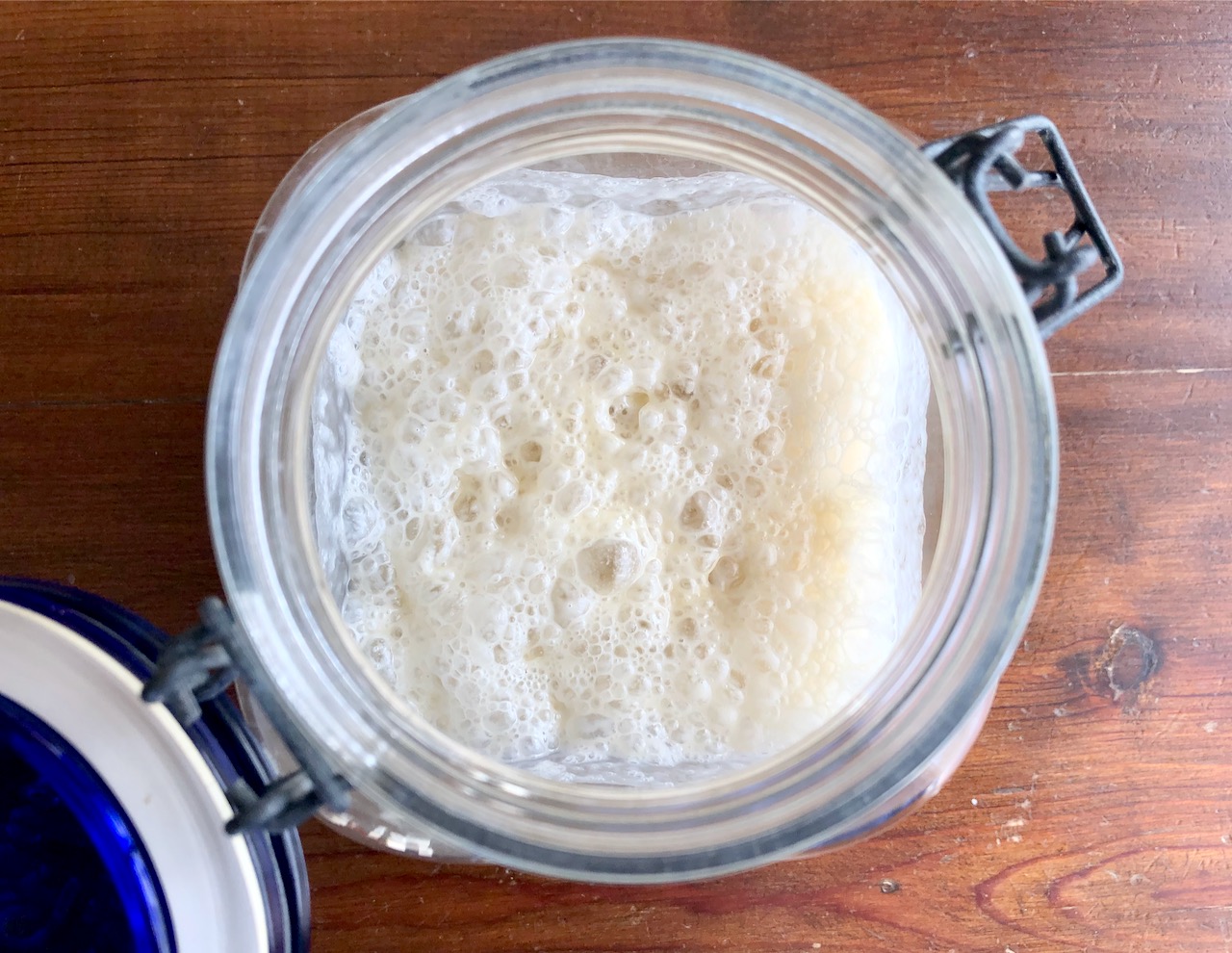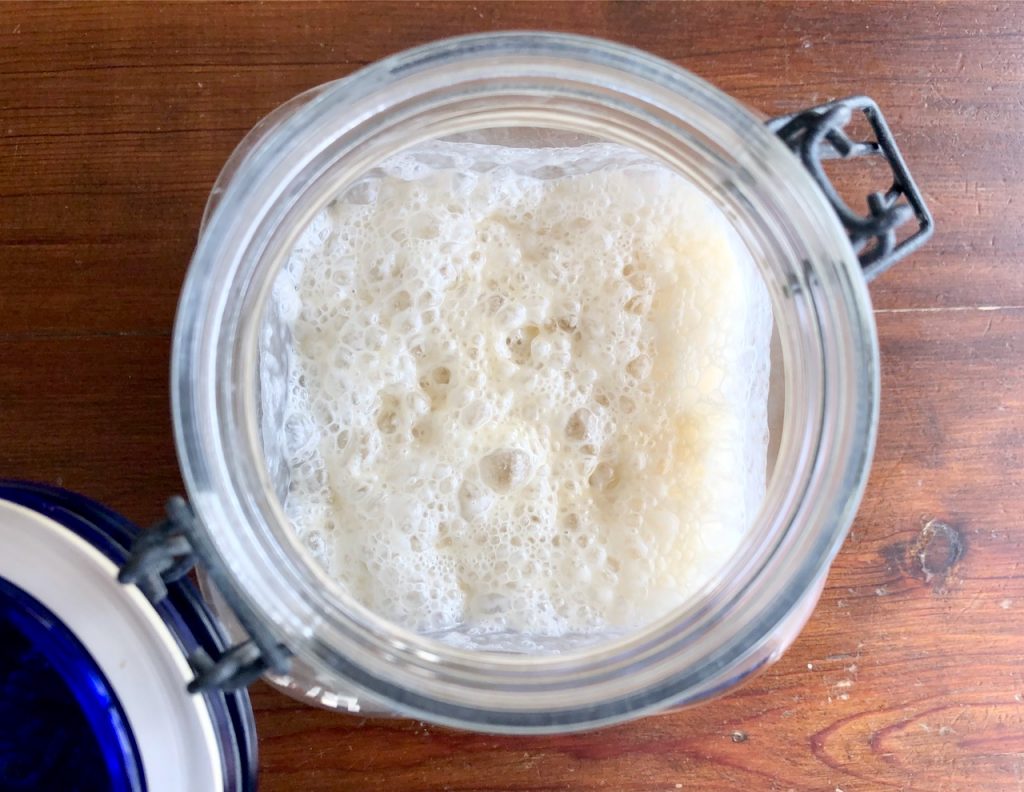 A good starter is worth saving because the older a starter is, the better the flavor and heartier it becomes over time. ♥️
Now, if you missed a week or have totally forgotten about your starter altogether, then use common sense! The 1-3 day window is suggested, and every home baker will have to make his/her/their own call based on his/her/their circumstances. If you are uncertain or worried, please toss it out and make a new one. Your peace of mind, as well as your health, is worth more than a handful of flour, sugar, and milk.
On baking and schedule adjustments
If you feed your starter later, you'll want to re-adjust your baking schedule accordingly. Here's another tip: you don't HAVE to bake on Day 10. Say what?
Remember how I said the starter was versatile? If you have established that your starter is in good shape and you're feeding it on schedule, you can bake a day late (or even a day early) and be fine.
Once you've gone through the 10-Day cycle at least once, you can technically bake from your starter at any point. Just know that some recipes, like our more traditional sourdough loaves, require an active starter that's been recently fed, while others prefer starters right before they've been fed. The recipe will indicate this if necessary. If you don't see it specified, it means you can bake with your starter in any state, so long as you're feeding it regularly.
Want more?
These tutorials can help evaluate the health of your starter: