Waffles are one of the best ways to use up your starter and add a little love into breakfast or brunch. I actually prefer it to the pancake recipe, but I know not everyone has a waffle iron.
A quick note: I only share links that I love and personally use. This post contains affiliate or commission links which support the Friendship Bread Kitchen if you click or buy. Thank you!
There are ways around this, like using a griddle or grill pan, or even buy these cool silicone waffle molds for the oven (there are even some in the shape of a heart), but in the end you may want to beg a friend to loan your theirs. It is SO worth it.
The best part is you can save the leftovers and just pop them in the toaster the next day. We've even frozen them and waited for a lazy Sunday morning where we didn't want to do anything other than kick up, grab a cup of coffee, and load up on a stack of waffles drizzled with maple syrup and fresh fruit.
Quick waffle tips:
Do not overmix the batter — a few lumps are okay.
If you like your waffles crispy, reduce flour to ¾ cup and add ¼ cup cornstarch.
If you plan to serve the waffles all at one time, heat the oven to to 200 °F (or 93 °C) and place the finished waffles directly on the oven rack until ready to serve.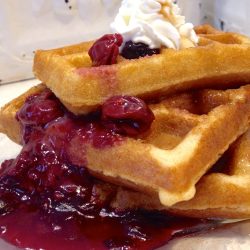 Amish Friendship Bread Waffles
The perfect weekend accompaniment: Amish Friendship Bread waffles topped with sliced bananas and fresh maple syrup.
Instructions
Preheat waffle iron.

Combine flour, salt, baking powder and baking soda in a large mixing bowl.

In a smaller bowl, combine oil, Amish Friendship Bread starter, milk, and egg.

Add ingredients of smaller bowl to the ingredients of larger bowl and mix on medium speed.

Spray waffle iron with non-stick cooking spray and pour batter onto hot waffle iron. Cook until golden brown.
Recipe Notes
This recipe is courtesy Suzy at Kitchen Bouquet.
Make the waffle batter up to one day in advance and whisk well before using. Top hot waffles with 1 cup fresh or thawed blueberries, strawberries, or bananas for an extra treat.
From Paula Altenbach: "To avoid an overly sweet waffle, I used Amish Friendship batter that had been fed a day earlier and allowed to consume some of the sugars. These came out of the Belgium waffle iron steamy and tender without being overly sweet. We dropped them in a toaster to keep the crowd fed at their own pace."
>> Have you tried this? Share your best pic with us or leave a comment below and let us know how it worked for you!