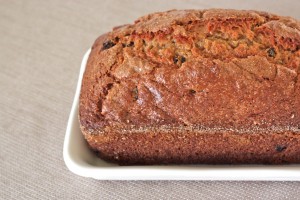 Submitted by: Friendship Bread Kitchen
Image (c) Friendship Bread Kitchen
"We love all the wonderful variations but the classic Amish Friendship Bread recipe is by far the simplest and the best!"
>> Need an Amish Friendship Bread Primer with the ten day instructions? Go here!
Prep Time: 15 minutes
Cook Time: 1 hour
Servings: 16
Yield: 2 loaves
Ingredients

1 cup Amish Friendship Bread Starter (clink on the link to get the recipe for the starter)
3 eggs
1 cup oil
1/2 cup milk
1 cup sugar
1/2 teaspoon vanilla
2 teaspoons cinnamon
1 1/2 teaspoon baking powder
1/2 teaspoon salt
1/2 teaspoon baking soda
2 cups flour
1-2 small boxes instant pudding (any flavor)
1 cup nuts, chopped (optional)
1 cup raisins (optional)
Directions
Preheat oven to 325° F (165° C).
In a large mixing bowl, add ingredients as listed.
Grease two large loaf pans.
Dust the greased pans with a mixture of 1/2 cup sugar and 1/2 teaspoon cinnamon.
Pour the batter evenly into loaf or cake pans and sprinkle the remaining sugar-cinnamon mixture on the top.
Bake for one hour or until the bread loosens evenly from the sides and a toothpick inserted in the center of the bread comes out clean.
ENJOY!
Kitchen Notes
If you're watching your cholesterol, this recipe can be a little tricky. Fortunately there are plenty of oil and egg substitutes available; our favorite is flaxseed meal. If you like raisins, combine different variations (golden, Thompson, and red flame) to keep it flavorful and interesting! We also like to use candied pecans or walnuts (leftover from the holidays and kept frozen in our freezer) to add an extra sweet crunch.
From May Naing:  "Add one cup of chopped apple."
From Jenni Frederick Fruth: "I made the starter with half white and half white whole wheat flour and it was fantastic! For the bread, I only used 3/4 sugar, again the half/half flour, half applesauce/half oil, and no pudding. I greatly reduced the calories and fat and added a little fiber. It was delicious!"
From Jenni Barr Minarik: "A two loaf recipe makes 24 muffins. I sprinkled the tops with cinnamon-sugar and baked them at 400 deg. for 20 minutes."
Nutritional Information
Approximate nutritional information, per slice (based on 10 slices per loaf and not including optional nuts and raisins): 300 calories, 13 g fat, 1.5 g saturated fat, 35 mg cholesterol, 300 mg sodium, 41 g carbohydrate, 1 g fiber, 29 g sugar, 3 g protein
Nutritional analyses by Joannie Dobbs, Ph.D., C.N.S.
Image Gallery