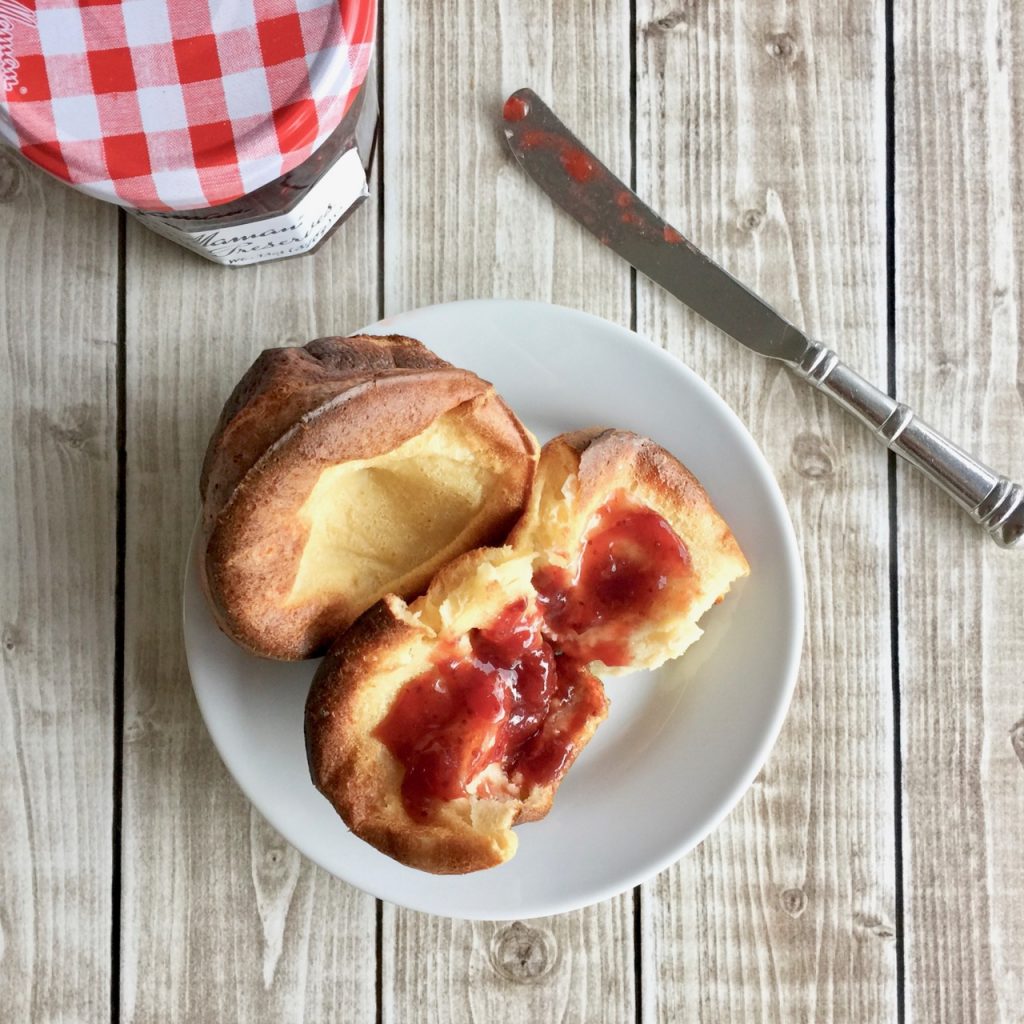 This recipe post contains affiliate links, so if you click and/or make a purchase, the Friendship Bread Kitchen may earn a small commission at no additional cost to you.
I am a popover nut. I will actually forgo the main course of a meal in order to fill up on popovers because everyone knows they taste best when they're hot out of the oven.
This recipe yields 6 popovers and uses only ½ cup of Amish Friendship Bread starter. I used a regular muffin tin and filled every other cup, but real aficionados prefer a popover tin like the one featured at the bottom of the post, which leaves plenty of space around each popover (this mini popover pan is pretty cute, too).
The trick to successful popovers is having everything ready. The ingredients are simple: starter, milk, eggs, salt, flour–but temperature control is paramount. The milk needs to be warm to the touch (above room temperature but not hot), and you'll need either nonstick spray or melted butter ready. Also, the muffin tin (or popover pan) needs to be warm BEFORE you add your batter.
Heat the muffin tin first. You can place it in the oven while it's preheating at 450° F, then go ahead and make the batter (recipe below). Be careful not to overmix.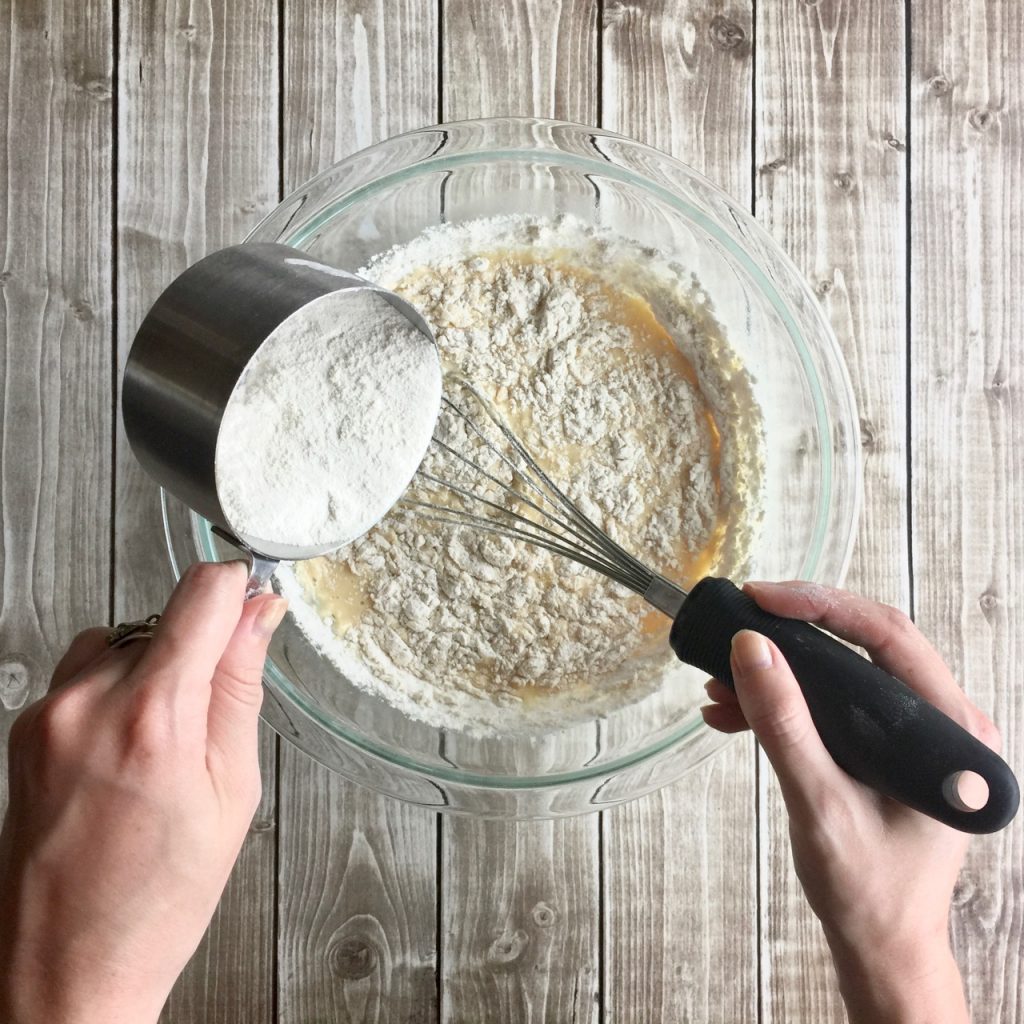 Have your nonstick spray or a silicone/wooden brush with melted butter ready (I've tried this without oiling the tins and sometimes they don't pop out as well). Carefuly remove the hot pan from the oven and quickly spray or brush each cup with melted butter.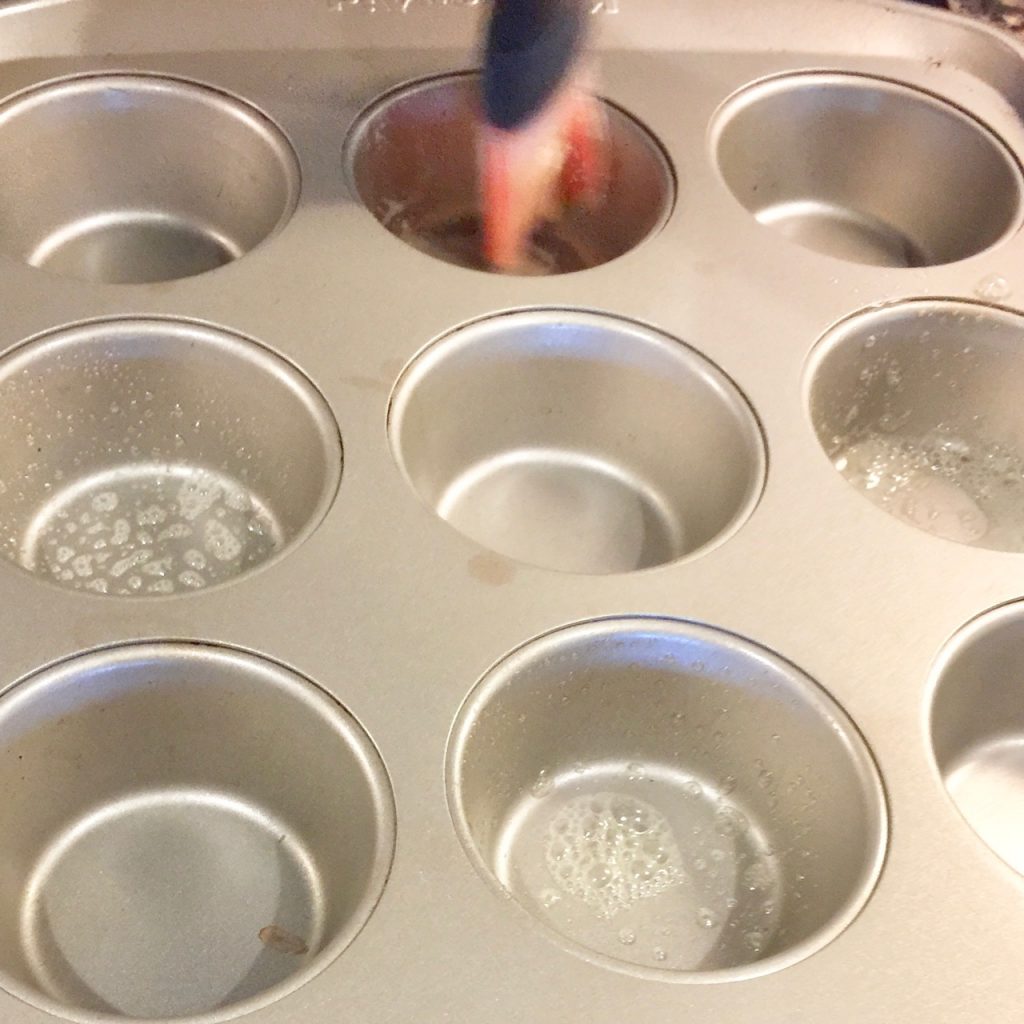 Quickly pour batter into muffin cups until ½ to ¾ full.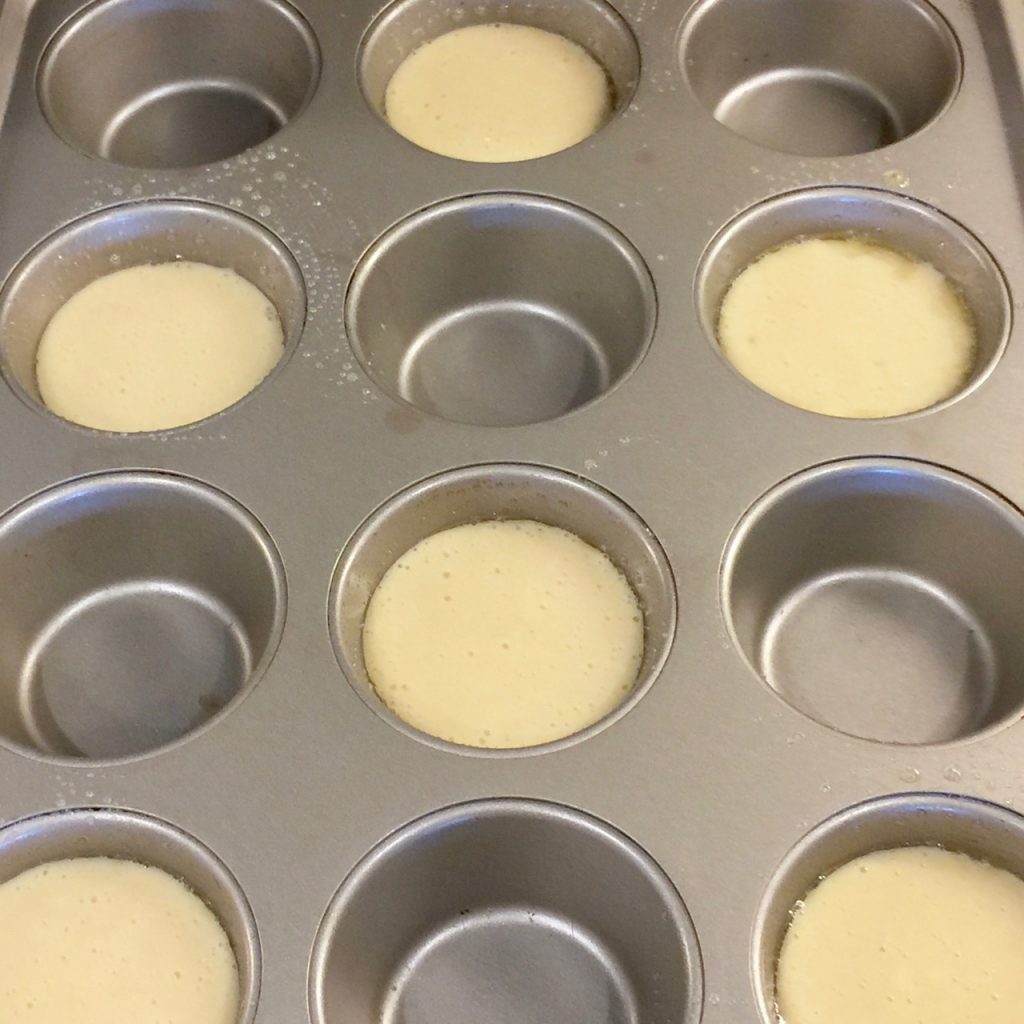 Carefully slide the tin into the oven. Bake for 10-12 minutes, then reduce heat to 350° F and bake for 10 more minutes or until popovers are golden brown and crusty. Remove and make a small slid in each side with a sharp knife.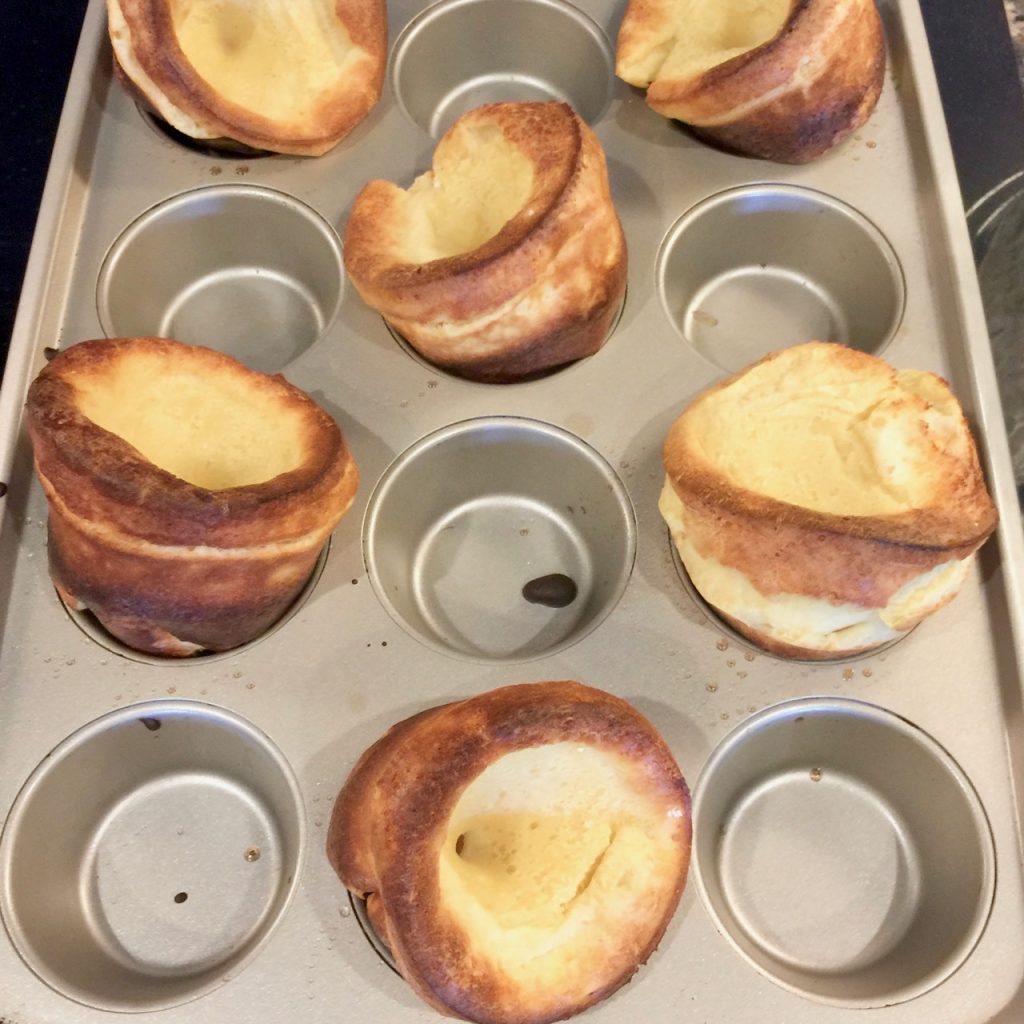 Serve immediately. It's great alongside a soup, salad or main dish–or grab some jam or jelly and enjoy.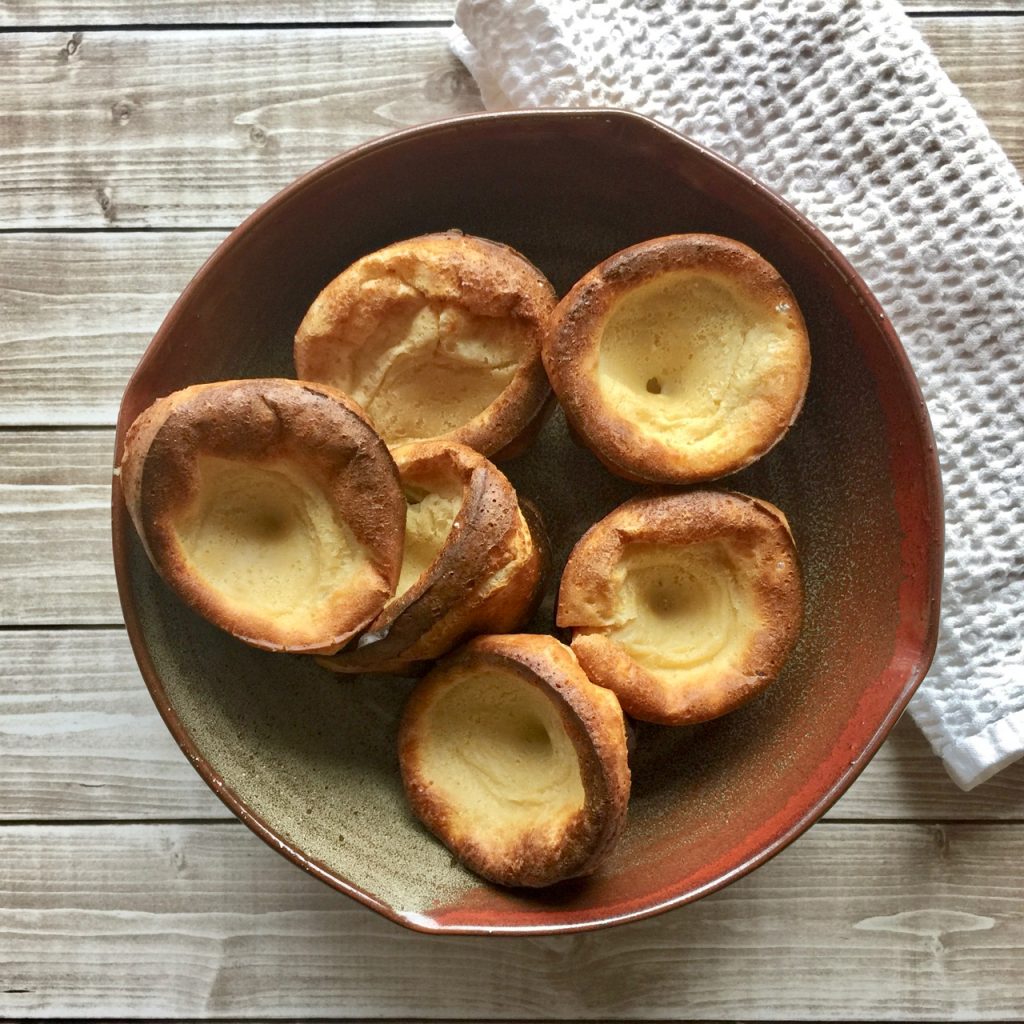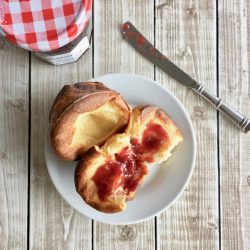 Amish Friendship Bread Popovers
Don't let your starter go to waste! These Amish Friendship Bread Popovers are a great accompaniment to a hearty meal or alongside a salad.
Ingredients
1

cup

milk

warm to the touch but not hot

3

large eggs

¾

teaspoon

salt

1

cup

flour

2

tablespoons

butter

melted
Instructions
Preheat oven to 450° F (232° C). Place muffin or popover tin inside.

In a small pan, warm milk.

In a medium mixing bowl, combine starter, milk, eggs and salt. Add flour until just incorporated–a few lumps are okay. Be careful not to overmix.

Carefully remove muffin or popover tin and brush with melted butter or use a nonstick spray. Quickly pour batter into every other muffin cup (or, if using a popover tin, fill every cup). Fill to ½ full.

Return to oven and bake for 10-12 minutes, then reduce heat to 350° F (177° C) . Bake for an additional 10 minutes or until popovers are golden brown and crusty.

Remove from oven and make a small slit on the side of each popover. They'll deflate a little bit.

Serve immediately and ENJOY!
Recipe Notes
Do not open the oven door while popovers are baking or they might collapse.
Some twists:
For cinnamon-sugar popovers: Melt ¼ cup of butter and prepare ¼ cinnamon sugar. Immediately after removing popovers from oven, brush each popover with melted butter then roll in cinnamon-sugar.
For cheddar-herb popovers: Mix 2 teaspoons dried herbs or fresh chives and ⅓ teaspoon garlic powder to the flour. Prepare batter, folding in ½ cup grated cheddar towards the end (be carefully not to overmix). Follow instructions for baking.
Have you seen this?
If popovers become your thing, you might want to check this out … the Bellemain 6 Cup Nonstick Popover Pan.
Vertical cups for maximum rise
Nonstick finish lets popovers slide right out
Durable, welded metal
Dishwasher safe
>> Have you tried this recipe? Share your best pic with us or leave a comment below and let us know how it worked for you!