Mornings just got a whole lot better with this recipe for Amish Friendship Bread cinnamon rolls! They are easy to put together and turn out perfect every time.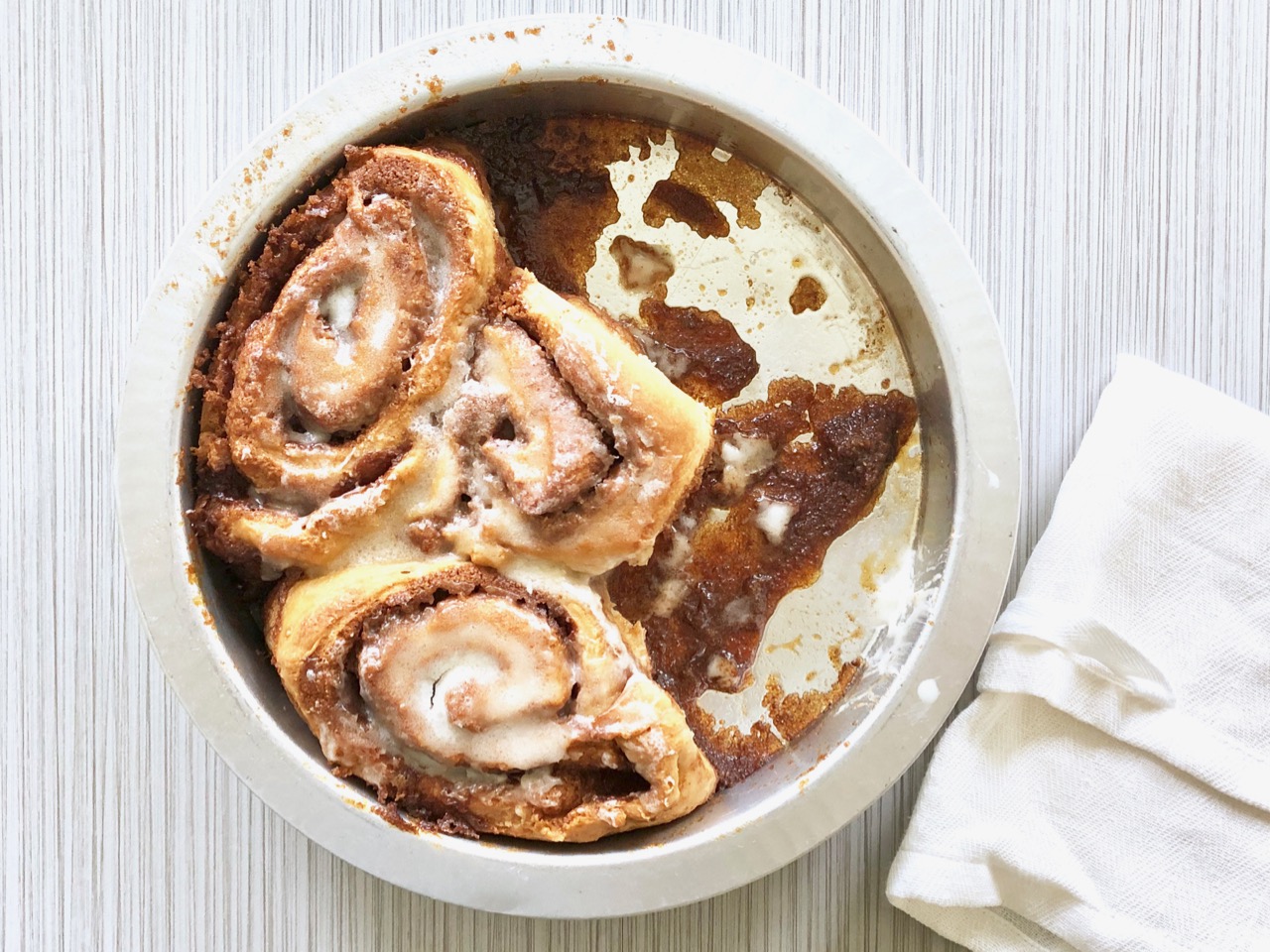 This post contains affiliate links. If you click through and make a purchase, the Friendship Bread Kitchen may earn a small commission at no additional cost to you.
Who knew one cup of starter could do so much?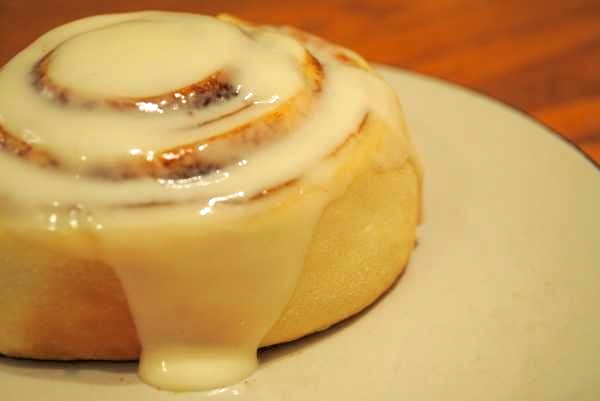 Cinnamon Roll Variations
Lots of people love making cinnamon rolls with their extra Amish Friendship Bread sourdough starter, including Kitchen Friends Heather Preuss and Susan Hunter-Whalen, each of whom came up with a cinnamon roll adaptation share their recipes below.
Heather Preuss from Milton, VT, made the most of what she had for making the cinnamon roll frosting…maple syrup! Here's what she had to say:
"I added 3 tablespoons of maple syrup to the frosting recipe since it's Vermont and the sugaring season! The kids and adults ate them up. There were none left!"
Another frosting variation would be to use the Brown Sugar Icing I often use with my scones and bundt cake.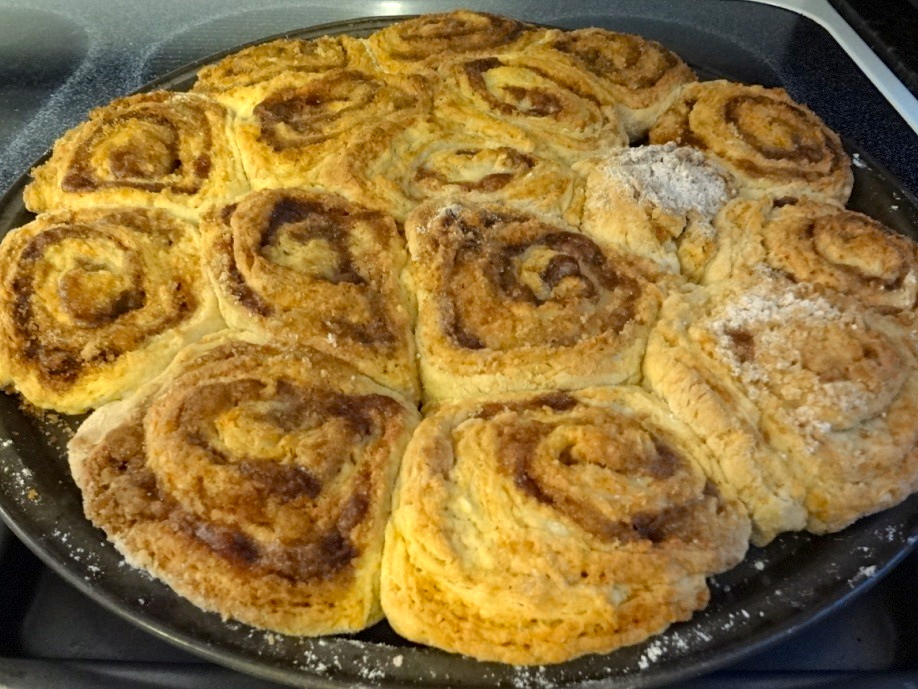 Susan Hunter-Whalen's recipe gives her Amish Friendship Bread sourdough cinnamon rolls an extra crunch:
"This dough was really sticky for me so I added in an extra 1½ cups of flour to the dough. As for the filling I changed it to ½ cup sugar, 2½ tablespoons of cinnamon, and added up to 1 cup of crushed nuts. I would recommend a bake time of 25-30 minutes."
Walnuts and pecans both make for a nice light crunch!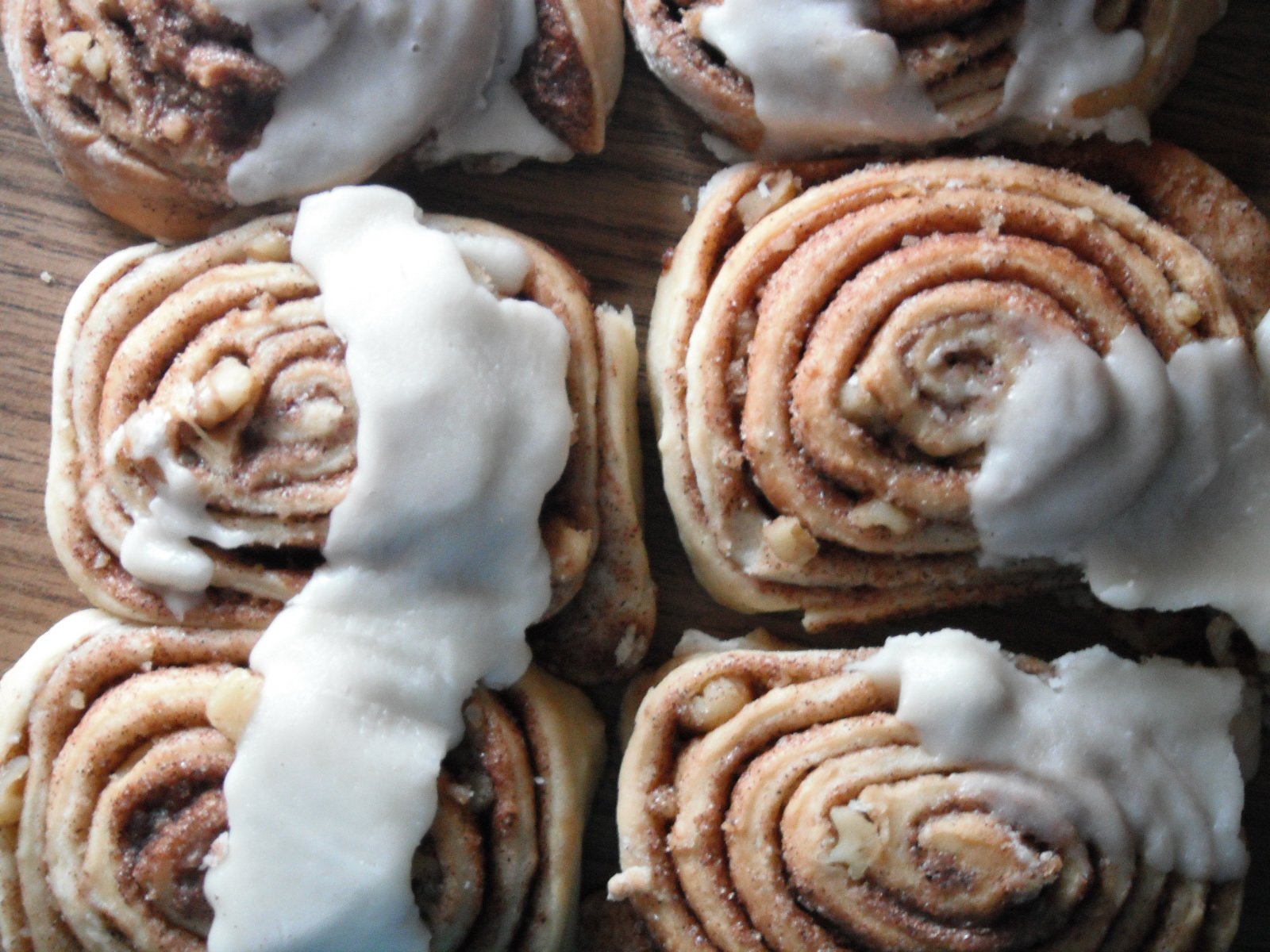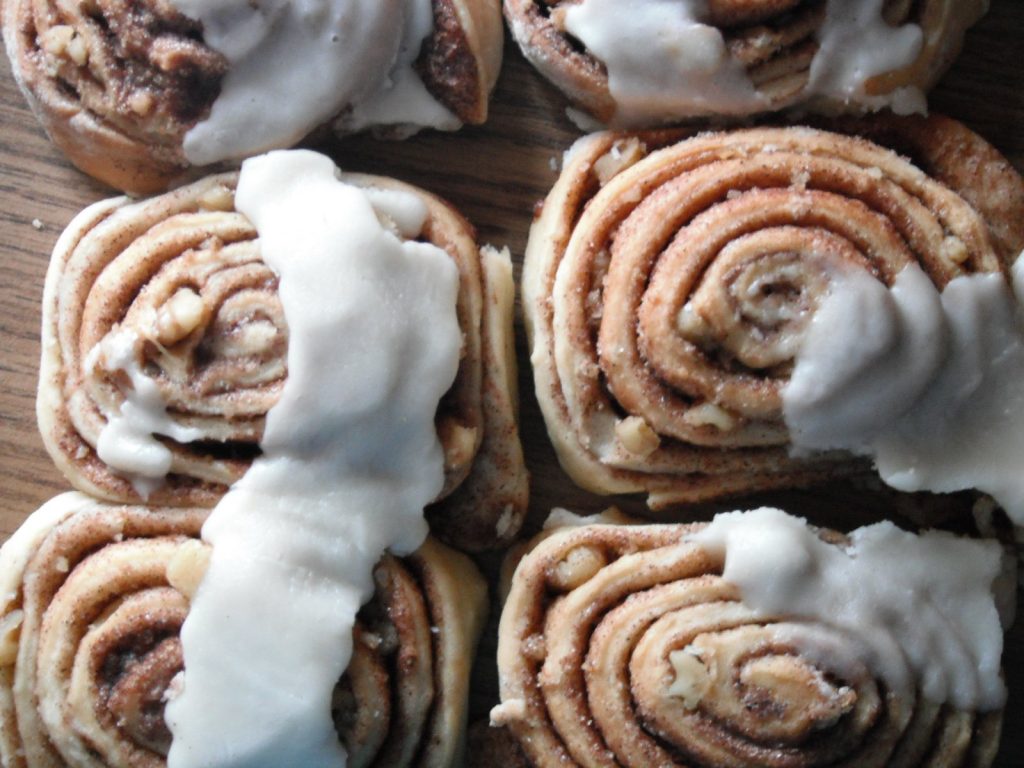 10 Tips for Making Amish Friendship Bread Cinnamon Rolls
As easy as these cinnamon rolls are to put together with your sourdough starter, these tips will help you get the best results!
1. Use room temperature ingredients
When you use cold ingredients with yeast or sourdough starter baked goods it slows down the fermentation.
2. Add the right amount of flour!
If you add too much, your rolls will turn out dry and tough, too little flour and they won't have enough structure to rise well. The recipe below calls for 2 cups of flour, though you may need to as more if it's too sticky. You're going to be looking for a dough that's tacky but doesn't stick to the bowl or your fingers.
3. Let the dough rise in a warm environment
If your room is too cool the fermentation will slow down. Temperatures right around 75-85 degrees work well, especially during the final rise before baking. If your house is cold overnight, you can try leaving it in the oven with the light on!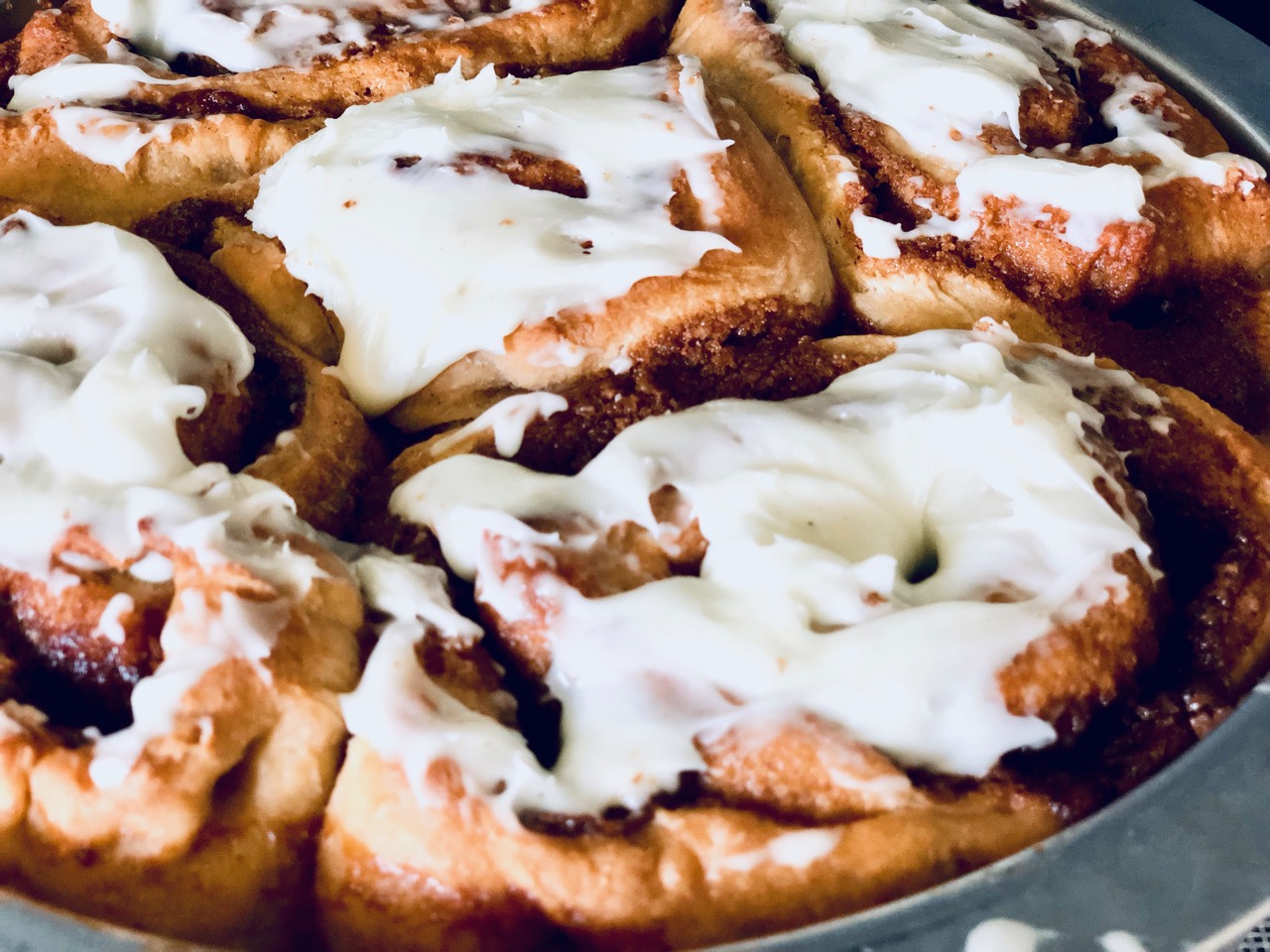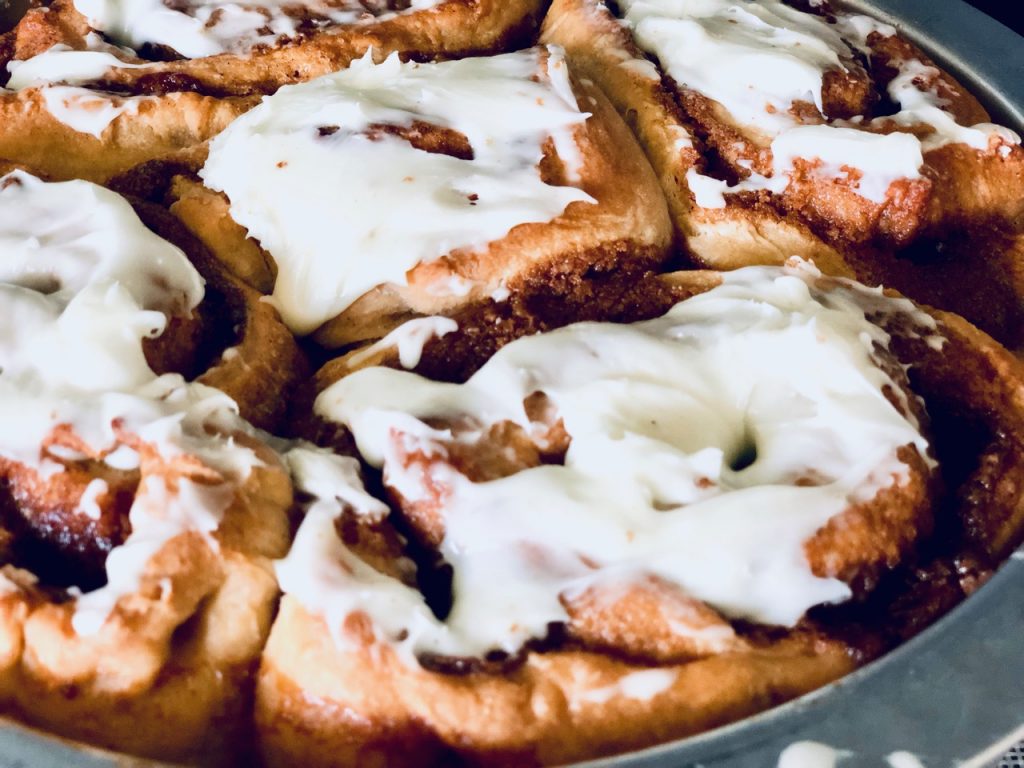 4. Make sure to flour your work-space when you roll out the cinnamon rolls
No one wants the dough sticking to the counter when you try to roll it up with the cinnamon sugar filling on top!
5. The thickness of your roll changes the final product
I recommend rolling your dough to 1/2 inch, but if you want fluffier cinnamon rolls you can roll them a bit thicker, for chewier rolls go thinner.
6. Spread the filling over all but one edge of the dough
This way you'll have maximum flavor! Keeping one edge clean helps you pinch the dough together after you roll it.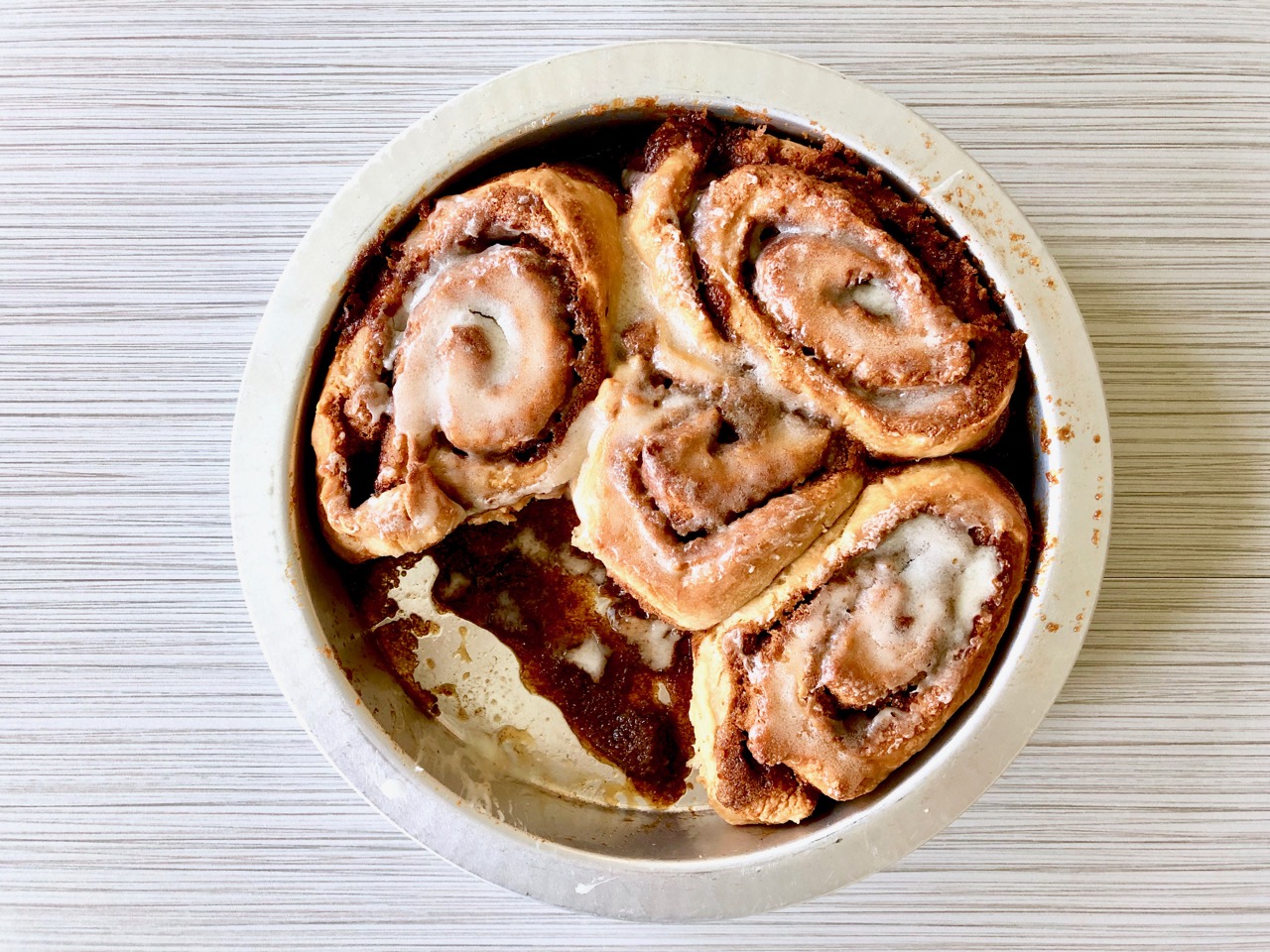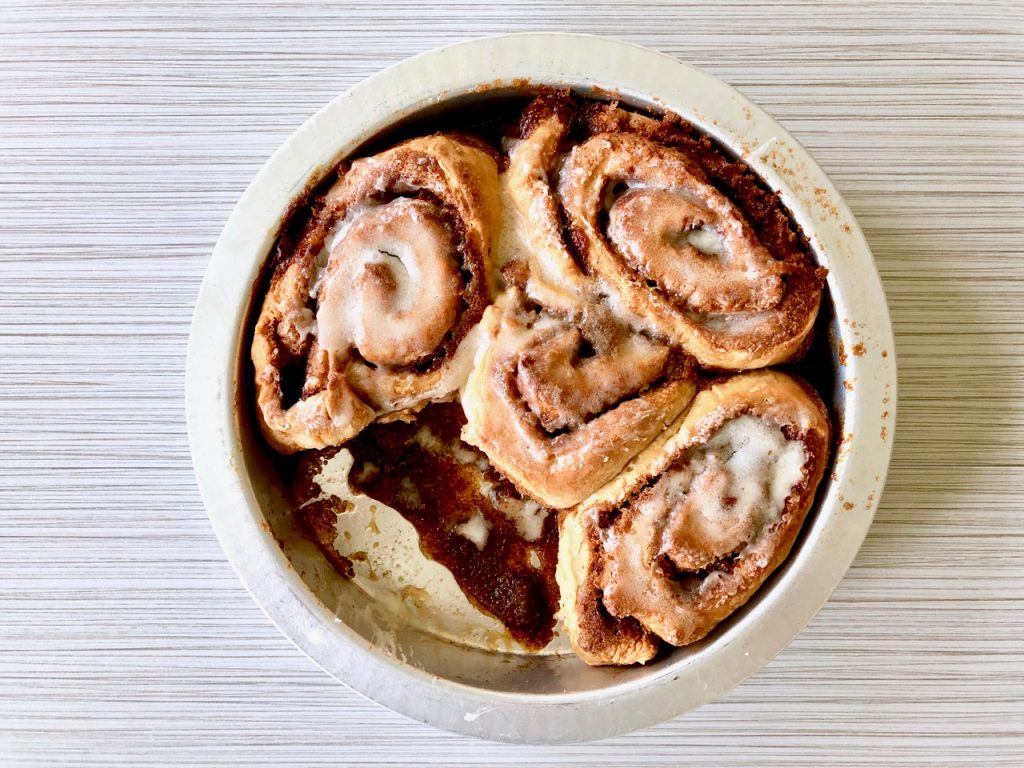 7. Roll them tightly!
If done too loosely your cinnamon rolls are going to fall apart before you can get them in the pan, so make sure to keep that roll tight as you go.
8. Cut the cinnamon rolls with floss
Yes, you can totally use a very sharp knife, but a simple trick to cutting them without messing with the layers is to use a piece of very thin string or (unflavored!) dental floss. Simply loop the floss around the rolled-up dough and pull through.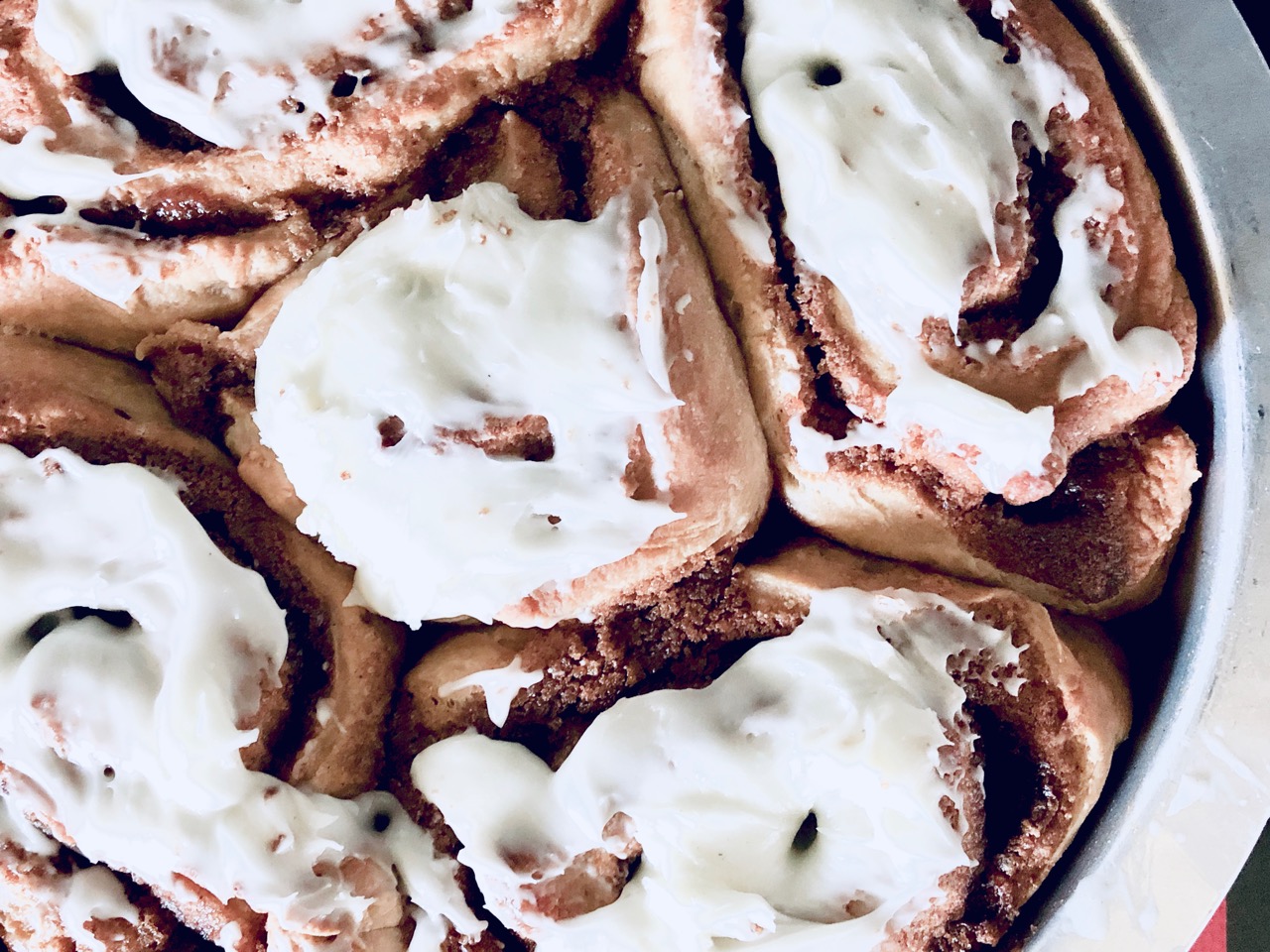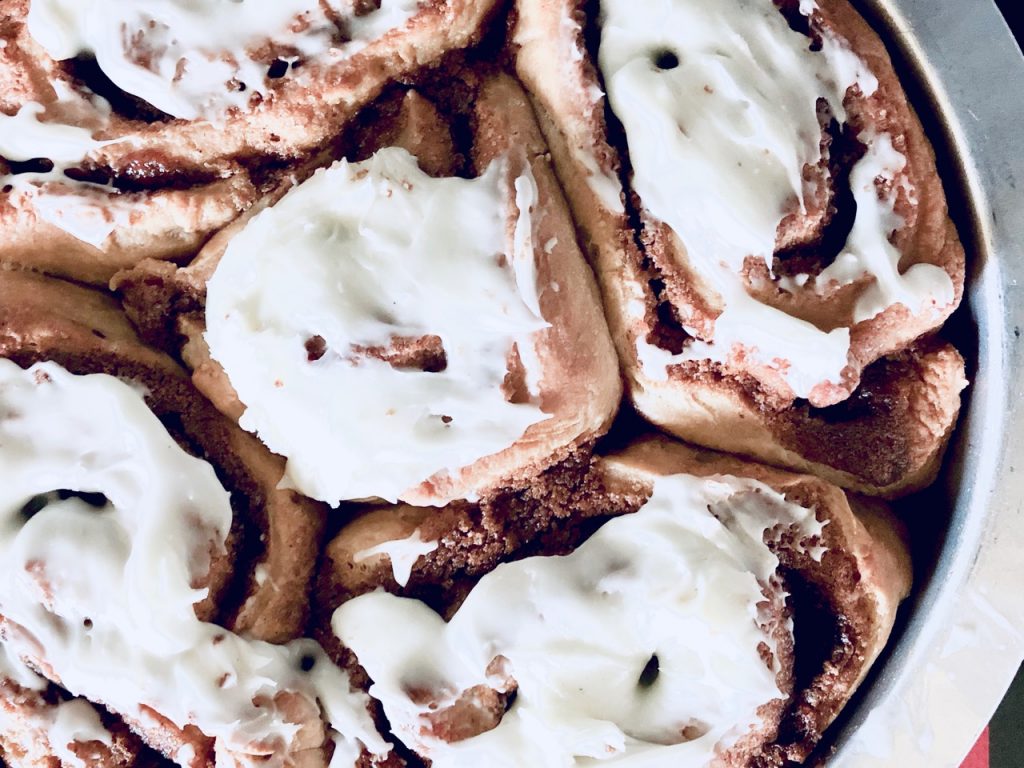 9. Place your rolls farther apart on the pan than you think you should
During the last rise time on the pan they will expand and you want them to be able to do that without getting squished.
10. Wait before you frost
Letting the rolls cool slightly before adding the frosting will help the frosting stay on top of the roll instead of melting down into the pan.
Kitchen Friend Kimberly Kozicki also sent in this tip:
"I used my stand mixer to put the dough together. I put all the dry ingredients into the mixer bowl, added the wet ingredients, then used the dough hook. I let the mixer run for 4 to 7 minutes at medium speed, and the dough came out perfectly!"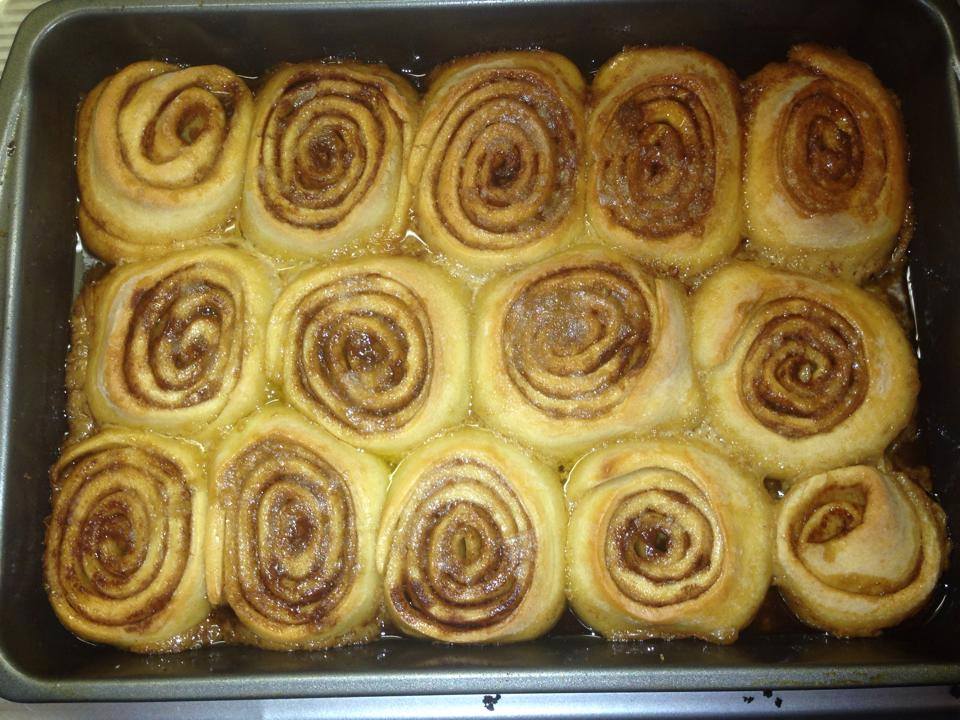 Kimberly also came up with this gorgeous salted caramel Bundt cake and has a beautiful shot of some White Chocolate Raspberry Amish Friendship Bread.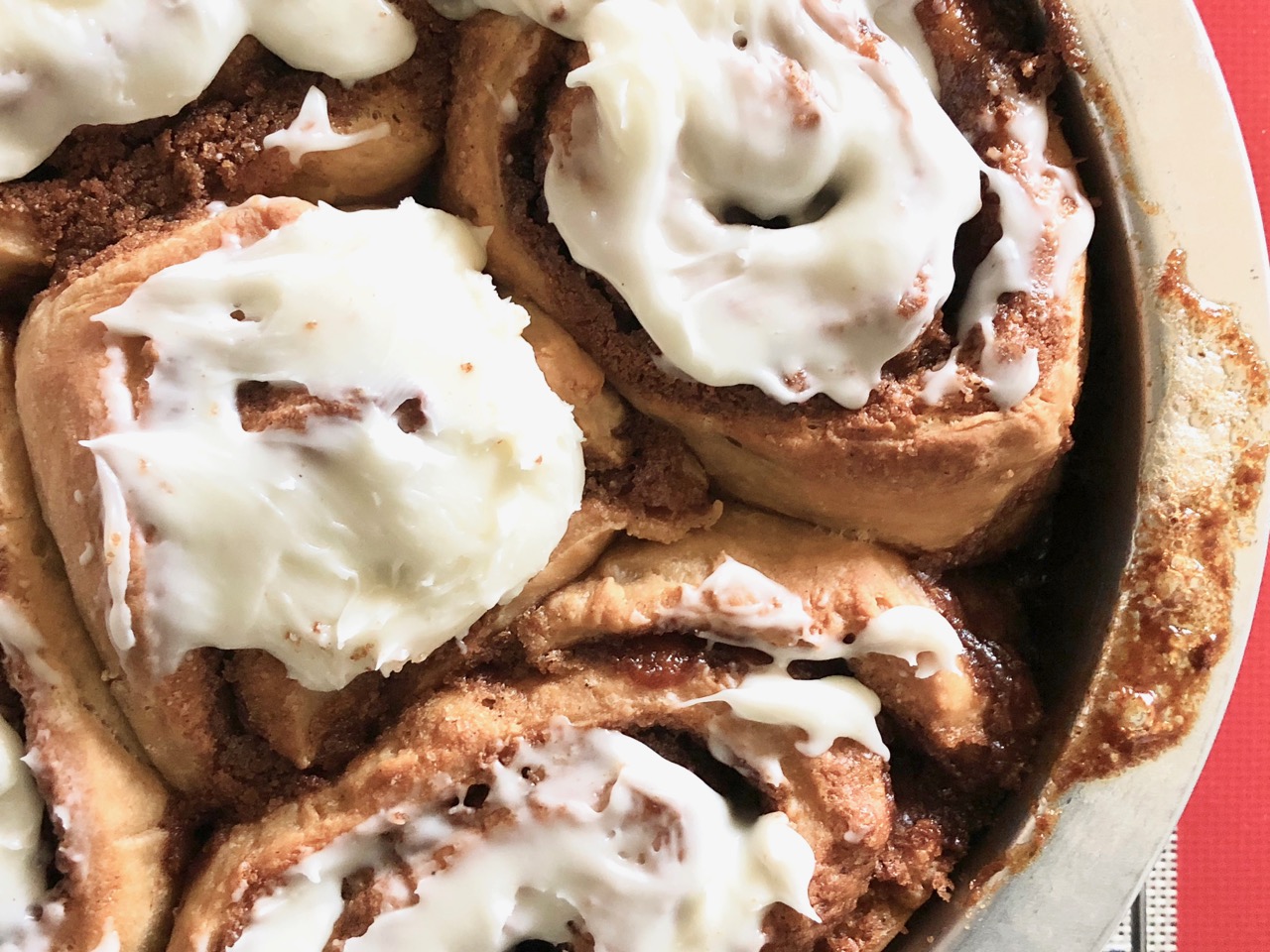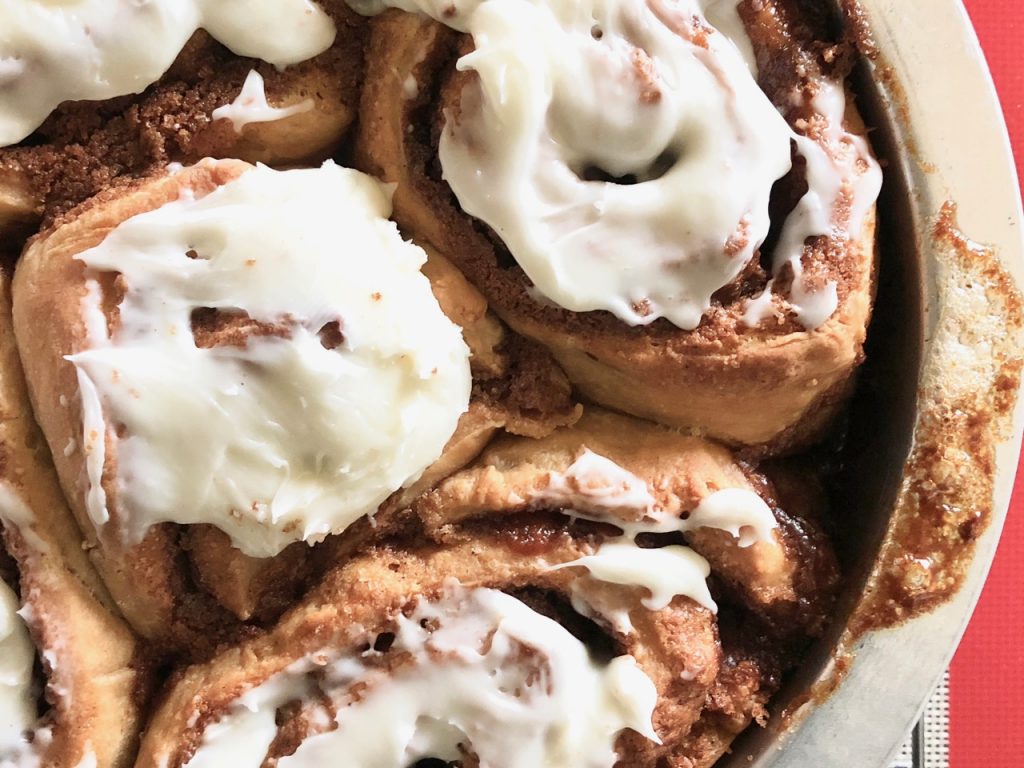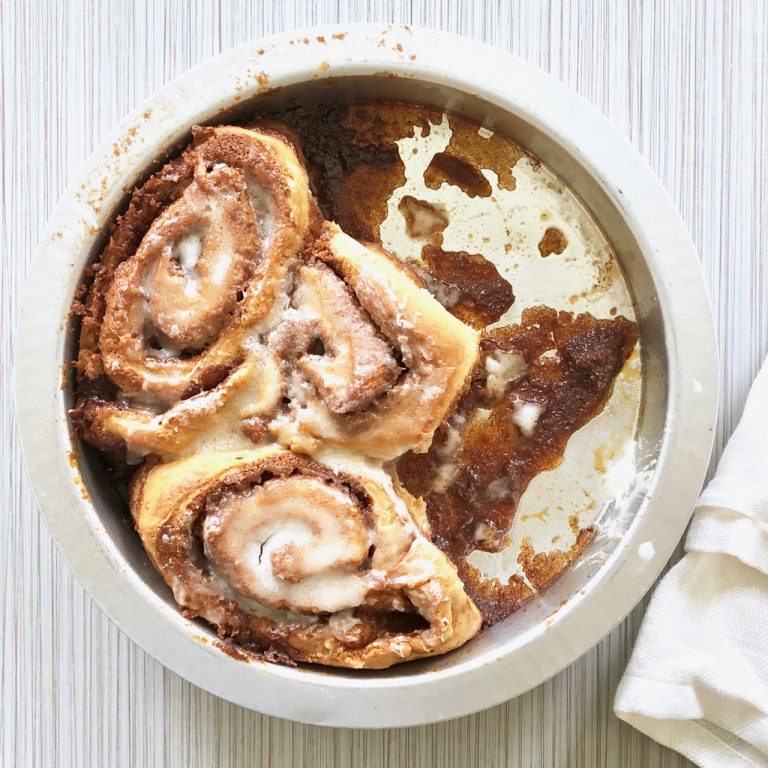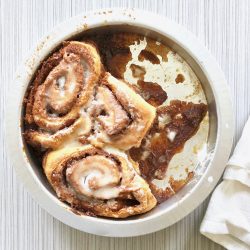 Amish Friendship Bread Cinnamon Rolls
Ingredients
Cinnamon Mixture
¼

cup

brown sugar

1

tablespoon

cinnamon

½

cup

crushed nuts

optional
Frosting
¼

cup

butter

softened

2

ounces

cream cheese

softened

1

cup

confectioners' sugar

1

tablespoon

milk

½

teaspoon

vanilla extract
Instructions
Combine the dough ingredients: starter, flour and milk. Set aside at room temperature for 10-12 hours, or overnight.

Stir then add the remaining dough ingredients (excluding the butter) and mix well.

Pour dough out onto a well-floured work surface. Knead until dough is no longer sticky, adding up to an additional cup of flour.

Roll dough into a rectangular shape ½-inch in thickness.

In a small bowl, combine together the ingredients for the cinnamon mixture.

Lightly brush softened butter over the surface of the dough and sprinkle on the cinnamon mixture.

Roll up dough and pinch to seal the seam. Cut into 1-inch slices.

Place on a well-greased cookie sheet and let rest for 30 minutes.

Bake in a preheated 350° F (176° C) oven for 30-35 minutes.

In a medium-sized bowl, beat frosting ingredients until smooth. Spread frosting over warm cinnamon rolls.

ENJOY!
Notes
From Kimberly Kozicki: "I used my stand mixer to put the dough together. I put all the dry ingredients into the mixer bowl, added the wet ingredients, then used the dough hook. I let the mixer run for 4 to 7 minutes, at medium speed, and the dough came out perfectly!"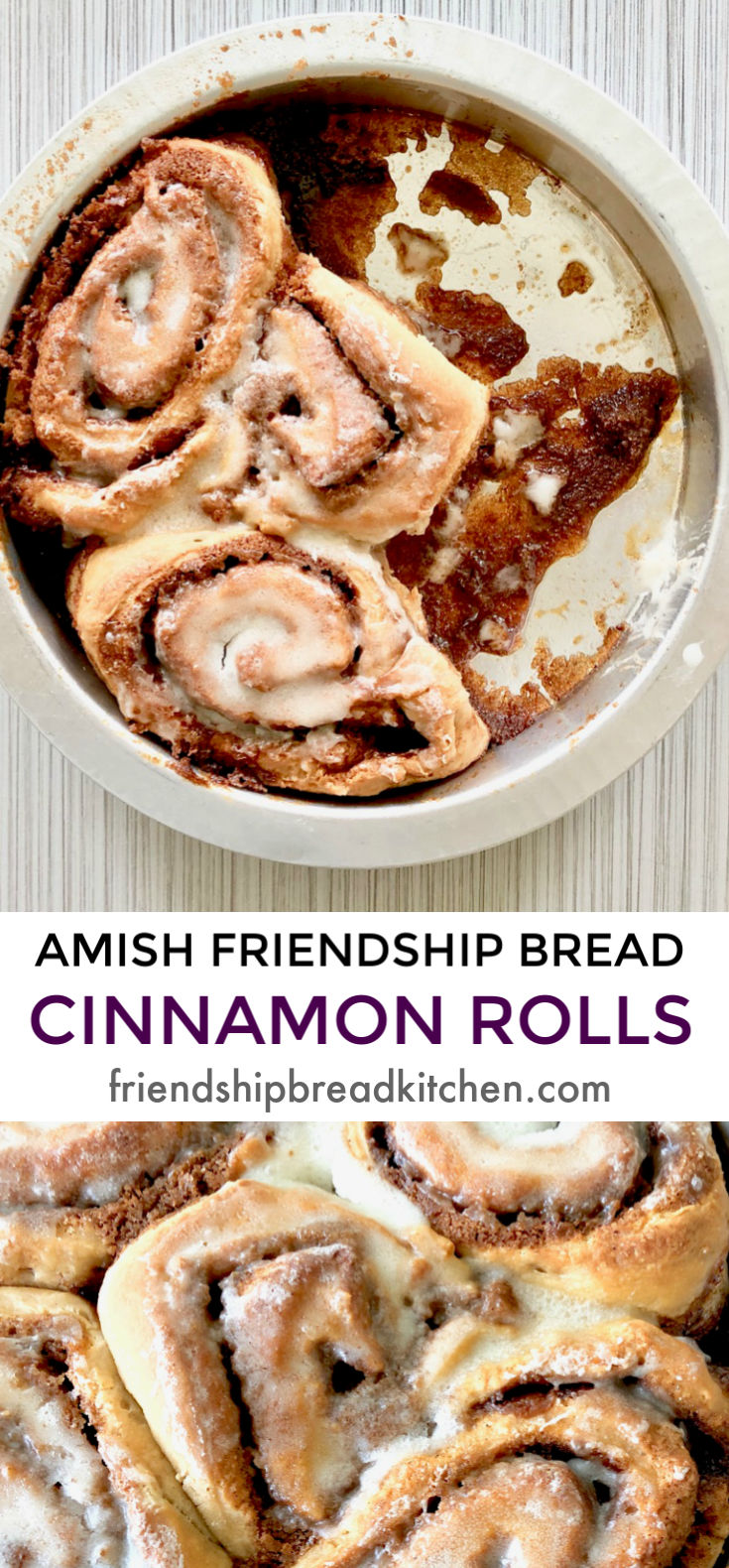 Have you tried this? Give the recipe some stars and leave a comment below to let me know how it worked for you!