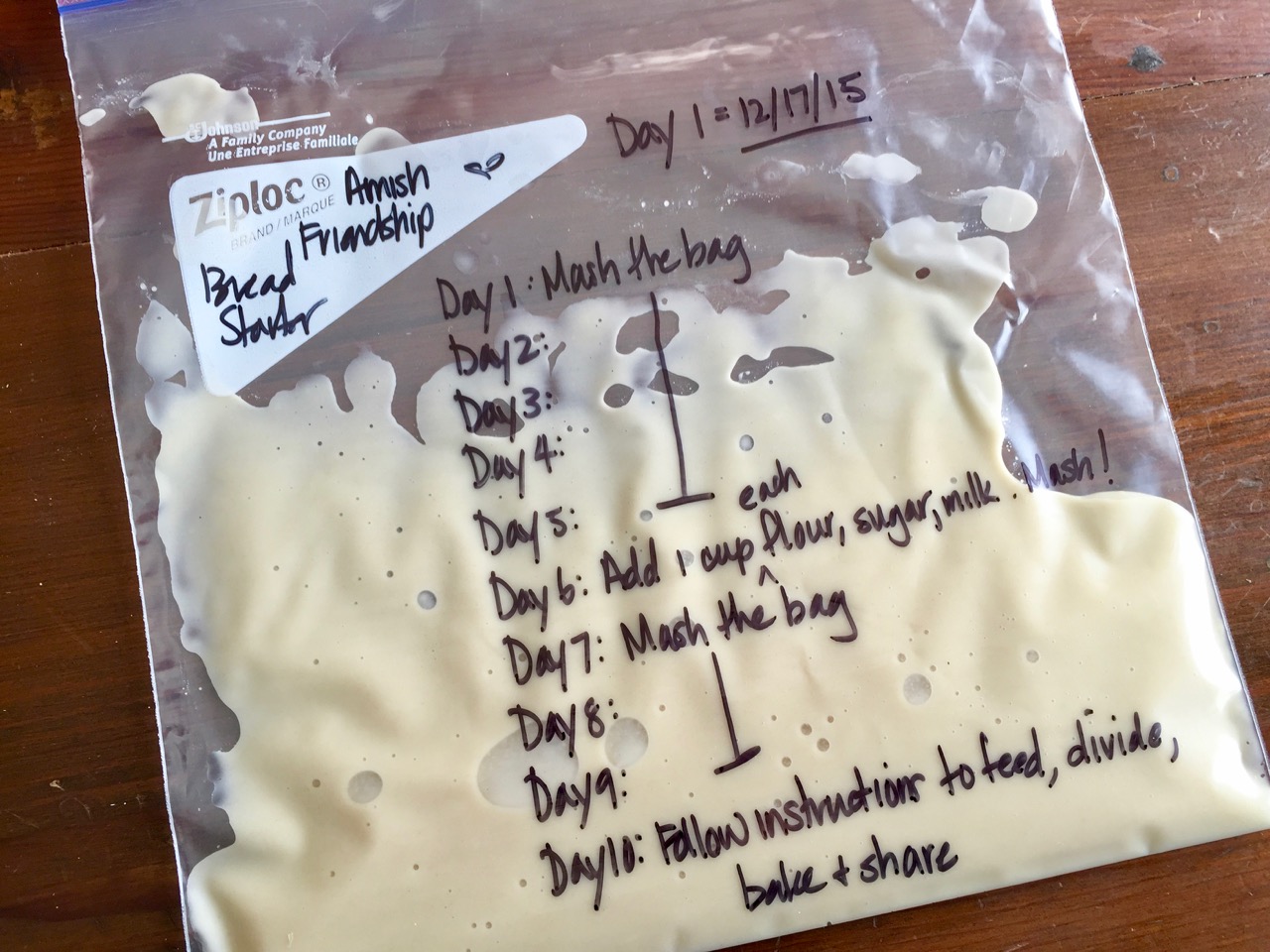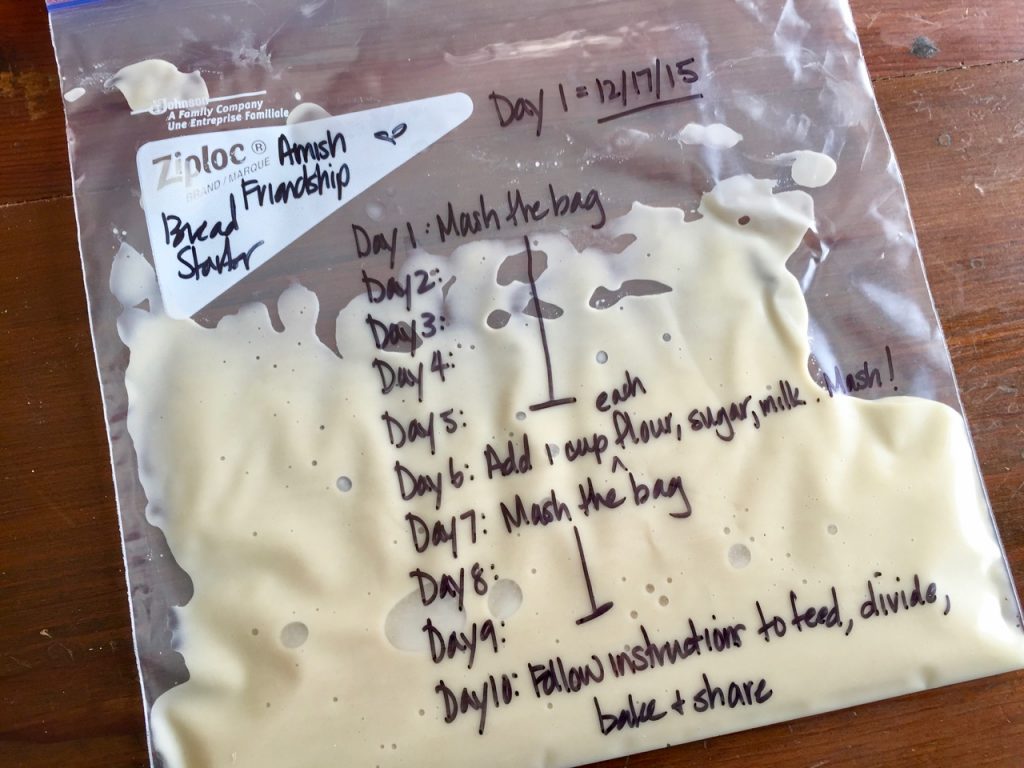 Choosing the right starter container for you
Wondering what kind of container you should use to store your Amish Friendship Bread starter or sourdough starter? Not sure if you'll be keeping your starter on the counter, the fridge, or the freezer? Do you need easy and simple or are you all about aesthetics and pretty jars lined up in a row?
I've got three great suggestions for you: bag, bowl, or jar. Over the course of a year, I will use all three, all for different reasons. Read on to find out why and decide which container is best for you.
Storing your starter in Ziploc bags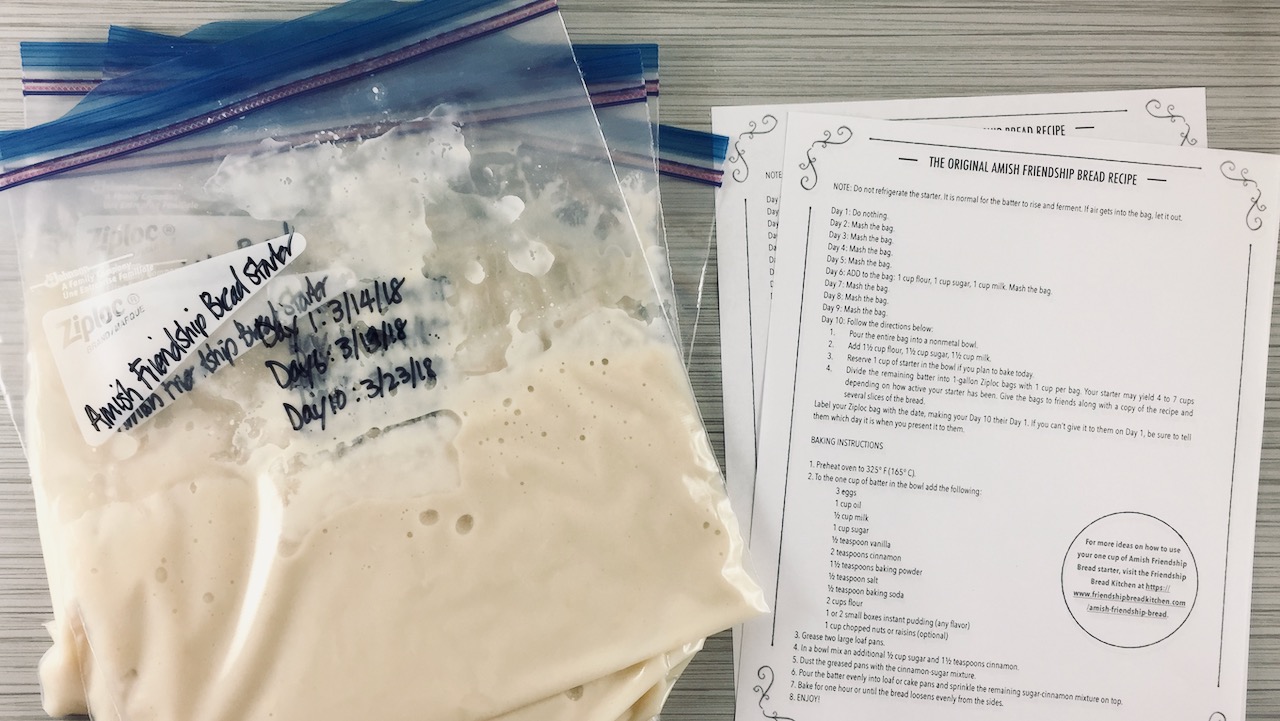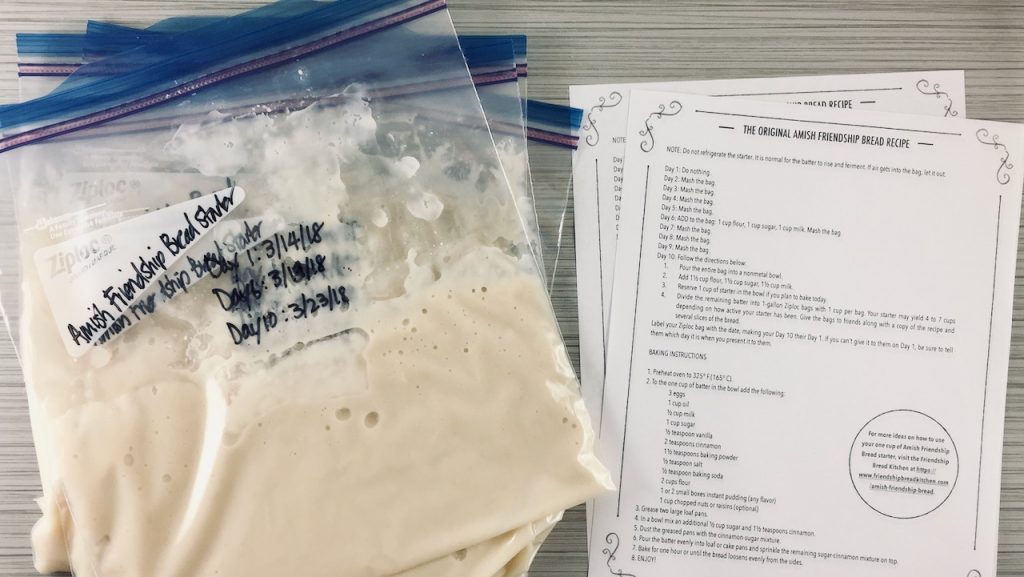 I recommend using gallon-sized freezer Ziploc bags (BPA free) if one or more of the following conditions sound like you:
you received your starter in a bag from a friend,
you only plan to do one 10-Day cycle of Amish Friendship Bread,
you prefer the ease of tossing the bag around daily (it's more fun for kids, too),
you plan to give your starter away, or
you plan to freeze your starter for future use.
Here are a few things to keep in mind:
Use gallon-sized bags. Anything smaller (like a quart-size) won't be large enough for all your ingredients on Day 6, and you risk having it burst open or overflow when your starter is active.
Use freezer-grade bags. This gives you the flexibility of tossing your starter in the fridge or freezer at a moment's notice and ensures the bag doesn't leak.
Seal the bag completely. This keeps out bugs and helps with accidental leakage. If the bag puffs up (sometimes it does, sometimes it doesn't), just open the bag to let out the air and seal it again. It's fun to see the bag expand, which is easy confirmation that your starter is on the right track!
Storing your starter in a mixing bowl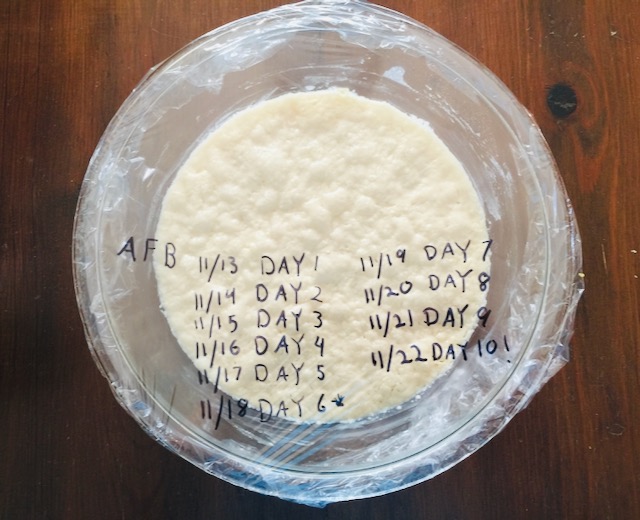 I recommend using a mixing bowl if one or more of the following conditions sound like you:
you are making your starter from scratch,
you like to see any changes in your starter,
you don't like plastic bags,
you prefer the ease of stirring daily and adding ingredients easily, or
you don't want to forget about your starter.
Here are a few things to keep in mind:
Glass is preferred over plastic. I like glass because I can see what's happening with my starter and if it's separating.
Use a large mixing bowl (8-cup capacity). This gives your starter room to expand (it sometimes doubles in size), and also ensures you have enough room to add ingredients on Day 6.
Cover with clear plastic wrap. You can even write the dates on the plastic wrap to help you keep track.
Storing your starter in a jar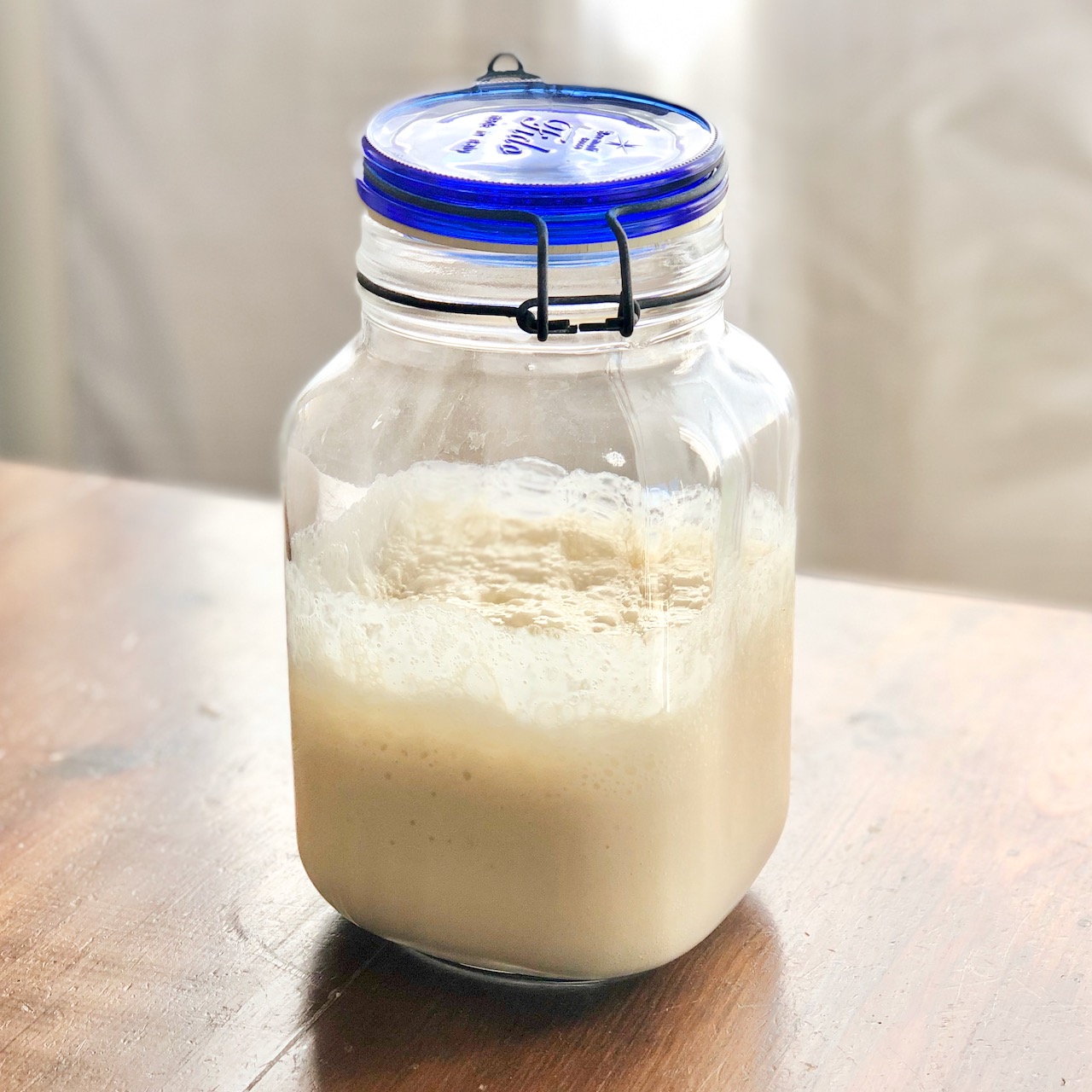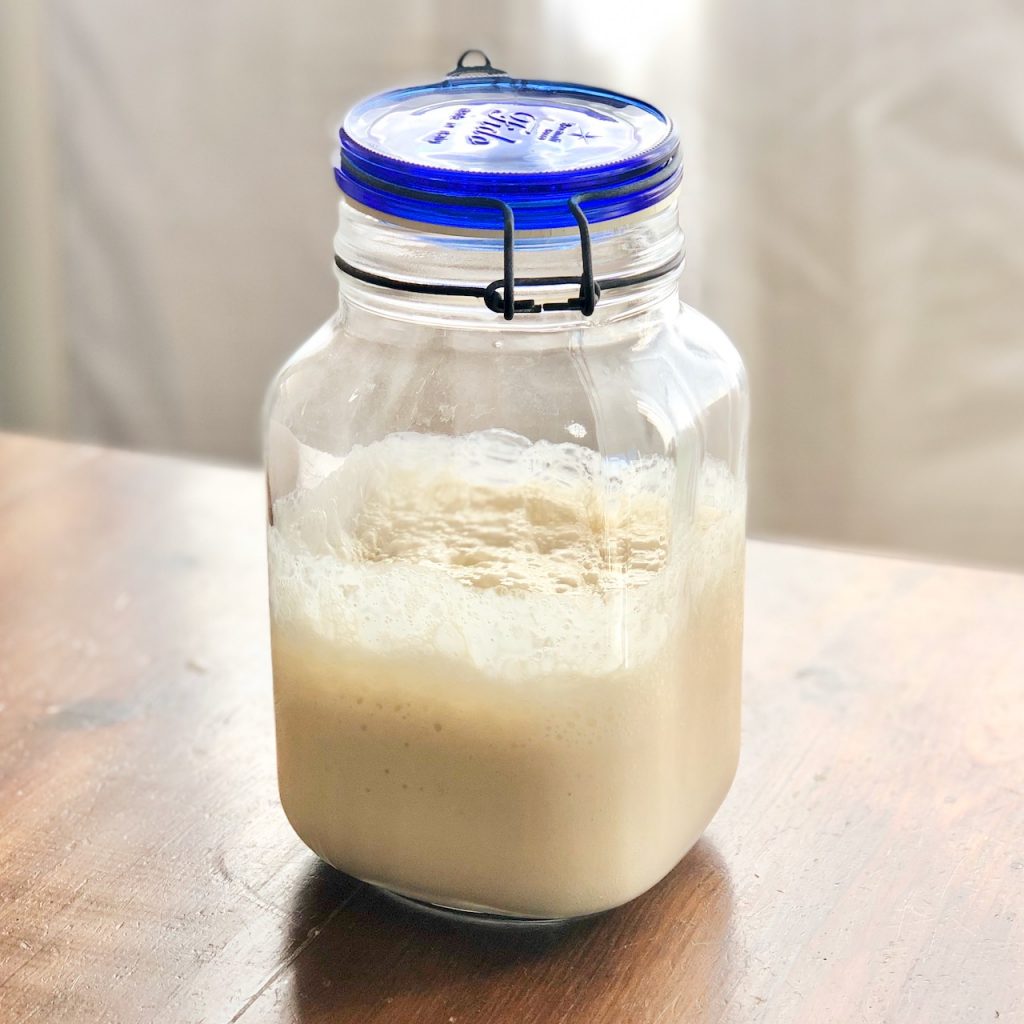 I recommend using a jar or storage container if one or more of the following conditions sound like you:
you plan on regularly maintaining a starter,
you like everything neat and orderly,
you're keeping multiple starters on the counter (i.e. an Amish Friendship Bread starter and a sourdough starter),
you want to be able to easily move your starter around your kitchen or in your fridge, or
you have limited counter space.
Here are a few things to keep in mind:
Choose a jar with a latch lid. These usually come with a rubber gasket as well. You can latch the lid without sealing it completely, so some air gets in. NEVER seal a jar, even if you are storing your starter in the fridge, or you risk your jar shattering if your starter can't breathe.
Use a jar with a minimum 50-ounce capacity. I use 67.5 ounces, which accommodates 3 cups of starter plus added ingredients. Remember that you are feeding your starter at a 1-to-1 ratio, so 2 cups of starter equal 2 cups flour, 2 cups milk, and 2 cups sugar at feeding time. If you're keeping a starter on your counter, it's assumed that you'll be baking regularly (once a week) and using up some of your starter. Otherwise, it'll be coming out of your ears!
Do not freeze your starter in a jar. Unless your jar indicates that it is freezer safe, do not store your starter in glass jars in your freezer. I know we've all done it in the past and it's been fine, but one shattered jar (with gloopy starter) is not worth it.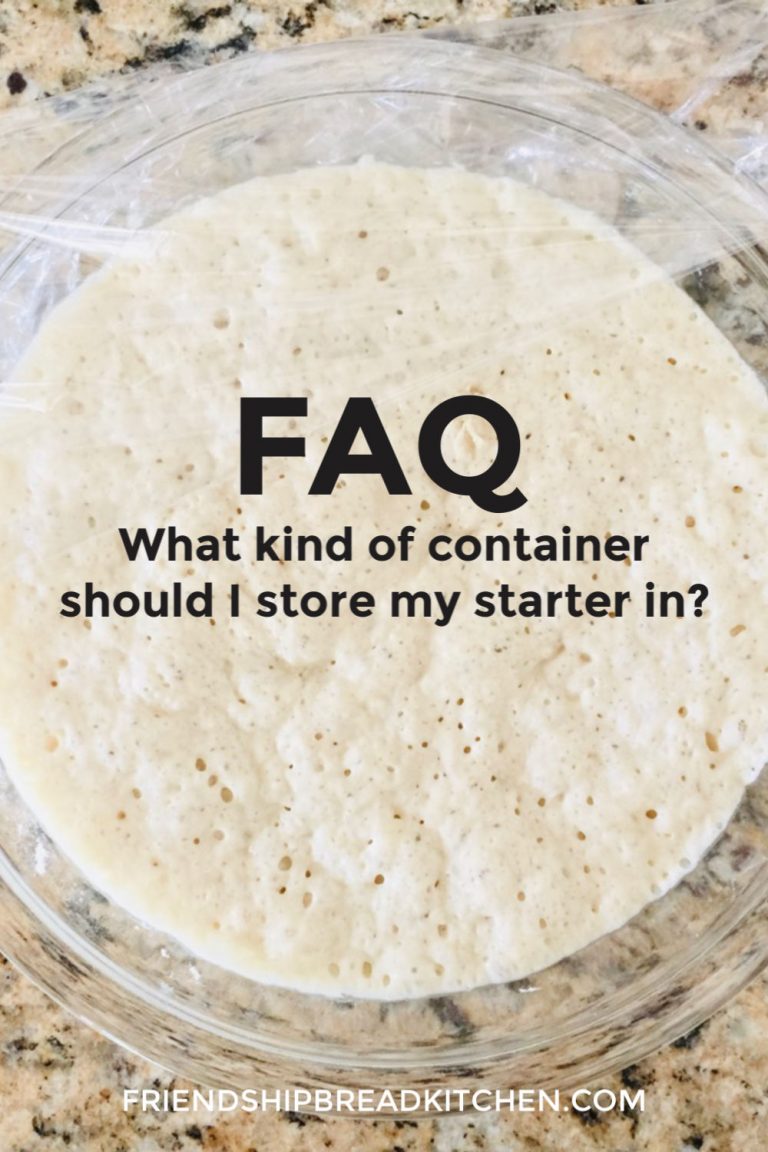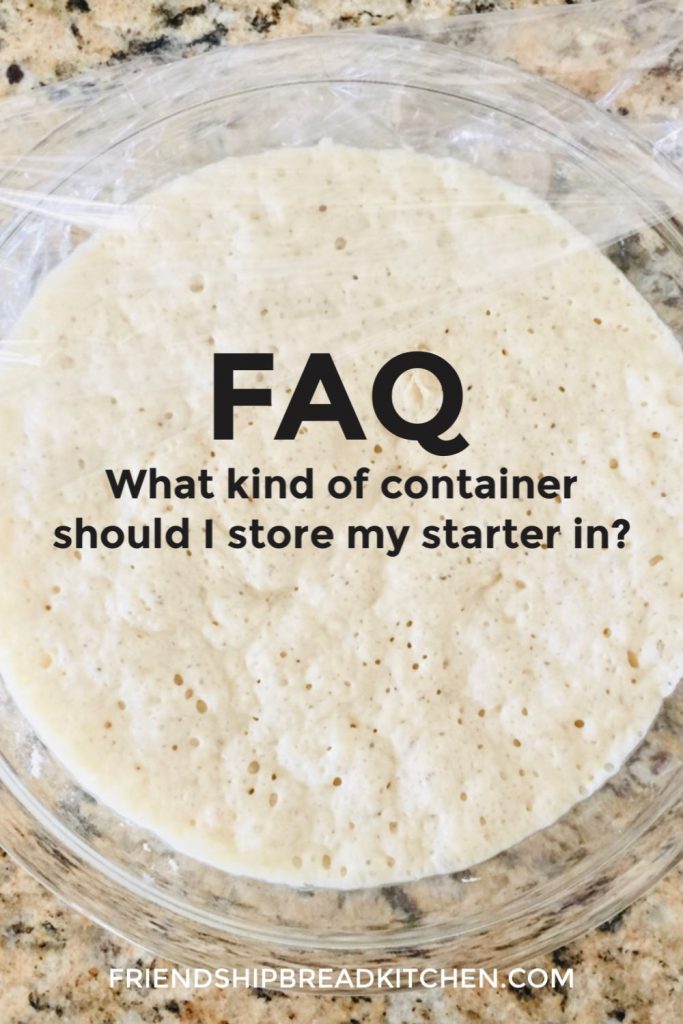 So tell me: what's your preferred way for storing your starter?